As an Amazon affiliate, we earn from qualifying purchases.
Who's your sidekick in the kitchen? If you are the hero of cooking in your household, then there should be someone or something that helps you out. For me, that would be my butcher knife.
Some people told me that a chef knife is a better choice. But for a grill lover like me, the best butcher knife is still my top option. The difference between these two knives is noticeable.
The blade of the butcher knife is curved. It is also slightly heavier than its counterpart. Specifically, its main purpose it to cut through thick meats. On the other hand, a chef knife is an all-purpose tool.
I really know that most of us here loves grilling and making jerkies . Therefore, I will give you some of the most recommended butcher knives in the market today. Here are they!
How to Choose a Butcher Knife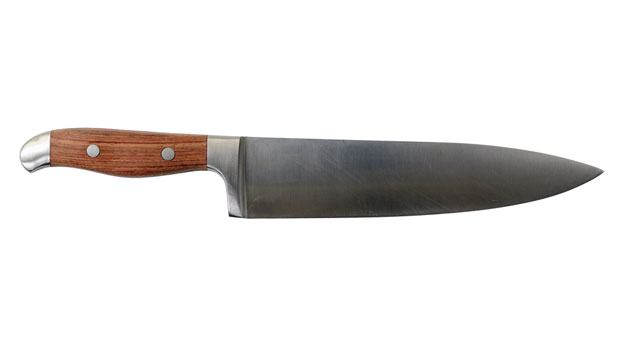 As I mentioned earlier, a butcher knife has a specific purpose of cutting down thick slices of meat. If you are making grilled recipes, this tool is quite necessary. Meanwhile, if you want to learn how to choose the best cuts for jerkies, check this link.
Today, most of the butcher knife you can see have a semblance to a scimitar. The latter is a type of ancient sword commonly found Middle East countries.
Because of their shared nuances, you can expect that the end of the butcher knife has more circumference than its handle. As a result, it became an excellent tool for trimming, chopping, and slicing meat.
The Blade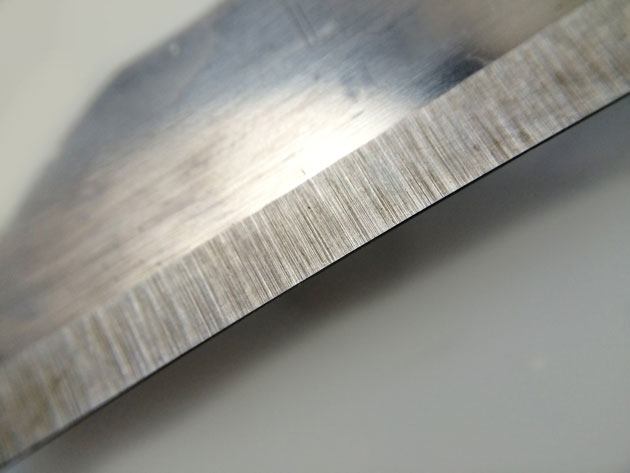 When choosing for a butcher knife, make sure that you pay attention to the build of its blade. Specifically, you should opt for those units that offer a high-carbon steel construction. This one can provide your extreme sharpness and rigidity. It can even hack soft bones with easy.
Alternatively, the blade should have been either forged or stamped. In this way, you can assure the knife will be strong and heavy. Between the two, the stamped knife is the most affordable choice. However, its durability doesn't come close with a forged knife.
Handle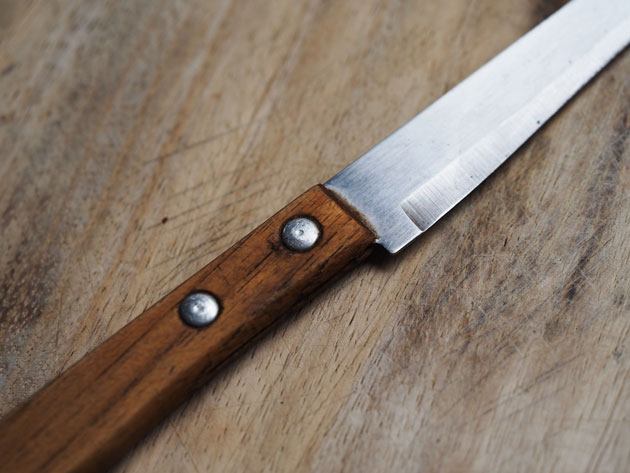 The construction of the handle is pretty significant as well. Since you are working in the kitchen, it is already given that you are dealing with slippery and wet surfaces. If the handle doesn't allow you to have a tight grip, you won't be able to cut the meat properly. Moreover, it could also cause accidents as well.
Ideally, you should choose a handle that has a nylon texture. It allows your hand to have a tight clutch to the knife for ensured stability. Meanwhile, you should not also forget the shape of the handle. After all, you should feel comfortable in holding the knife, regardless of the position.
If you are working with spit roasts and other similar recipes, make sure the butcher knife you choose doesn't have any ridges. The latter is actually good in catching residues and meat fat, which lessen the precision of your cuts. Moreover, these crevices are hotspots for harmful bacteria.
Best Butcher Knife: Features, Performance and More
I already elaborated some of the most important things that you should keep in mind when shopping for this kitchen tool. Now, let me introduce some of the tested-and-proven butcher knives. All of these knives have ergonomic and sturdy construction. I was able to use some of them. Therefore, I can guarantee that they are all brimming with quality.
1. F. Dick Ergogrip 10″ Butcher Knife
Specifically, their Ergogrip Butcher Knife has a superb design and capabilities. It can cut through tough objects easily. Therefore, it lessens your preparation time. Because it has a good edge retention, this knife can remain sharp despite constant usage. Of course, it will eventually wear down. But with a few strokes on a diamond steel, the blade becomes good as new again!
Using this butcher knife is extremely comfortable. Just by the design of its handle, you can easily see why many people opt for this product. It comes with a finger guard and a wide crevice that accommodates your hand perfectly. It allows tight grip as well, with no chance of slippage.
Pros:
It has a sturdy construction
The blade is sharp
It is easy to re-sharpen
Ideal for both home and professional applications
Gives optimal hand control and stability
Cons:
No particular drawbacks noticed
2. Dexter-Russell (S112-10PCP)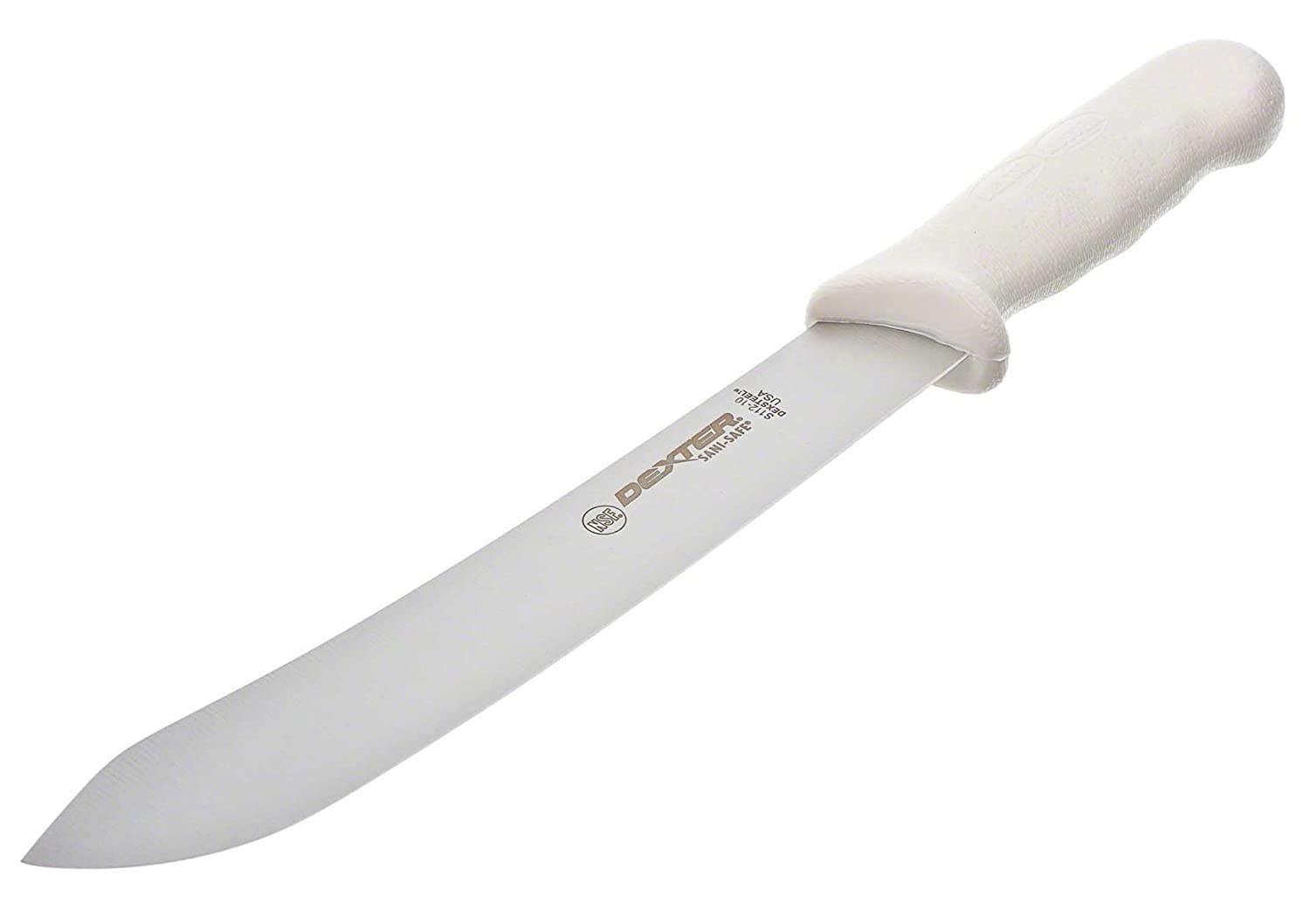 Another butcher knife that I will recommend is the Dexter-Russell (S112-10PCP). It is an excellent knife, which you can easily put side-by-side with the knives coming from Victorinox and Ontario. This knife comes with a 10-inch stainless steel blade that has been manually and machined-sharp. Because of this construction, you can guarantee that the knife can perform well with minimal maintenance.
Meanwhile, its handle is using the Grip-Tex technology. With this innovation, the knife will never slip off from your hands. The design of the handle also provides excellent balance and support while you are using it.
Pros:
Sharpened by both hands and machine
It has a moderate weight (gives you the right "feel" while holding it)
The handle offers superior balance and support
It won't slip off from your hands
The blade has superb edge retention
Cons:
3. Rada Cutlery R109 Old Fashioned Butcher Knife

The Rada Cutlery R109 is perfect for home cooking and applications. I definitely recommend this one to those who are not really looking for high-end butcher knives. Moreover, its price tag will not scare you off. However, I have to guarantee you that its performance and quality are second to none.
Just like most of the knives here, the Rada Cutlery comes with a high carbon stainless steel blade. It has been hand-sharpened as well to make sure that its edges are super sharp. Meanwhile, it comes with a finger guard on its handle so that your hands will be safe all the time. Meanwhile, the handle has a stainless steel resin construction. Not only it improves your control and balance over the knife, but it also allows you to clean it easily.
Pros:
Comes with a finger-guard for guaranteed protection
The blade is sharp and doesn't rough quickly
Perfect for home applications
It has an excellent grip on its handle
It is not expensive
Cons:
It has a thin and short blade
The handle is short as well
4. Victorinox Cutlery 12-Inch Straight Butcher Knife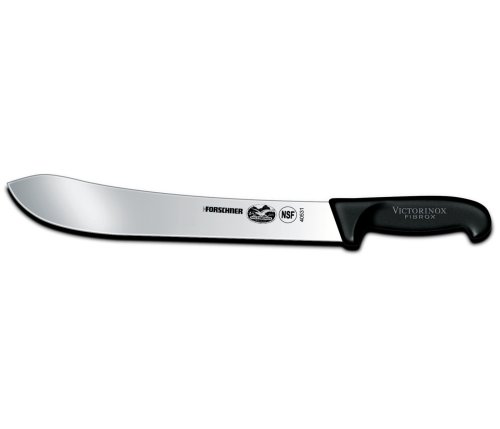 Straight from the box, the Victorinox Cutlery Butcher Knife is impressive. I bought this knife two years ago. And until now, its sharpness and quality didn't deter. Of course, that should be expected. After all, this brand is a known manufacturer of commercial knives that are being used in top tier restaurants and diners!
The blade of this knife has a unique shape that enables wider cut widths. Moreover, the blade itself undergo ice tempering so that it can have an absolute edge retention and sharpness. It has been stamped as well to make sure that it will stay sharp for a long time.
Meanwhile, the Victorinox Cutlery Butcher Knife has a Fibrox handle. It is an innovative design that embroidered the handle with textures so that it could have a slip-free performance. Also, the handle has a contoured shape, which improves its comfort and balance.
Pros:
The blade has a right balance between heft and length
Highly quality construction
Fibrox handle allows a comfortable and stable knife usage
The blade has excellent edge retention
Durable and can cut through tough meat parts
Cons:
5. Ontario Knife 7111 Old Hickory Butcher Knife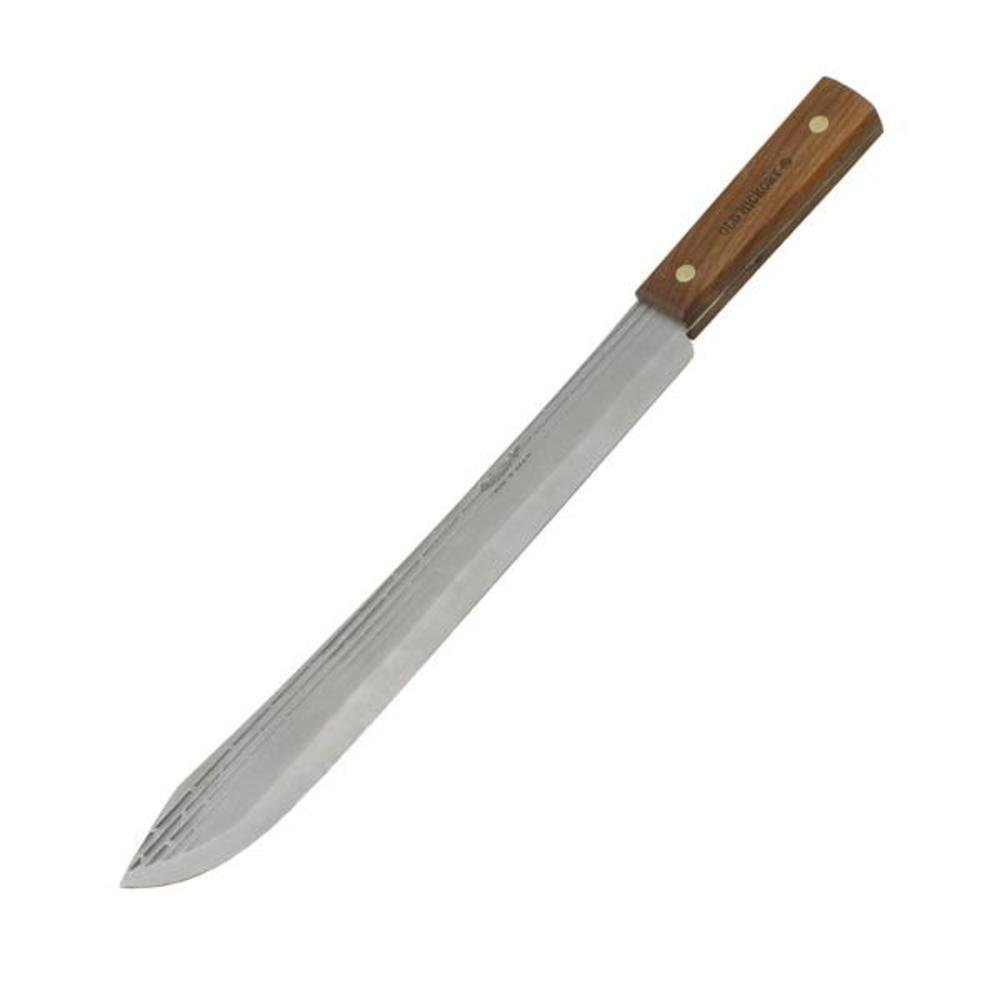 I can say that the Ontario Knife 7111 is pretty bland and simple. Its appearance doesn't really stand out at all. But it is a different story if we are talking about its performance and other capabilities. Specifically, this knife has a 10-inch blade made from high carbon steel. Take note that it has a full tang as well!
Some people over the internet complain that the knife is susceptible to rusting. However, that only happens when you leave it wet. If you are a responsible kitchen warrior, you should already know about this!
Meanwhile, the hickory handle of this knife tightly secures the blade so that it can make forceful cuts. Moreover, the balance and stability it provides to your hand are among the things that you will about this knife.
Pros:
Simple by functional butcher knife
Comes with high-carbon steel blade
Handle enables tight gripping
The blade length is adequate for cutting lengthy meat
Extremely sharp
Cons:
Some people finds it too lengthy (but it is just a matter of preference)
Final Verdict
A butcher knife is an excellent addition to any kitchen. Whether you will have it for commercial or personal applications, it is still undeniable that having this tool will improve your versatility and speed in food preparation. Some varieties of meat are really tough to deal with. But with this knife around, you can cut through these obstacles easily.
Among the products that I have listed, the F. Dick Ergogrip 10″ Butcher Knife is indeed the best butcher knife. From its construction down to its performance, everything about this knife is truly cutting-edge. Therefore, investing on this one won't become a regrettable choice!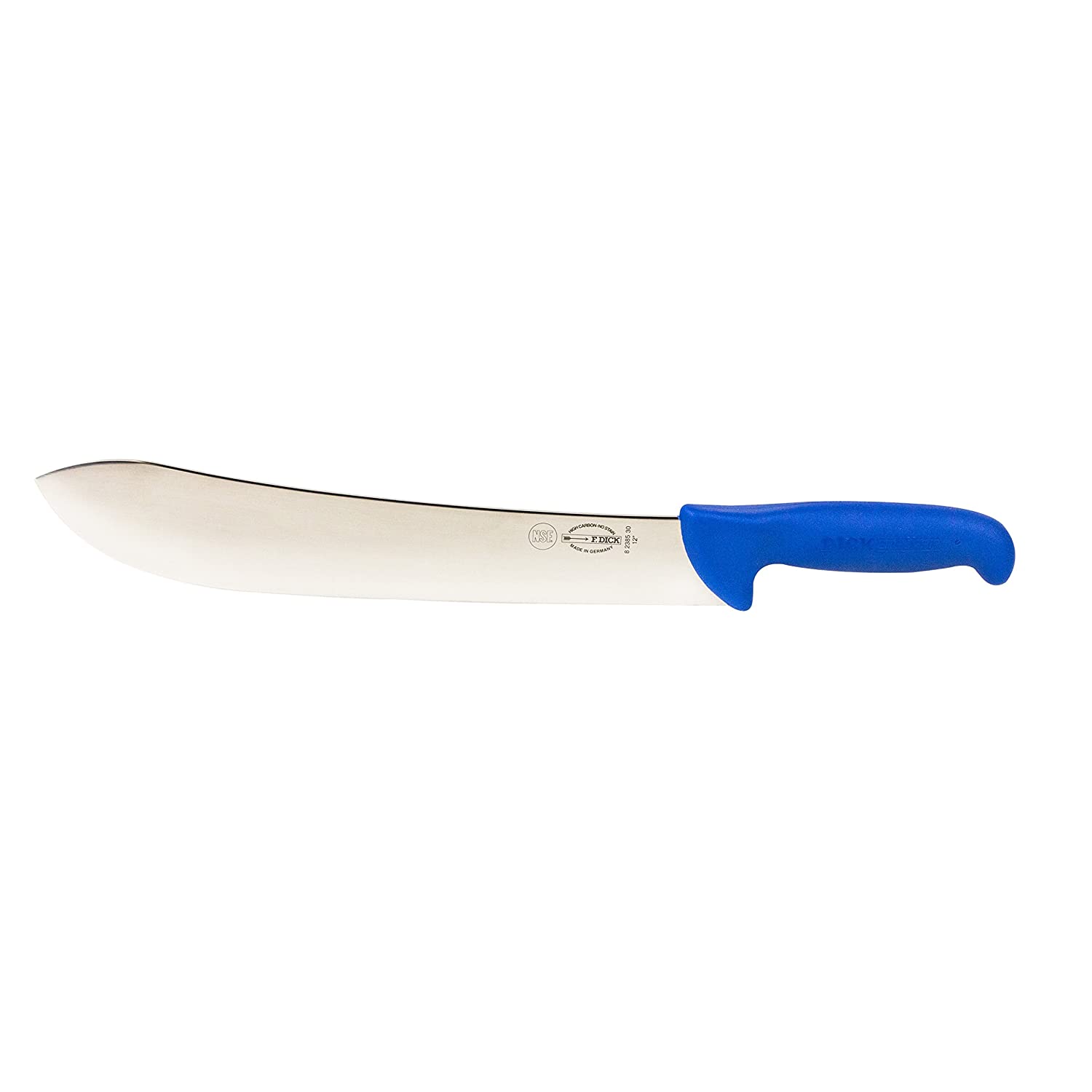 However, I still recommend that you should still check all the knives I listed here. After all, you'll never get what works best for you until you tried all the possible options!
Did you learn from this article? Which of these butcher knives do you like the most? Tell me your answers in the comment section below!
Last update on 2022-09-08 / Affiliate links / Images from Amazon Product Advertising API