As an Amazon affiliate, we earn from qualifying purchases.
Any barbecue and smoked food lover would agree that there's only one way to get the taste right – smoking.
This cooking method used to require quite a bit of patience and work, but the flavor and texture of smoked food is worth all the effort.
But now, smoked food and BBQ lovers out there can definitely say that it's a good time to be alive.
Why? Because there's no need to spend a whole day smoking your food – from collecting wood in the heart of the forest to creating a fire and then watching over the cooking meat until a succulent and flavorful dish is produced.
The invention of gas smokers has allowed amateur smoked food enthusiasts to join professional smokers in indulging five-star caliber smoked food easily and conveniently.
These gas smokers are also great for creating jerkies as the smoke they emit gives extra texture,  flavor and aroma to a jerky.
With all the gas smokers currently out in the market, it can be tricky to find the one gas smoker that can satisfy your inner gourmet.  That's why I curated this list of  gas smokers that are worth your pennies. I've also laid down their important features to give you an idea of what makes them the best gas smokers available in the market.
Before we run through these devices, let's go through the things that you should know about gas smokers. After all, you don't want to go shopping for a gas smoker without having some background intel about the product you're going to buy, otherwise you'll risk ending up with a flimsy or cheaply-made unit.
How to Choose a Gas Smoker
Making flavorful barbecues is not just that easy. Aside from having high-quality meat, you should also prepare the necessary tools for the entire cooking process (e.g. slicing knives). A gas smoker will certainly boost the quality and texture of your meat. But you can only achieve such results if the gas smoker you have exhibits finesse, too.
Capacity
A gas smoker should provide you with sufficient space for cooking your meat. If you are just eating alone or plan to bring it with you when you travel, then investing in a compact and portable model is acceptable. However, if you have a family to cater to, you are better off getting one of the  larger units.
The same applies if you are fond of hosting large occasions and gatherings. You have to make sure that you can accommodate everyone's appetite. Typically, vertical gas smokers provide better capacity than their horizontal counterparts.
Build
The materials used in the construction of a gas smoker usually indicates its quality. You can expect that those heavy units with steel bodies can get the job done and can last through many uses. Specifically, these can provide optimal and equal heating, thanks to their thick insulation elements, while, at the same time, you can  be assured that they are rugged enough to survive wear and tear for a long time.
In comparison, those smokers constructed with thin metal will easily warp through consecutive heating. You can still invest in these kinds of gas smokers, but only if you intend to use them occasionally (e.g. in cold conditions). In this way, you can prevent the warping of the flimsy metal.
Drip Tray
When using a gas smoker, never compromise the safety of your home and your family. While it is given that a gas smoker is using fire to cook meat, a drip tray is essential to avoid fire-related accidents. Without this component, a grease fire will be a common occurrence. Unfortunately, some models don't have this tool integrated into their systems, therefore always check for one when choosing a gas smoker.
Temperature Controller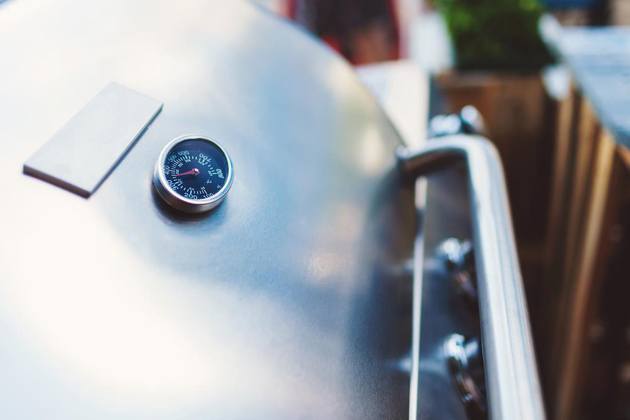 Because meats have optimal temperatures to cook in, the smoker that you should purchase should also come with a built-in temperature controller and thermometer, ideally located on the door of the device. In this way, you can easily assess and modify the internal heat of the smoker. Moreover, this design feature improves the overall functionality of this tool because you can easily check the temperature and prevent over-cooking.
Some people prefer slow smoking for their barbecues or for making jerkies. If you are among them, you should find a gas smoker that has this feature .
Support
Gas smokers should have a sturdy base as you are going to use this device outdoors. It should be able to remain steady despite uneven terrain or gusts of wind.  A smoker that easily wobbles and topples whenever the wind blows  can put you at risk.
Therefore, it is ideal that you go for smokers that have wide and sturdy legs. This type of design provides optimal stability and support throughout the cooking process.
The Best Gas Smoker: Full Reviews
Product Image
Title
Pit Boss Grills 2 Series Gas Vertical Smoker
Dyna-Glo DGW1235BDP-D 36" Wide Body LP Gas Smoker
Masterbuilt 44241G2 Gas Smoker, 24.50" L x 60" H x 33"...
Landmann 3495GLA Smoky Mountain 34-Inch Vertical Gas...
Char-Broil Oklahoma Joe's Charcoal/LP Gas/Smoker Combo
Product Image
Title
Pit Boss Grills 2 Series Gas Vertical Smoker
Product Image
Title
Dyna-Glo DGW1235BDP-D 36" Wide Body LP Gas Smoker
Product Image
Title
Masterbuilt 44241G2 Gas Smoker, 24.50" L x 60" H x 33"...
Product Image
Title
Landmann 3495GLA Smoky Mountain 34-Inch Vertical Gas...
Product Image
Title
Char-Broil Oklahoma Joe's Charcoal/LP Gas/Smoker Combo
#1.  BEST FAST COOKING GAS SMOKER – Pit Boss 77425 2.5 Gas Smoker
This 21.5 x 23 x 41 inch gas smoker weighs 48.5 lbs. It has a dual valve or burner system with  temperatures that range from 100 – 350. It also has 884 square inches four (4) porcelain coated cooking grids as well as a wood chip drawer and grease tray.
Aside from its high temperature door seal, the Pit Boss Gas Smoker has a large viewing window which allows you to check the food you're cooking without opening it, thus hastening the cooking.
PROS
Made from quality materials
Large window to check foods being cooked
Easy to clean compared to other gas smokers
CONS
 Water pan can only hold water for about three (3) hours at 200 to 250 F
 It can be quite challenging to assemble
 Not recommended for large occasions or gatherings
Check Price on Amazon
#2. BEST IN OUTDOOR PATIO GAS SMOKER – Dyna-Glo DGW1235DBP-D 36" Wide Body LP Gas Smoker
This Dyna-Glo DGW1235DBP-D 36" Wide Body LP Gas Smoker is an  iron-made black gas smoker weighs 74 lbs. It measures 20.35" x 31.28" x 49.71" in size and is powered by propane. The Dyna glow is definitely  another gas smoker that you should consider. It boasts of 1,235 square inches of cooking space which is greater than Master built. Therefore, you can guarantee that this device can cater large servings of smoked food at a time. It also comes with four stainless steel wire racks. You have the freedom to adjust the height of these racks to accommodate various food volume.
This gas smoker offers a BTU iron burner that has an integrated electronic ignition. Moreover, you can control the power of the burner through a large knob present on the lower front portion of the smoker. Dyna-Glo DGW1235DBP Gas Smoker features a double-door design for enhanced smoking and heating. It also has air dampers so that you can modify the smoking process. WIth its custom-fit premium cover, it is built to last a long time.
PROS
Made from thick and sturdy materials
Easy to assemble
Superb heating quality especially during cold season
Doors can retain heat and prevent smoke loss
User friendlyit can accommodate 8 racks for big events
CONS
 May have issues with heat control
 No insulation on the cooking chamberNeeds to be monitored for leakage
Check Price on Amazon
#3. BEST FOR LARGE OCCASIONS – Smoke Hollow 44241G2 44-Inch Vertical Propane Gas Smoker
The Smoke Hollow 44241G2 is a vertical gas smoker that features a large cooking capacity. Specifically, it has a 500-square inch surface that can cater big occasions and gatherings. This 100 lbs. vertical propane gas smoker is known for its capability to cook food in large quantities using its five (5) cooking grids – two (2) standard, two (2) jerky grids, and a one (1) rib rack one (1) sausage hanger. It is also notable that this device comes with a sausage hanger. Therefore, it is a complete package that anyone would love to invest.
One of the selling points of the  Smoke Hollow 44241G2 is its dual door design. The latter comes with a tempered glass window so that you can view the progress of your cooking. It also has dual burners that can operate independently. As a result, this tool can create various smoked foods. Temperature control is not a problem either as it has a built-in temperature gauge.
PROS
User-friendly – easy to assemble and use
Adjustable heat control
Easy to clean compared to other gas smokers
Large capacity gas smoker
Doors have tempered glass windows
Durable and stable construction
Can cook different dishes at the same time
CONS
Instruction for assembly process is vague
Check Price on Amazon
#4 Best for Heavy Duty Gas Smoker: Landmann USA 3495GLA Smoky Mountain Vertical Gas Smoker
The Landmann USA 3495GLA is one heavy-duty gas smoker. It has a sturdy steel construction with a wide-angled base for guaranteed stability while cooking. It is powered by 13,000 BTU heating element, which is more than enough to smoke a lot of servings. Such feature is complemented by a heat controller and temperature monitor on its door. With these components, you can ensure that you have total control over your cooking.
Specifically, this gas smoker has four chrome-coated cooking racks. You can also adjust these shelves if you want to accommodate huge chunks of meat. You will certainly love that this model has a meat hanger, which is great if you want to make dried meat. Meanwhile, the chip box and water pan of this machine are integrated on easy-access drawers. Therefore, you can remove them anytime for cleaning and maintenance purposes.
PROS
Durable construction
Easy to clean parts
Temperature gauge and controller are present
Powerful heating element
Caters large servings at once
CONS
 It is the heaviest gas smoker on this list (around 60 pounds)
 Assembly process is tricky
Check Price on Amazon
#5. BEST IN DUAL FUNCTIONALITY – Oklahoma Joe's Charcoal/LP Gas/Smoker Combo
The dual gas smoker allows you to smoke or grill your food using a charcoal and gas grill chamber and an offset firebox. This porcelain-coated cast-iron grates smoker is made from heavy-gauge steel construction so you can be certain of  its durability and longevity. It also has a 1,060 square inch cooking surface and 36,000 BTU burners in its gas grilling chamber. Its firebox door also has an air damper, which makes it easy to clean.
PROS
Professional temperature gauge for accurate monitoring
Adjustable dampers to regulate heat and smoke
Three (3) separate burners
Metal storage shelf
Cool-touched handles
Easy to clean
CONS
 Challenging to assemble
 Heavy so not portable
 Not as user-friendly
Check Price on Amazon
Final Verdict
Among the models that I have featured, the Pit Boss 77425 2.5 Gas Smoker is indeed the best gas smoker. With its cost-effective pricing, you'll get a gas smoker made from high-quality materials, adequate cooking surface, and large window to check foods being cooked – which I think is essential especially if you want to retain precious heat and hasten cooking.
Also, the design is certainly impressive – all the necessary controls are present, which makes it an intuitive product. Of course, it has a body that can resist external damages. It has a broad base that would optimize stability while cooking.
But of course, I still recommend that you have to try all the gas smokers that I have listed here. In this way, you can find a product that can gear up with your requirements.
Indeed, a gas smoker is certainly the most important tool of trade when it comes to making barbecues, jerkies, and other smoked foods. It is a great device that can become an important part of your  weekend gatherings, parties, and other special occasions.
Last update on 2022-09-08 / Affiliate links / Images from Amazon Product Advertising API