As an Amazon affiliate, we earn from qualifying purchases.
Deer meat or venison is by far the healthiest red meat that you can ever consume. It is not as marbled as beef or lamb. In fact, deer meat's fat level is less than 2%; even skinless chicken breast has a higher fat level than that. Another advantage is the zinc; you can gain your daily dose simply by eating 3.5 oz (100 gr) venison. It is a total protein boost, and also includes Iron, Niacin, Omega-3, Phosphorus, Vitamin B12, and Vitamin B6.
After a successful deer hunt, it is time to prepare a healthy venison burger that is tasty and low in fat and cholesterol. Whether you hunt or buy your venison makes no difference when it comes to processing it. You will need a high capacity electric meat grinder for that since it takes a piece of sturdy equipment to be able to stand against the tough deer meat. Manual grinders can be good for low capacity tasks at home, but game meat is sure different. Once you grind the venison the right way, you can prepare yourself some of the most exquisite recipes ever.
If you don't have the time to go through all the reviews in this article, I put up for you a short summary of some of their most important features. However, I recommend you take the time and read the post carefully, especially if you are new to grinding your own meat, and need to learn more about the process.
Before I discuss the individual features of these bestseller grinders, let me take you on a quick but important detour first. It is important that you understand what makes a quality meat grinder in order to make the right decision when you are shopping for one. You can get the most out of your investment this way. After all, nobody wants to settle for a bad product.
How to Choose a Meat Grinder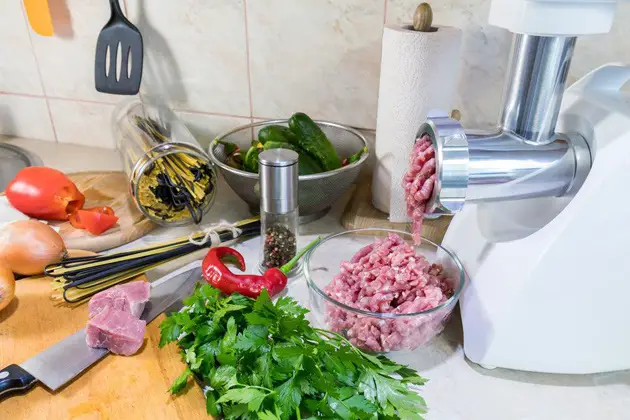 There are several things that you have to put into account whenever you are shopping for a meat grinder. Since we are talking about deer meat here, it is imperative that the grinder is powerful and efficient.
The Motor
An electric grinder will always rely on its motor for it to function. The entire operation of this machine is dependent on this component. Therefore, you should select only the ones that have heavy-duty motors on them to be able to handle the lean venison meat. In general, the meat grinders you get nowadays have ratings that range anywhere from 350 watts to 750 watts. However, there are some special ones with 3000 watts capacity. These are usually called ¨Turbo¨ grinders and are simply the best selections for game meat.
The powerful ones will allow you to grind up to 200 pounds of meat per hour. Of course, the professional-grade machines can double this amount easily. On the other hand, that could be a little too much if you are not planning to open up a butcher shop. For simple homeowners like me, the following appliances can compensate for all your grinding needs even if you hunt every day for the whole season.
Accessories
A meat grinder is not a stand-alone tool. Most of the time, it comes with different types of attachments (e.g., cutting blades, sausage stuffers). These components make these devices a versatile appliance in the kitchen. If you want a meat grinder that can do a lot of tasks, you should get one of those that have various accessories on them. Most STX grinders come with an extensive set of accessories that enable you to perform any kind of meat grinding task conveniently.
Design and Construction
You are not doing yourself any favor if you buy a weak meat grinder. Especially if you use it quite often, it will not last too long. Therefore, it is important to invest from the beginning is something durable and of very good quality. After all, you will be exposing it to wet ingredients that could deter its quality. Ideally, you should pick a meat grinder that has a stainless-steel construction. This material must immune from corrosion and rust. Moreover, it must be durable, too.
Meanwhile, you should not ignore the cleaning part, too. You should be able to clean the grinder properly. Most of them are not dishwasher safe, but you can just hand wash them easily. The dirt could eventually lower the lifespan and performance of this item. If the unit has removable parts, then it is great. It is a crucial feature to clean the grinder in a convenient and hassle-free manner. 
Best Meat Grinder for Deer: Full Reviews
#1. STX INTERNATIONAL STX-3000-TF
Some of you might be looking for a professional-grade meat grinder for venison. Well, it is not that difficult to declare the STX INTERNATIONAL STX-3000-TF as the best option. This one comes with a 3,000-watt motor rating, which is extremely powerful. Moreover, you can adjust its speed to three settings from the Push Button Control Panel designed solely for easy operation: just select from high, low, and reverse.
Of course, you will still feel safe with this tool, thanks to its circuit breaker which STOPS the grinder instantly. I just love the high capacity aluminum meat trays that come with all STX grinders. They can easily hold 3 pounds of meat, and allow you to operate and feed without any fuss.
If what you are after is versatility, then you need to have the best meat grinder for deer. This particular grinder features three grinding plates which are all made from stainless steel. They will allow you to make fine, medium, and coarse ground meat. Moreover, it also has three sharp stainless-steel blades for precise and lump-free cuts.
Make sure you never grind bones with this one as you may damage the grinder. You will also benefit from its sausage attachment. Why not try making a venison sausage, too? All STX series come with too many accessories to list, that's why they are called the most versatile meat grinders in the market.
This is truly a great option for occasional home-usage, but I suggest getting the next one if you are planning to use it heavily as I do. I turned into a habit not to buy store ready ground meat anymore. It just feels better to be able to control what goes into my burgers!
Pros:
Durable and rugged construction
Extremely powerful motor
Comes with stainless steel blades and grinding plates
Fast but quiet operation
Durable and rugged Ideal for commercial uses
Cons:
Cleaning it requires meticulous preparations
Not dishwasher safe
Check Price on Amazon
#2. STX INTERNATIONAL STX-3000-MF
The cousin of the STX-3000-TF can turn any venison meat into pieces in a matter of few seconds. Can you believe that this grinder sells over 12,000 units each year? Well, I can, since it is also my favorite grinder too!  The best part is that you can grind larger portions of meat with this one thanks to the advanced meat auger. It also has a high capacity motor; 3,000 watts.
The air-cooled motor will resist all the hard work you impose on it. Both STX Turboforce and Megaforce come with an air-cooling system, but this one has the top and bottom vents as extra. Plus, the sausage stuffer is designed much better.
It has three adjustable speeds and a circuit breaker that optimizes the functionality of this grinder. You can grind 240 pounds of meat only in one hour. That is way too much for home use, but the extra capacity and the patented air-cooled system sure make you feel as if you are driving a Mercedes-Benz in your kitchen.
When it comes to versatility, the STX-3000-MF is not lagging behind at all. I use the burger slider press regularly; you get to prepare perfect burgers, just keep them in the fridge for later use. It also has grinding plates, cutting blades, kubbe attachment, and sausage tubes–all at your disposal. Make sure take advantage of the meat claws when shredding pork or beef.
The meat pusher is designed ergonomically to comfort your hand during large batches. With these attachments, you can just get the most out of your meat, regardless if it is venison, beef, or buffalo. And since this tool is powerful, you can get your desired ground meat without any hassle. What makes this electric grinder different than other brands is the fact that you can grind more meat in a much shorter time.
Pros:
Powerful motor rating
It is safe to use
Speed is adjustable
Comes with a lot of attachments
Sturdy construction
Cons:
#3. LEM Products .75 HP Stainless Steel Electric Meat Grinder
Deer meat or venison is among the most exotic yet delicious ingredients out there. It is a good choice for a jerky recipe because of its rich and tender texture. But of course, you can create a whole new world of delicacy out the venison if you get yourself a sturdy meat grinder. And speaking of sturdy grinders, this one is an exceptional alternative. It is priced a little higher than the competition, but I definitely suggest this for serious home grinders. If you are processing heavy loads of game meat, then you should consider this one.
The quality of this deer meat grinder from LEM Products would certainly make you smile. I have used this tool once, and I was awed by its performance. The motor of this device has a .75 HP rating or around 550 watts of pure power. Well, it is not as strong as the STX International meat grinders, but this capacity is more than enough for home applications. Specifically, it grinds at least 300 pounds of meat in an hour.
That is even more meat than STX series can grind in one hour. It comes with a lot of accessories; jerky making equipment, sausage stuffers, etc. You can also grind small chicken bones with this one, but I personally never do since it will shorten the lifespan of the grinder in the long run.
Meanwhile, the construction of this meat grinder is not shabby either. All of the parts that come in contact with the meat is made from stainless steel. It also comes with a handle so that you can move it easily.
What I love most about this device is its motor. Specifically, the latter permanently lubricated. It is minus maintenance on your part. It has a circuit breaker, too. This is by far the quietest grind you can ever find.
Pros:
Safe and easy to use
Works perfectly for home applications
Passed various quality-control standards
Easy to move, thanks to its heavy duty handle
Can grind finely
Cons:
Creates noticeable noises while running
Fairly expensive
Check Price on Amazon
#4. Weston No. 22 Commercial Meat Grinder
Another exceptional meat grinder that I have tried is the Weston No. 22. It is a great tool that can offer 1125-watt processing power. The engine of this one has permanent lubrication and air cooling. It is designed for heavy-duty meat processing and has higher capacity than other brands mentioned above.  
With this power, it is no surprise that it can grind up to 720 pounds of meat per hour. Of course, with this capacity, the Weston No. 22 is a great option for commercial usage. It is a perfect sausage stuffer with quiet performance skills and extra durability. Any restaurant or butcher shop can take advantage of its bonus features.
The pure stainless-steel housing of this meat grinder allows easy cleaning and maintenance. You can just wipe any dirt and rubbish on the surface, and it will look brand new again; disassembles for easy cleaning.
The auger and the feed are made from stainless steel, too. Therefore, you can guarantee that they won't break anytime sooner. An integrated circuit breaker will assure your safety on its usage. It comes with 5-year warranty.
Pros:
Motor is permanently lubricated and cooled
Quiet and smooth operation
Large meat receiver
Comes with a hand guard for extra safety
You can disassemble it for easier cleaning
Cons:
The auger is not dishwasher safe
It takes time to start the engine when you haven't used this device for a long time
Check Price on Amazon
#5. LEM Products 575 Watt #8 Electric Meat Grinder
For those who are looking for a meat grinder that is perfect for home applications, this tool from LEM Products would serve as a good choice. If you are only grinding a few deer each year, then this will be the perfect gear for you. You can grind about 180 pounds of meat per hour approximately. Make no mistake; it is small but as sturdy as it gets.
The meat tray, grinder knife, and the meat stomper are all high quality. It is a perfect countertop grinder with a push button release. It has a meek performance, but its quality does not settle on inferior levels. It features forward speed and reverse speed for a better grinding output. The 575-watt motor of this meat grinder can easily make ground venison. It can hold off a large amount of meat too, thanks to its spacious meat tray.
LEM is one of the leading companies in the meat grinder business, this model is specifically designed for home usage, but it includes all the high-quality features of LEM models. The only difference is the capacity, which is more than enough for home use.
This grinder is made from die-cast aluminum. Therefore, you can guarantee that it has a long lifespan. It also comes with an intuitive power indicator, too, for safe and convenient usage. When you are not using it, you can easily store this machine. Trust me. You won't have a problem with its storage because of its compact size.
Pros:
Sturdy die cast aluminum construction
Decent motor power
It is easy to use
Compact and doesn't consume space
Comes with various attachments
Cons:
Doesn't come with a circuit breaker
Check Price on Amazon
How Do You Get the Gamey Taste Out of Deer Meat?
Deer meat has an earthy flavor to it; however, you can get around that with a few simple tricks. First start by removing all the extra fat before grinding. It is a very lean meat but still has some fat, and that is usually the part where it has strong gamey flavor. This will help you reduce the intense taste, but you still have to do some additional mixing to turn it into a festive meal.
Some people like to add pork or beef fat (beef suet) anywhere in the range of 20 to 50% while grinding the deer meat. I am totally against this method because not only you make it unhealthy, you also make it taste very fatty.
Instead, you can add beef brisket or pork loin around 15%, and oatmeal around 10% to venison. This will make for a super delicious burger with no gamey taste at all.
Can a Meat Grinder Grind Bones?
Some electric meat grinders are capable of grinding bones. However, you should always keep in mind that they are usually made for grinding soft bones and the bones of smaller animals. People usually do this for preparing pet food at home.
Do not confuse this with preparing bone meal; you can achieve that with a regular food processor since the bones are cooked at 400°F first. Bone meal is a great fertilizer by the way; especially, for tomato plants.
 I do not suggest using the meat grinder for the bones of large animals such as pork, beef, lamb, etc. You will get that grinder motor overheated even if it has the best cooling system installed.
At What Temperature Should I Cook Deer Meat?
Deer meat tastes best if the inner temperature remains in the 130°F to 140°F range. It is true that venison is extremely tender. You can treat yourself with distinctive meals without much effort. However, you need to watch out the temperature since it is very easy to ruin by overcooking. This is mainly due to its low-fat level.
You can be sure that it will not shrink, but it can get rubbery if you are not careful. First of all, do not even attempt to cook it without a quality meat thermometer, as guessing will not work on this one.
Deer meat starts to dry out right after it passes 150°F degree. You need to attach the meat thermometer and watch closely while cooking at low temperatures. Also, keep in mind that you must cook to medium-rare while grilling if you want to have juicy meat.
Final Verdict
Dealing with venison is not as easy as processing beef or pork. The innate and physical characteristics of a deer meat will require you to have a strong electric meat grinder. The choices that I listed above are among the few units on the market that can handle the tough nature of this meat.
Among them, I think that the STX-3000-TF is the best meat grinder for deer. Its engine has a power rating that simply overthrows the competition. It can grind meat within a matter of seconds. Moreover, it has a construction that would not deteriorate even after a long time of use. The attachments that comes with all STX models make them the most versatile meat grinders in the market.
However, I still recommend that you go through all the options that I have listed here carefully, and get the right meat grinder according to your needs. Good luck shopping for your perfect meat grinder! And let us know how you ended buying, in the comments section bellow. 
Last update on 2022-09-08 / Affiliate links / Images from Amazon Product Advertising API