As an Amazon affiliate, we earn from qualifying purchases.
I hear all the time that people question the viability of a ham jerky. Obviously, it is not as common as other jerky types. Most of us are only familiar with bacon jerky. However, if you ask me, you can make any meat into jerkies. You are only bound with your creativity in the context of cooking, and the sky is the limit as long as it is edible.
I am not a professional cook myself. But I am quite confident about my skills when it comes to making meat jerky. And yes, I have my very own ham jerky recipe! It should not come as a surprise though. After all, pork is a popular pick as a main ingredient for dehydration. Bacon is the perfect example.
In this article, I will show you how to make a ham jerky. Also, I will discuss a few things that you might need to consider if you ever want to make this treat. So what are you waiting for? Let's get started!
Ham Jerky Recipe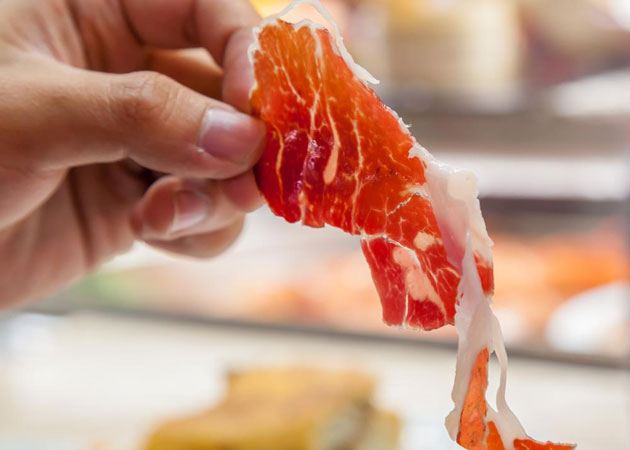 I love ham jerky because of its chewy texture that your mouth can surely enjoy. It is tasty enough to fulfill the cravings of your appetite. Even my kids love them! Fortunately, preparing this recipe is pretty easy. Just follow the instructions I laid down below, and you can make an appetizing ham jerky on your own!
​Ingredients
Preparation of the Meat
You must freeze the ham partially so that you can slice it a lot easier later on. Keep in mind; the thinner the slices, the better. This is the reason why I recommended 1/4-inch slices. Specifically, thin slices are easier to dry compared to thick ones. When slicing, you need a sharp cutting knife that can handle the process quick and efficiently.
Here is a great knife set to cut 1/4-inch slices effortlessly:
Jerky Maker Meat Slicer with 10-Inch Carving Knife
You need to cut the ham thin and evenly in order to be able to dry the jerky properly. It really is not as easy as it sounds if you do not have the right equipment. Plus, the ham must be chilled a little bit before slicing, which makes it extra hard and dangerous to slice without a protected cutting board.
This is basically a jerky slicing tool made perfect to obtain uniform 1/4-inch slices. Make thin strips from whole meats flawlessly; you will achieve optimum drying. It is good for ham, beef, deer, and all kinds of exotic and game meats. You can also use it to slice fruits and veggies. This is definitely better than any electric slicer in my opinion.
I suggest you to be careful with the 10-inch knife since it is extremely sharp. The handle is made from Pakka wood and it is triple riveted. Plus, it is also ergonomic with solid tang. Both the board and the knife are made from food grade stainless-steel. You can wash them in the dishwasher, but I would advise you to hand wash the knife to extend its lifespan. Dissembling is also easy for cleaning.
The board is 6 x 12 inches big, and fully adjustable to cut a variety of thicknesses. You can get 1/8, 1/4, and 3/8 thin slices. The nylon spacers allow you adjust according to your preference with 1/8-inch increments. Knife basically moves in between the guide rails safely; no need to move the meat. You can also store the cutting board and the knife together easily due to the compact design.
Features:
12 x 6 x 1.5 inches
Weighs 2.15 pounds
How to Use the Jerky Slicer Set?
Make gorgeous and uniform cuts ultrafast. All you need to do is to follow these simple steps:
Adjust the thickness using the nylon spacers. 1/4 is the best choice for most meat jerky types.
Put the chilled ham or other meat of your preference on top of the cutting board.
Wear the stainless-steel hand guard if there was one included in your package.
Hold the meat and move the knife in between the rails.
Remove the sliced meat and repeat 1-4.
If the meat comes with layers of fat, then make sure you trim them away. They are not usable in making jerky. Moreover, they can turn rancid, which is not healthy for this particular delicacy. If you are aiming for a chewy texture, you have to make the slice on the grain.
Preparing the Marinade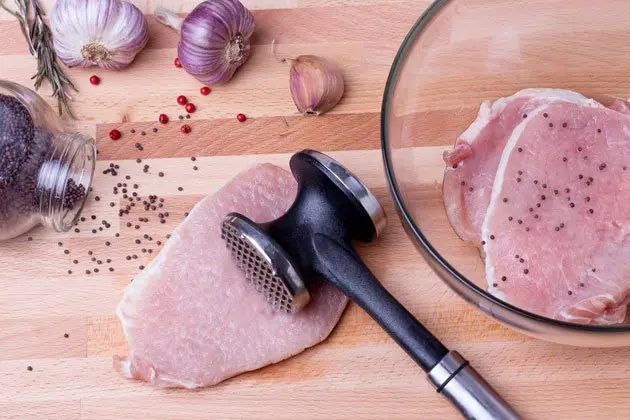 Take a big bowl and mix the rest of the ingredients that I listed here. Stir the mixture thoroughly so that all the seasonings would bring out the optimal flavor for the ham jerky.
After you prepared the marinade, start to submerge the ham slices in it. Try to hand-mix the ham strips so that you can bathe the meat properly. The meat should soak in the marinade fully; this is a crucial part of dehydrating. Once you are satisfied, you can cover the bowl and put it in your refrigerator. The refrigeration process usually takes overnight.
Tip:
Some people want to make sure that their food is free from any detriments. After all, foodborne diseases could strike anytime, especially if you don't sanitize your ingredients properly. The drying heat required in making jerkies is usually enough for this purpose. However, if you want to have a safety net, you should heat the meat before you dry it.
You can do the heating process after you have taken out the meat from the refrigeration. Pour the meat and the marinade in a pan and let them boil for around 5 minutes. If your cuts are thicker than 1/4 inch, then you need to increase the heating time. Ideally, the boiling temperature should not be lower than 165 degrees Fahrenheit.
After boiling, drain the meat and let it dry for a while.
Drying Process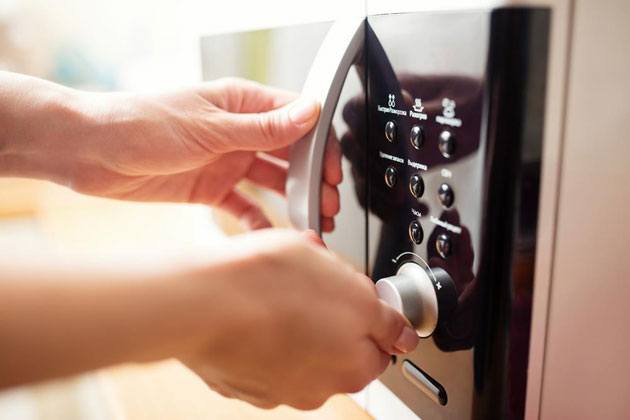 Step 1:
You can fully dry the meat by the use of clean absorbent paper towels. Gently blot the surface of the meat so that you can take off any liquid residues. After this, arrange the meat strips on a baking rack. Make sure that the strips are isolated, and they don't have any contact with one another.
Step 2:
Put the baking rack in your microwave oven that has a preheated temperature of 165 degrees Fahrenheit. You could also use an electric smoker or food dehydrator if you have one. Food dehydrators are typically a convenient choice, especially if they possess high-serving capacity. These devices are great in heat distribution, which creates the perfect even drying environment.
Step 3:
You will heat the meat strips until they become a jerky for four to six hours. You could also assess the readiness of the meat by checking its texture. If it is already firm and bendable, your ham jerky is already done! Take note that meat strips that have been marinated have faster drying time compared to those that haven't received such treatment.
Step 4:
Once your ham jerkies are ready, take them out from your drying device and let them cool for a while. If you are not going to consume them immediately, you can store them in your glass jars or food containers. But if you ask me, you should take a bite while it is fresh and hot! You will definitely love the taste of your ham jerky!
Best Food Dehydrator for Making Ham Jerky 
NESCO FD-28JX – Jerky Xpress
There is no doubt that Nesco makes the best food dehydrators in the market. This one is unique in the way that it is specially designed to produce meat jerky fast. You can prepare ham and other types of jerky within hours instead of days, and the best part is that no tray rotation is necessary. The top-down fan dries them all at the ideal level.
A free jerky gun is included with the package instead if you want to make other type of jerky from ground meat. It comes with 3 different nozzle attachments. Make note that it is super simple to operate this dehydrator; the only thing you have to do is to activate the on/off button as there are no other adjustment options. I would suggest you buy bigger Nesco food dehydrators if you are also planning to make dry fruits since the temperature is fixed at 160°F on this one for jerky making,
Consider this as the perfect jerky making machine. As a side note, I do not use the included spice packets as I like to prepare my version of the marinade. It is very easy to clean, but you should do it immediately after the jerky is ready. If you wait and let the marinade dry up, then you are to blame for the hard cleaning work! Energy-wise, it does not cost more than a regular light bulb.
Features:
Includes 4 trays; 13-1/2 inch wide
14 x 14 x 9 inches
350-watt element on top
1-year limited warranty
Best Smoker for Making Ham Jerky
Smokehouse Products Little Chief Front Load Smoker
You do not need a huge size smoker for making ham jerky at home, but you sure need a high-quality and convenient one. First thing you should check when shopping for one is to see if you can load wood chips without opening the main door of the smoker. You need to keep the heating environment stable during smoking and dehydrating. Heat escapes fast every time you open the door. That's why an alternative system to load extra chips is crucial. This one comes with a separate front-loading section, so you don't have to worry.
The company has been making smokers for over 50 years. In other words, they had plenty of time to perfect themselves, and you can sense this in every corner of this smoker from the design to the materials used. Ventilation is superior to most other smokers which allows proper dehydration. Electric powered heating element maintains the temperature at 165°F for perfect slow cooking and dehydration. Note that the temperature range is not adjustable; it is fixed.
4-easy slide plated grills included along with recipe booklet and 1.75 pounds sample smokehouse natural wood chips. The drip pan is dishwasher safe for your convenience. This smoker is intended for outdoor use only as it is the case with most other smokers in the market.
Features:
24.5 x 11.5 x 11.5 inches
Weighs 15.6 pounds
250-watt heating element
Includes recipe booklet
2-year warranty
Made in the USA
Best Wood Chips
Super Smoker Variety BBQrs Delight
Everyone has a different favorite wood chip type when it comes down to preparing jerky and other specialties in the smoker. It takes some practice and experiment to figure out what works best for you. In addition, you don't have to settle for only one type of wood chips; you can come up with your own exclusive combination. Do not underestimate the power of fume, wood chips significantly alter the taste of your food that comes out of the smoker.  This package is a best seller and contains 6 different wood chips variety for you to mix or use individually for the best results. Apple, Hickory, Mesquite, Cherry, Pecan and Jack Daniel's are all included.
Another benefit is that you do not need to soak these chips at all; they are ready to go as it is. You can pretty much use one bag about 10-times on average. They are made in USA and you can simply use them with any kind of smoker; charcoal, gas, or electric powdered smoker. Use cherry for mild sweet fruity smoke, mesquite for a stronger aroma, pecan, and hickory for a nutty flavor.
Features:
6 x 1-pound bags
Shipping weight; 8.27 pounds
Flavors included: Apple, Hickory, Mesquite, Cherry, Pecan and Jack Daniel's
Jerky Hanger – LEM Products 735
This a great tool when you are making jerky from meat strips. I use them all the time for both ham and beef jerky. It is a simple idea but allows you to put about 100 strips on one single tray, all isolated from each other. And, it does not just end there; all the ham slices are almost floating in the air, barely touching anywhere. The skewer looking stainless steel racks keep them hanging separately.
You can use this in the smoker or also in the oven. The whole thing folds flat for easy storage. It has an additional tray underneath to catch the drippings. Great way to utilize space in your smoker. You can also make all kinds of savory shish kebab with these skewers.
Features:
Includes 9 skewers / 12 inches
Drip pan is 18 x 13 inches
Weighs 4.6 pounds
Storing the Jerky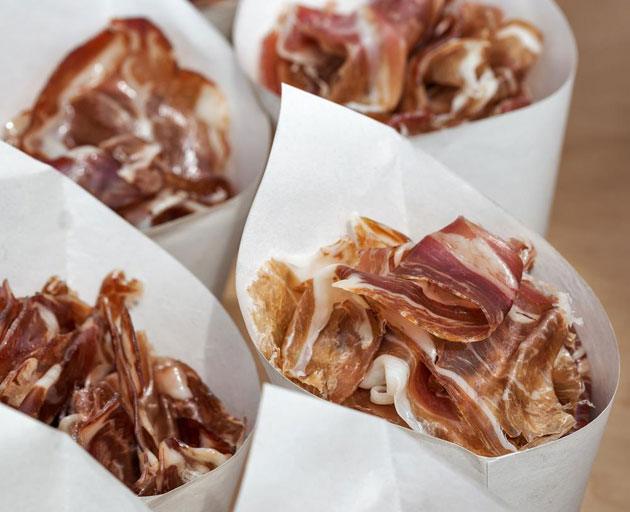 You can safely store the jerky to extend its lifespan. Ideally, putting them in vacuum-sealed containers would do the trick. Refrigerating the jerky in these containers would extend its lifespan for 1 to 2 months. If you put the jerky in the freezer, it would last for three months or more. It should be safe, as you cured the meat with salt and soy sauce.
AwePackage Clear Silver Flat Pouch with Oxygen Absorber – Home Made Jerky Bags
These are the ultimate airtight and odor free plastic bags to store your home made jerky. They are sealable either by chamber vacuum or a regular heat sealer. I put around 1 or 2 ounces of meat jerky in these. However, if you put bite size crumbled jerkies, then you can even fit 4-5 ounces inside. You have the option to purchase the 50 or 100-bag package. The bags include a notch on one side for easy opening, just load from the bottom.
These are the same quality durable bags that professional meat jerky producers use to sell their products at the stores. Besides, you can also use them for all kinds of dry foods; they will keep food fresh at least five times longer.
You will definitely save both money and food with these bags. Oxygen indicator and the oxygen absorbers are included, and they are so easy to use; throw one in each package, and you are all set. If the oxygen indicator turns to purple, then it means that it is faulty; do not use it and return to the manufacturer.
Features:
5 x 8 inches
Capacity; 1.5 Oz
Weighs 14.7 ounces
Things to Remember When Making Jerkies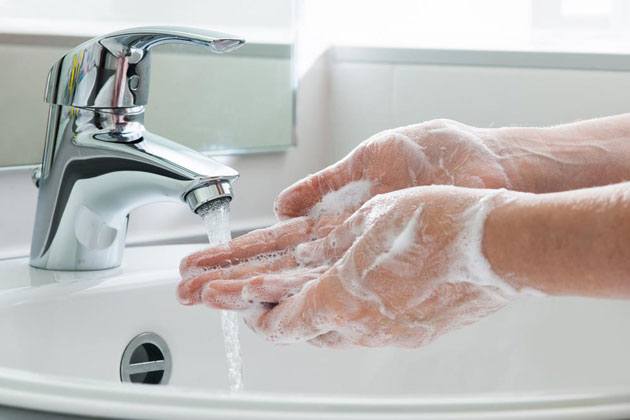 Of course, it is not enough that your jerky is delicious. You should make it safe to eat as well. Here are my recommendations that would make your jerky immune from bacteria and other harmful organisms.
Wash your hands properly. After all, you are dealing with raw meat here.
Your equipment and tools should be clean too.
Always choose fresh meat. If necessary, refrigerate them below 40 degrees Fahrenheit.
If you want to thaw the meat, do it in the refrigerator, not on your counter.
Do not reuse the marinade.
​Conclusion
Making ham jerky is pretty easy. This treat is a doable recipe even for those who are not really into cooking. As long as you have fresh meat and a set of ingredients that would accompany it, then you can create ham jerkies in the convenience of your kitchen. Moreover, jerkies are not expensive delicacies at all. Therefore, you can indulge on them guilt-free!
Did you like this simple recipe of mine? If you have any questions, comments, or suggestions, just feel free to ask me. I will be waiting! Happy cooking!
Last update on 2022-09-08 / Affiliate links / Images from Amazon Product Advertising API