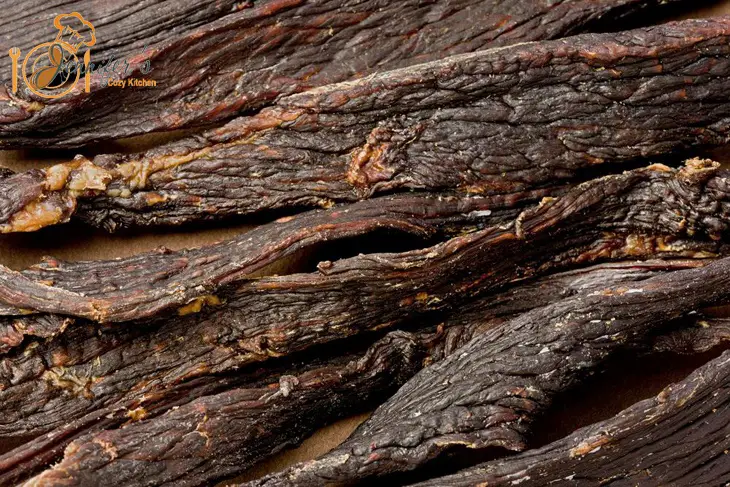 How to Make the Ever-Delicious Flank Steak Jerky
I love jerky. I am a jerk for it. Needless to say, I am fond of any type of jerky, regardless if it's made from buffalo meat or bear meat. As long it is prepared correctly, they are very welcome to my stomach.
​But this time, I have to elude from the exotic ones. I realized that going to basic recipes like flank steak jerkies is a good break. And since it is a simple recipe, I am pretty sure that all of you can make this, even for the first-timers. Don't worry. I am here to guide you. Learn how to make flank steak jerky now!
More...
​Flank Steak Jerky Recipe
​I can say that flank steak jerkies are unique in their own right. They are more tender than most jerky variants out there. This characteristic enables them to be tasty and chewable. You can easily achieve such feat if you can prepare this treat properly.
​Specifically, flank steak is a cut of beef. Typically, it has a high price, more than a sirloin tip or a top round. It doesn't require trimming because it is already lean by nature. Therefore, it is a good choice for making barbecues, jerkies, and other grilled recipes. Also, this type of meat features rich flavor, too.
​Ingredients
​Ingredients
Flank steak (1 pound)
Soy sauce (3 tablespoons)
Worcestershire sauce (3 tablespoons)
Ginger (1 tablespoon, minced)
Garlic (1 tablespoon, minced)
Brown sugar (2 tablespoons)
Red pepper flakes (1/4 teaspoon)
Paprika (1 teaspoon)
Black pepper (1 teaspoon)
---
​Instructions:
​Preparing the Marinade
​The first thing you need to do is to mix up all the ingredients (except for the flank steak) in a large bowl. Use a spoon to stir the mixture thoroughly until you can achieve a sticky and savory result.
You can add more pepper flakes and ginger if you want to get a spicy taste out of your jerky. But for those who want a sweet blend, you can include two teaspoons of honey in the equation.
Specifically, you need to cut the strips against the flank's grain. If you won't do so, the jerky you will get is tough and hard to chew. Moreover, the cut should be long or sized enough to fit in your mouth. Well, it is up to you what kind of cuts do you want to make!​
​After you have your meat strips already, you can already include them on the bowl of the marinade. Coat the meat with the mixture thoroughly. Use your hands in the marination process. And of course, make sure that they are clean. You don't want any foodborne illness to get into your meat.
Refrigeration
Usually, I refrigerate my flank steak strips for 6 to 12 hours if I want to turn them into jerkies. Such cooling period would allow the marinade to seep into the flesh of the meat. The cold temperature helps in the integration of flavor, which is crucial in any jerky recipes.
Drying the Meat
After such period, I take out the meat strips from the marinade bowl and arrange them on a baking rack.
Take note that you should not use the marinade anymore, so you are already free to throw it out. Going back, position the meat strips properly and use clean paper towels to wipe off the visible liquid on their surface.
Put the tray back in the refrigerator for around 30 minutes to fully dry it.
Creating the Jerky
Put the baking tray with the flank steak strips in an oven with a preheated temperature of 175 degrees Fahrenheit. You could also use a food dehydrator or a gas smoker in this process. It is up to your preferences. As long as you follow the prescribed temperature and usage, things should go well.
By experience, such temperature would fully dehydrate the meat strips for 4 to 6 hours. But I always do manual checking to avoid overcooking. Take one meat and try to bend it. If it bends and doesn't break, then it is already a jerky!
Moreover, when the reddish coloration gradually disappears, it is a good sign that meat is almost ready for consumption.​
Also, do not forget to flip the meat in the middle of the dehydration process. This will allow you to achieve even results.
Storing the Jerky
​If you are not planning to eat the flank steak jerky yet, you can store them in airtight containers and bags. Put them on your refrigerator so that they would last long enough for later consumptions.
Specifically, refrigerated jerkies can last for a month or two, especially if you have used fresh flank steaks. You can even extend such duration if you fully freeze the jerky. Its lifespan can reach up to 3 to 4 months.
Conclusion
​As you can see, the process of making flank steak jerkies is not that difficult. If you can just secure the proper ingredients, things would be a lot easier for you. This treat is a good food to prepare for various gatherings and leisure activities! Your family and friends will surely be thankful for this!
​Also, don't forget to practice proper kitchen etiquette and hygiene. In this way, you can guarantee that your food is safe to consume and delicious at the same time. It is a convenience that you won't trade off!
​If you have any questions, comments, and suggestions, just ask me. I love to hear from you! Happy cooking!
Last update on 2021-05-02 / Affiliate links / Images from Amazon Product Advertising API