As an Amazon affiliate, we earn from qualifying purchases.
Buffalo meat is an excellent ingredient for any spicy recipes. Just last week, I tried a Paleo Chili made from this meat. The taste was truly riveting to the mouth! My appetite seems to be insatiable when I encountered such dish.
However, the best spicy recipe that I made for this meat is a buffalo jerky. Its taste is truly one-of-a-kind. If you are lover of spicy and sweet flavors, you will certainly love this simple masterpiece of mine. I can guarantee that a buffalo jerky is great for any occasions, regardless if it's a grand party or simple family gatherings.
What made this recipe of mine different from other spicy buffalo jerky recipes is the presence of pineapple. The juice of this fruit allows all the varying flavors to have a complete harmony! I know you are eager already. However, let me take you on a short jerky course first.
Basics About Making Jerkies
Many consider jerky as a simple recipe. It is not as meticulous as other food and dishes. Moreover, the ingredients are pretty common.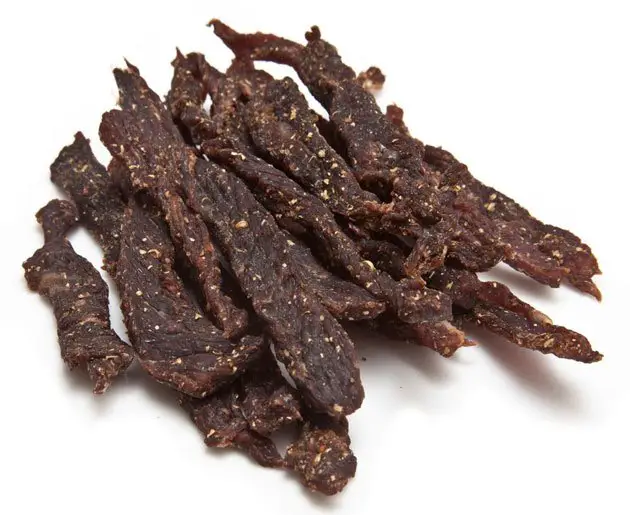 The only exemption on that is your choice of meat. If you want to try making jerkies from exotic meat selection such pheasants, rabbits and squirrels, then you need to search through. After all, these meat varieties are not common in the market. If you want to know the best meat for jerkies, better check out this article of mine.​
Meanwhile, here are some important points that you have to understand before you start making jerkies.​
The Temperature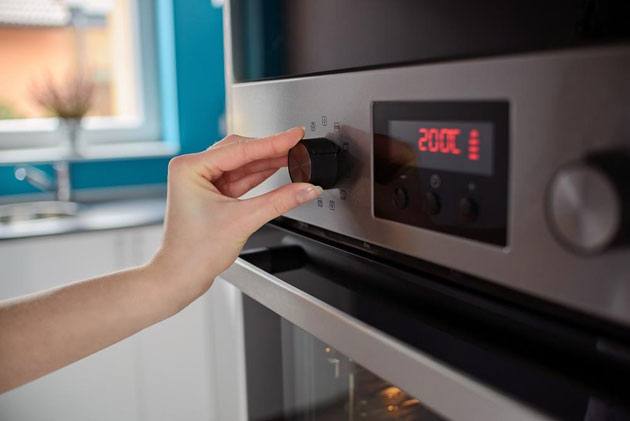 The goal of making jerky is to remove the internal fluids of the meat. Of course, this is done through the process of drying or dehydration. Once the liquid of the meat is gone, the flesh would become chewable and firm. It has a palpable texture that you would certainly love to munch.
The drying period of a jerky varies. It just depends on the level of temperature that you will set on your cooking device (e.g. microwave oven and smokers). For example, if you put your oven on 160 degrees Fahrenheit, the drying time would be around four hours.
Of course, there is a limit to how much you can set the heat of your drying device. I personally recommend that you should not exceed to 180 degrees Fahrenheit.
The Cut of the Meat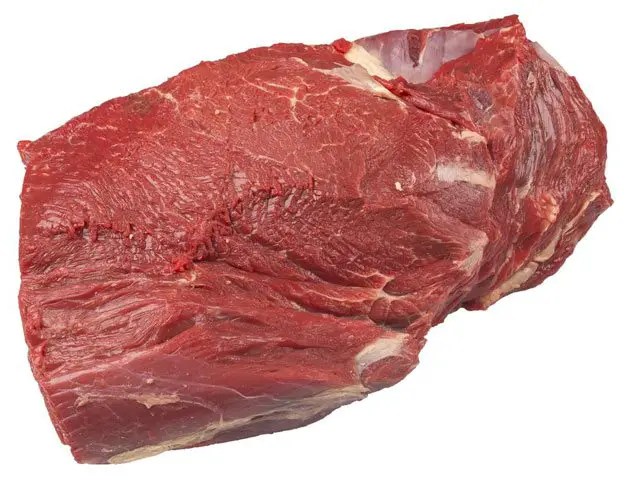 This is an essential consideration that you have mind every time you are making jerkies. Essentially, it is difficult to dehydrate a meat cut that contains too much fat. Drying them is tedious and time-consuming.
This is the reason why I only recommend using the parts of the meat that is lean. Moreover, I highly suggest that you slice your meat into strips as well. By doing this, you can ease out the preparation period.
How to Make a Sweet and Spicy Buffalo Jerky
Making this jerky is truly an enjoyable task. It is worthwhile for my time and tummy as well! Moreover, the ingredients that I used are prevalent and affordable. Although it has a premium taste, its overall cost will never your pocket. Let's get started!
​Ingredients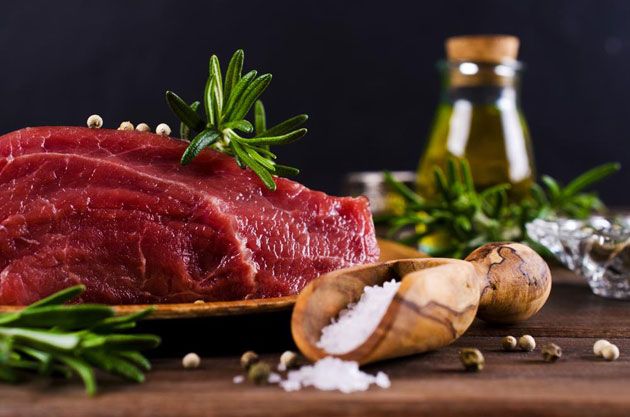 Buffalo flank steak (1 pound)
Onion powder (1tablespoon)
Garlic powder (1 tablespoon)
Black pepper (1 teaspoon)
Brown sugar (1/2 cup)
Soy sauce (2/3 cup)
Teriyaki sauce (1/4 cup)
Worcestershire sauce (1/4 cup)
Pineapple juice (1/2 cup)
Red pepper flakes (1 teaspoon)
Balsamic vinegar (1/3 cup)
Making the Strips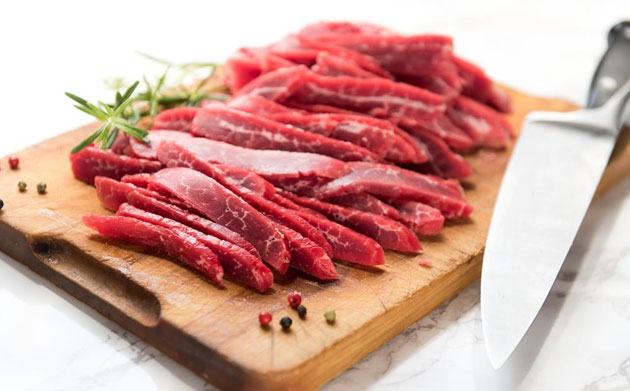 As we mentioned earlier, there is a need for you to have thinly sliced pieces of meat for your jerky. It is necessary so that you don't have any trouble in the drying process. Slice the flank steak of the Buffalo to around 1/8 inch thick. You need a good and sharp knife for this. Check out this link for some of the best knives that can do this task.
Also, you can ground the lamb meat and insert it into a jerky gun. This process is more convenient than manual slicing. The gun creates the meat strips by pushing the ground meat on a nozzle that has a horizontal opening. If you don't have this tool, investing on it is a good idea.
Seasoning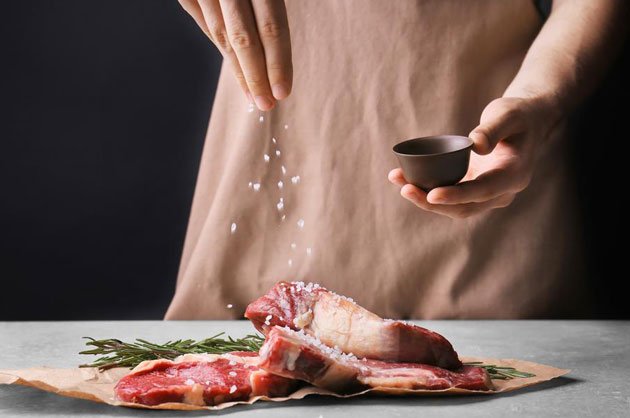 Use a small bowl and mix the garlic powder, onion powder, and black pepper. You need this mixture as your seasoning to the meat. However, you need to do this gently. Otherwise, the jerky will get a strong and overpowering flavor.
Creating the Marinade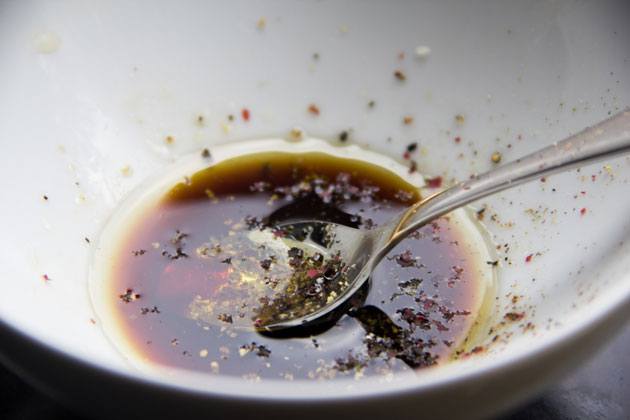 Pour the brown sugar, teriyaki sauce, soy sauce, balsamic vinegar, pineapple juice and Worcestershire sauce in a saucepan that is preheated on a medium heat setting. Continue heating the mixture until the sugar melts completely. After this process, take the marinade in the refrigerator and let it chill for 30 minutes.
When the refrigeration is over, take the source and apply it to the seasoned meat strips. Mix the marinade thoroughly with the use of your hands. Use a plastic cellophane or any cover to close the bowl before you refrigerate it again. Let it stay there for around 3 hours.
Buffalo Jerky Preparation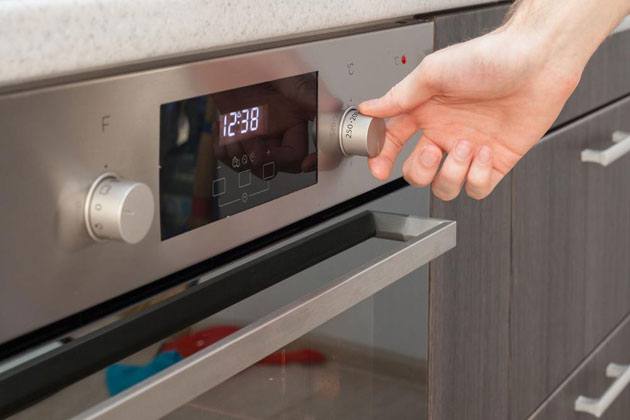 Take the meat out of the refrigerator and arrange them on baking racks. Make sure that the strips are separated from each other. This will aid in a quicker and smoother dehydration. If there are still some seasoning left, sprinkle it to the meat.
Place the baking racks in the oven. Ideally, there should be a small opening on the oven's door. In this way, the circulation of warm air inside the device would be at an optimal rate. Of course, this is necessary for dehydrating the meat. If you are using an oven, make sure that the vents are open.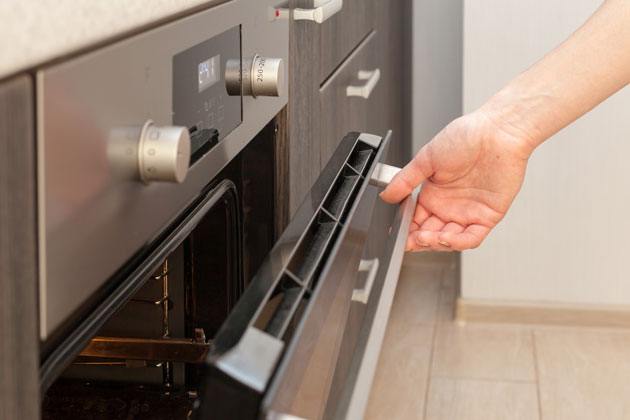 Set the temperature to around 165 degrees. It should be able to dry the whole meat for 4 hours. Also, don't forget to flip the meat on the midway. You want to ensure that all sides would be cooked properly.
After all of this, your sweet and spicy buffalo jerky is ready!
Preserving the Jerky
You can preserve the jerky for at least a month by putting them in an airtight container. I always do this every time my kids and I can't consume the jerky in a single eating. But if you want to extend the lifespan of a jerky, you need to place inside a freezer. It should be away from external detriments like heat and air.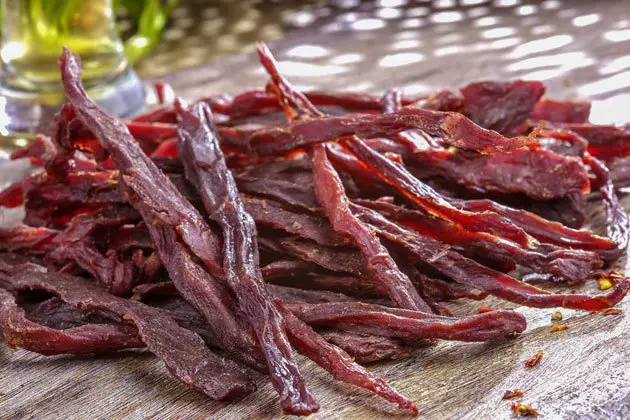 If you do this process, the jerky will remain edible for four to six months. This is among the reasons why a lot of hunters love to bring jerkies to their trip. Its edibility and freshness don't die off quickly. It is an excellent source of nutrition, too!
Before putting the jerky inside the container, make sure that you blot out its remaining liquid and grease. They can cause spoilage.
​Conclusion
Overall, making a buffalo jerky is not that difficult. You just need to make sure that you got the right ingredients and tools so that your final output would have a desirable taste. Also, don't forget only to choose fresh meat. They have better taste than the old stocks. Moreover, you can be sure that they won't cause any unwanted predicaments.
Did you learn from this simple recipe of mine? What are some other things that you want to know about jerkies? You can tell all your thoughts in the comment section below. I will be waiting!