4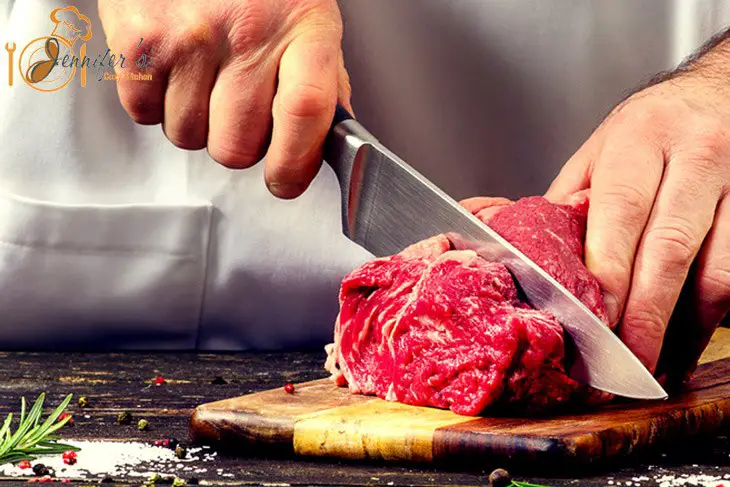 The Best Knife for Cutting Meat: Top 5 Choices!
Most of us love meat recipes! It is not a surprise that it is a part of our daily eating regimen. Of course, there's a lot of reason for this, protein and that irresistible smell of burning BBQ are only a few of them. You can probably prepare any meat a thousand different way! However, we all know that doing so would not be easy if you don't have the best knife for cutting meat properly.
​There are different types of knives that can accomplish this task. We have a butcher knife, breaking knife, and so on. It makes a big difference if the meat part you are trying to cut has a bone inside or not. In fact, I have featured a separate list for the best butcher knives on the market today. But today, I will introduce you to some of the best chef knives in the market.
​A chef knife is a general kitchen tool. It can perform multiple cutting and slicing tasks. If the knife has decent quality, it can be able to cut tough chunks of meat as well!
In this article, I have featured some of the most viable options you have for this type of knife. It is better if you check which one of them will satisfy your needs and preferences. Here they are!
More...
​Best Knife for Cutting Meat: My Top Picks
The Best Knife for Cutting Meat: Top 5 Choices!
​Best Knife for Cutting Meat: Features, Performance, and More!
#1. Victorinox 8 Inch Fibrox Pro Chef's Knife
The Victorinox Fibrox Pro Chef is my favorite knife when it comes to cutting meat or pretty much any other food type. Fortunately, I am not the only one who shares the same sentiment. Many kitchen warriors like me have high regards to this tool due to its functionality and construction. It is an essential kitchen knife that every cook needs to obtain, regardless of how experienced she or he may be. One of the main reasons for this comes from the fact that it is highly versatile. Because of its absolute sharpness, it can mince, chop, and slice tough meat.
This knife has been well engineered to provide full comfort and easy operation to the user. You should know that the blade of this knife has been laser tested and tapered. Moreover, it has a precise angle and form that further boosts its cutting capacity and overall durability. On the other hand, the handle of this Fibrox Pro is excellent at providing firm grip and easy handling. The knife will never slip from your hands even if it is wet. And for me, that alone can already seal the deal!
By all means, this is a very popular chef knife. Amateur and professional cooks enjoy the range of functionality it provides. There are many reasons for its success, but to summarize, I think it provides excellent value with all the necessary features. It is reasonably priced and fulfills all that I would expect from a quality chef knife in terms of balance, weight, edge, and stability. It will help you to cut through all kinds of meat types like a breeze, even including tough game meats. You will never get tired even if you cut or slice with it for long hours. And you get all these at a fraction of 1/10 of so-called an expensive chef knife. You definitely get more than what you pay for.
8 inch is the perfect size for a good chef knife and this one has a blade that is exactly 7.9 inches long. Its blade degree is 15, which means it is very sharp. Another feature that I like so much is the fact that I can sharpen this really fast and easy. Just hold the sharpening steel at 45 angle and slide about ten times to make it razor sharp again. Please note that it comes extremely sharp from the factory. This is due to its advanced angle consistency and repeatability that is apparent all over the blade. However, you should not try to cut bones with this. It is not made for that purpose.
Sale
Victorinox 45520 Fibrox Pro Knife, 8-Inch Chef's FFP, 8...
For home chefs & professionals. This Fibro Pro chef's knife has been...
Fit for all tasks. Designed to handle kitchen tasks both big and...
Easy handling. Each knife features an ergonomic handle made from...
Knife Dimensions. Blade made out of stainless steel material - 7. 9...
Trusted Swiss quality. Expertly crafted in Switzerland in 1884,...
Most specialty knives are not dishwasher safe, but this one is not of them. You can throw it in the machine for easy cleaning unlike those $1000 knives that you have to wash by hand.
Made in Switzerland. Yes, we all know that Japanese and German knives are so popular (and expensive) all over the world, but I thoroughly believe that this Swiss-made blade gives you more to every penny you spend. Expect nothing but outstanding quality from this knife. It comes with a lifetime warranty against any defects in material and workmanship.
​
Can last for several years
Durability is exceptional
Edge sharpness and retention are present
It is very safe to use
Requires less maintenance
Ergonomic handle


---
#2. Mercer Culinary Millennia 8-Inch Chef's Knife
My list would never be complete without the Mercer Culinary Millennia. After all, it is probably one of the most sold-out chef knives in any store! You should turn it into a habit to check out specific products that sell multiple times than their alternatives and constantly get 5-star reviews. In the end, thousands of users cannot be wrong. Let me tell you why it is an exceptional product that can satisfy the needs of any cook, including me.
This 8-inch knife comes with a very attractive price. It is a chef knife that has a blade sharpness that can be on par with Victorinox Fibrox Pro. Specifically, it is using a special Japanese high-carbon steel that allows easy maintenance and quick sharpening. Superior quality Japanese high-carbon steel is a distinctive material that takes the sharpness to a completely new level. You can even make 1/8 ¨ thick meat slices with this one! This is your tool if you like to achieve paper thin cuts. New knives do come sharp, but this one also stays sharp.
Of course, the steel is both stain and rust resistant as well, so there is nothing you should worry about like corrosion or discoloration. With this knife, you can be able to cut through thick slices of meat without exerting too much effort. It simply makes your life easier in that sense.
The handle of the Millennia is super ergonomic. It allows you to have a proper and tight hold of the knife. You get great grip especially if you have small to medium hands. Moreover, it gives you enough control to enhance the precision of your cuts!
Mercer Culinary M22608 Millennia 8-Inch Chef's Knife,...
Ergonomic handle – a combination of Santoprene for comfort and...
Textured finger points provide slip resistance, grip, and safety....
Hand wash knives for blade edge and surface care
The highest quality Japanese steel allows for easy blade maintenance...
One-piece high-carbon, stain-resistant Japanese steel
There are textured finger points on the handle that provide safety and easy grip while you are performing with the knife. Of course, you should expect more from a handle that has been made from Santoprene and polypropylene! The knife has a good weight overall, and provides you precise cuts each time. You will simply love the fact that it does not take much effort to slice or cut with this well-balanced knife.
Made in Taiwan. This one is not dishwasher safe as stated by the manufacturer that it would diminish its performance. It is suggested to wash by hand with soap and warm water. Do not soak it in the aluminum or stainless-steel sinks as the blade can get deteriorated. It does not come with a cover, but you can purchase one as extra. Remember your chef knife will only perform at its best if you take good care of it.
​
Excellent durability and comfort on its handle
Razor-sharp blade can cut through tough meat pieces
The blade is easy to maintain and sharpen
The finger points in the handle are textured for better control
Ideal for professional applications
Limited lifetime warranty


---
#3. DALSTRONG Chef Knife - Gladiator Series
One of the most impressive cutting knives that I tried is the DALSTRONG Chef Knife. Specifically, their Gladiator Series has outstanding capabilities, not to mention its cutting-edge design and aesthetic elements. You cannot question its sharpness either, as it is made from German high-carbon steel. Meanwhile, its edge has been hand sharpened for a razor sharp performance. We are talking 14 to 16 degrees polished edge blade here; you better be careful since it is very easy to end up with stitches due to the extreme level of sharpness.
It sure looks like a sports car. The handle of this knife is made from luxurious black Pakka (imported from Spain). The latter has three rivets to secure the blade fully. Moreover, the texture of the handle enables a tighter grip and better control. You will also love that it has been laminated as well so that you can clean it easily! It is hard to keep your hands away from the handle. For people who are always in the kitchen, this knife is a perfect choice. It has an award-winning design that is engineered to perfection. All the materials used on it are of premium sources. You can sense the level of quality from the tang to the tip of the blade; the craftsmanship is exceptional.
Resistance during slicing is eliminated thanks to the smart design. Knuckle clearance is perfect due to the wide blade, so you can perform rocking motion effortlessly. The flexibility level is outstanding. Try it on any kind of food; it is so addictive that all your other knives will remain in the drawer unless you have some special carbon steel Japanese ones in there.
You never get tired even if you work in a busy kitchen since Dalstrong chef knife is well balanced and lightweight. However, it is a sturdy piece of cutting tool. The manufacturer states the hardness level as 56+. It feels like I am cutting through butter every time I slice meat with this exceptional knife.
DALSTRONG Chef Knife - 8" - Gladiator Series - Forged...
Outstanding craftsmanship, cutting-edge technology, stunning design...
Incredibly razor sharp, full-tang, imported high-carbon German steel...
Award winning design, with satisfying heft, premium materials and...
Engineered to perfection at 56+ Rockwell hardness and hand polished to...
See why thousands of professional chefs and home cooks love and trust...
Cleaning is fairly easy. Make sure you hand wash with warm water and use regular soap. Maximize your cutting skills with a razor-sharp tool like this, and get ready for compliments. It is a bit more expensive than the other knives listed here, but I think it is still underpriced for what it is worth. BPA free sheath is included with your purchase, and it fits just perfect. Plus, you get legendary customer service from Dalstrong; the company is well-known for it is superior support.
​
Hand sharpened (14 to 16 degrees)
Extremely sharp and durable
Edge retention is impressive
High carbon German steel
Engrave rivet.
Ergonomic handle provides comfort and control
Tempered blade


It has an intimidating look (but it is not a deal breaker, though)
---
#4. Imarku Pro Kitchen 8-inch Chef's Knife
Another exceptional cutting knife that can do the job is the Imarku Pro. This one has a high-carbon stainless steel construction that enhances its functionality and versatility in the kitchen. Chrome is also used besides carbon steel at around %16 to improve its glossy finish. I just love to use this knife because it can do a lot of things. You can strip meat from bones, crush garlic, chop, dice, slice, and cut all kinds of food as you like. It has very similar features to the DALSTRONG chef knife, but there are some slight differences.
Aside from cutting tough meat, you can also use this tool to chop and slice other ingredients. Of course, I can guarantee its sharpness because it has a high-carbon German stainless steel construction. You can cut through tough meat and vegetables easily without much effort. The extra level of sharpness is due to the unique German engineering. This is a very sturdy blade. After all, it has Rockness Hardness Scale (HRC) of around 58-60. Therefore, you can say that it is really tough.
The handle of the Imarku Pro is just similar to the Gladiator Series of DALSTRONG. It is made from Pakka, which ensures comfort and stability while you are using the knife. However, the handle could have been designed better ergonomically. It helps to reduce stress or aches caused by long hours of slicing because of its smooth and finely texture. Despite being too straight, you can still be sure that the handle has non-slip properties.
imarku Chef Knife, Pro Kitchen Knife 8 Inch Chef's...
High-carbon stainless steel blade-It is manufactured from high-quality...
Multi-functional knife-The gyutou knife is classified and designed to...
Ergonomic pakka handle-To make it more professional and minimize any...
Ultra-sharp edge-Sharpness is key to achieving the best cuts and this...
Corrosion and stainless blade-In addition to carbon, 16-18% chrome is...
This knife is truly designed for the professional cook. The thick and wider blade allows you to work comfortably. It is a German made kitchen tool developed to maintain functionality for longer periods of time. Please note that you should not use it in a hot flame or on cutting frozen foods. Clean with soap and water. Hand washing suggested, but you can also wash it in the dishwasher.
It is a high-quality, well-balanced, multi-functional, and budget-friendly sharp knife that you want to have in your drawer if you are serious about your cooking.
​
Exceptionally sturdy and durable
The edge is very sharp
High carbon German steel
Doesn't allow numbing of the hands
Can cut through tough meats and bones
Ideal for professional applications
Includes life time warranty
Simple design but it is not yet ergonomic
---
#5. Equinox Professional Chef's Knife
I'm sure that most of you are looking for a knife that can be an ace of all trades. And of course, the knife should be able to strike a balance between its capabilities. Well, that's where the Equinox Professional Chef's Knife come into play. This particular cutting tool is great for home and professional applications. It is among the most functional knives that I have ever tried. It can cut and mince through different ingredients, from fruits down to fish!
This is probably the most affordable chef knife in the market that is produced with 100% German steel. It is inarguably a great buy with all the exceptional features and budget price it provides. Ships in an elegant plastic packaging. It has perfect length that you would expect from a chef knife; 8 inches. You are in full control while cutting with this lightweight knife.
Since the blade has a German high-carbon stainless steel construction, you can expect that it is rust and stain resistant. Moreover, it has an easy maintenance since the edges of the blade has excellent retention. Once you feel that it is beginning to get dull, just sharpen it using a diamond stone at 20 degrees.
Meanwhile, its handle is using an ABS technology. This particular innovation incorporates durability and moisture-resistance to the handle. As a result, you can get a knife that is easy and comfortable to hold. It is a forged knife with the bolster unlike some other chef knives that are stamped. Note that it is also a full tang blade, which is the most reliable chef knife you can ever get. It comes in a beautiful box.
Edge retention is very impressive
Safe to use (comes with a finger guard)
100% German steel
It is pretty lightweight
Durable and rugged
Affordable
The long blade doesn't provide enough balance
---
​Things to Consider Before Buying a Knife
Before we go down to our review, let me first discuss the basics of choosing a knife. As I mentioned earlier, there are different types of knives. And all of them have different intended purposes and applications.
But despite of this, these knives share some universal characteristics. Therefore, you can say that some general indicators can separate a good knife from a bad one. Let's get into the details to learn how to select the best one:
The Handle​
The handle of the knife is the base where you are going to hold the instrument. Obviously, you will never hold the knife on its blade because that is plainly absurd. A good knife should have a handle that gives comfort and security to your hands. It should never give you any stress or numbing, especially during extended usages. Moreover, it should provide enough support and stability to your hands to make even and steady cuts. The handle should never slip off from your hands even when the surface is wet.
​Bolster
The bolster is the shoulder or collar of the knife. Specifically, it is the meeting point of the blade and the handle. Of course, it is an essential component since it somehow determines the rigidity and balance of the instrument. A knife that has a well-made bolster is expected to be vigorous and stable. Meanwhile, the bolster should act as the finger guard as well. The latter should have a curved depression so that your gripping hands won't get in contact with the blade. This is the part where you get defects in the long run if the knife you bought was not a quality one in the first place.
​Blade
The blade is an essential part of the knife. This is where the cutting phenomenon happens. An excellent knife is sharp and has a good edge retention. Specifically, it should be made from high-carbon steel so that you can guarantee its durability and toughness in the long run. Moreover, the said steel also allows the blade to be immune from stains and rust.
 When choosing a knife, make sure that its blade has an adequate length. At this point, it will boil down to your preference. If you want to work with long knives, then you should get a lengthy one. The same goes if you are more comfortable with knives that have shorter blades.
The Heel
Of course, you also need to pay attention to the heel of the blade as well. The latter is the thickest and widest part of the blade's edge. It also provides the biggest heft. This part is crucial, especially that we are talking about meat here.
The heel is necessary to make those forceful cuts on bones and meat tendons. It helps to balance the cut with the weight. You better check if the knife that you are going to buy has this component prioritized. If not, then you should move to other options.
Aside from these considerations, you should also test the weight and balance of the knife. Assess if the knife can provide you enough stability and control. Keep in mind that this still depends on your personal preferences. Therefore, it is only up to you to fully evaluate the compatibility of the knife to your daily applications. I like a chef knife that stays in line with my knuckle position. This is important both when I am cutting backward or forward. Additionally, I also check how it feels when I perform the rocking motion.
Every cook has different preferences, and there are so many different brands in the market. However, this does not change the fact that there are some general guidelines that every good knife should comply with.
These are my choices when it comes to best knives for cutting. I have tested all of these units on numerous recipes, and I can say that they don't lack anything. You will just love their sharpness and rigidity. Their blades can slice through tough objects smoothly, which improves the speed and efficiency of your food preparation.
But among these, I would recommend that you try the Victorinox Fibrox Pro Chef. Straight from the box, the knife is already brimming with quality. Once you put it into action, you will definitely realize that it is a worthy investment on the get go. It is my choice for the best knife for cutting meat. And I bet you will feel the same once you get this one!
Did you like this article? What are your thoughts about these knives? Tell us your answers in the comment section below!
Last update on 2021-05-02 / Affiliate links / Images from Amazon Product Advertising API