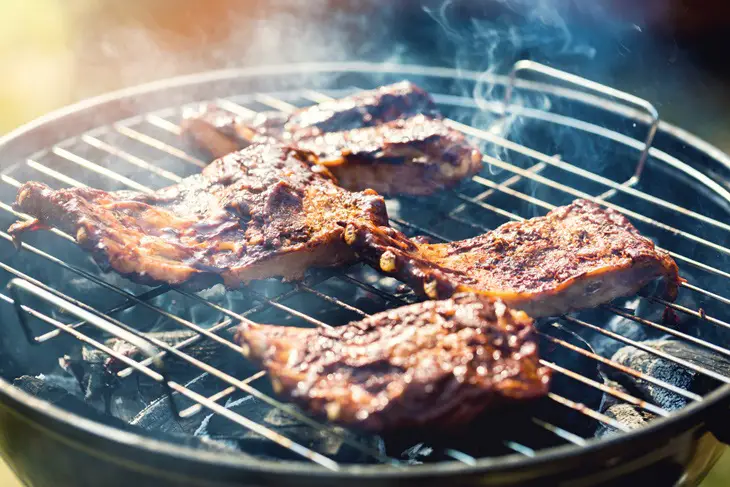 The Best Charcoal Grill Under 200: Top 5 List
Who doesn't love outdoor grilling? There are a lot of recipes that you can do in this type of food preparation. For example, grilled burgers and steaks are among the most favorite picnic and weekend treats nowadays. But of course, you cannot do any of these sumptuous dishes without a good charcoal grill.
Fortunately, there is no need for you to spend that much just to get a decent unit of this device. Specifically, there is the best charcoal grill under 200 that can give you satisfying results. They can somehow match up the quality of those high-end models. For simple homeowners and folks that just want a charcoal grill that they can use anytime, these units that I am about to feature are your ideal choices!
Do not worry. Albeit their prices, these inexpensive charcoal grills have decent build, features, and performance. I have even tested them to make sure that they are not just rip-off products. Just take a look at each of them and see which one you think can satisfy your needs and requirements.
More...
Best Charcoal Grill Under 200
Review of the Best Charcoal Grill Under 200
Let me introduce you to some of the best charcoal grills on the market today. The following section will give you a full understanding to their individual features and performance. It is better that you inspect their capabilities to see if they can match your preferences. Here are they:
Let me introduce you to some of the best charcoal grills on the market today. The following section will give you a full understanding to their individual features and performance. It is better that you inspect their capabilities to see if they can match your preferences. Here are they:
#1. Weber 14401001 Original Kettle Premium - The Best Charcoal Grill
Weber is a popular choice when it comes to grilling wares. They are your first stop if you want a grill that has a straightforward design or setup. Specifically, the Weber 14401001 is a recommended choice for both amateur and expert grillers. It has a solid construction and large cooking surface that can cater big servings with ease.
The Weber 14401001 Original Kettle Premium Charcoal Grill features a porcelain-enamel coated body and lid. It offers a generous grilling area of 360 square inches. Meanwhile, its grill is made from stainless steel, which provides more cooking convenience to its users.
The grill also features a One-Touch Cleaning System. This particular component uses a removable and large-capacity ash catcher. The latter is made from aluminum and features non-sliding sides for easier removal. This charcoal grill also has a set of nylon handles to prevent them from scorching you!
---
#2. Lodge L410 Pre-Seasoned Sportsman's Charcoal Grill - Runner Up
Another fine charcoal grill that you should consider is the Lodge L410. It is popularly known for its extreme durability, which makes it an ideal candidate for a long-term investment. Specifically, the Lodge L410 is a hibachi-type grill that works great for picnics, camping, and fishing trips.

This grill comes with a specialized draft door that controls and regulates the heat. Because of this component, this device can do various cooking methods such as frying. Meanwhile, you can easily access the heat source or the charcoal behind this grill through a flip-down door.
The Lodge L410 is pre-seasoned already. Therefore, you can use it from the get-go. This cast-iron grill also features an adjustable height, which makes it ideal for any occasion. The cooking surface is pretty decent, too. With an area of 156 square inches, this device is indeed perfect for both large and small grilling purposes.
---
#3. Weber 10020 Smokey Joe 14-Inch Portable Grill - Budget Friendly Charcoal Grill
The Weber 10020 Smokey Joe is an excellent choice for those who are really tight on budget. This is a cost-friendly charcoal grill that features a compact and portable design. Just like Lodge L410, this one is also ideal for outdoor and car camping, fishing, and tailgate picnics. It is extremely lightweight, which makes is great for any of these occasions.
Despite its small size and price, the Weber 10020 Smokey Joe still have a decent construction. It has a glass-coated nylon handle that enables quick removal of its lid. Its entire body has been reinforced with porcelain-enamel to ensure that it won't rust and fade. Meanwhile, the stainless steel grate that this charcoal grill has been plated with nickel.
---
#4. Char-Griller 2123 Wrangler 635 Square Inch Charcoal Grill / Smoker - Best High-End Charcoal Grill
its versatility on cooking. Aside from grilling, this one can also smoke, too. Because of this, various dried recipes like jerkies can be made here! It comes with a flanged hood that has airtight features to effectively control the heat.

When it comes to innovation, the Char-Griller is second to none. It has an integrated heat gauge so that you can monitor the current temperature of the device. It also features three shelves in where you can store your condiments, spices, and utensils.
The overall cooking space of the Char-Griller is 635 square inches. However, it is divided into two divisions. The larger one (435 square inches) is the main grilling area. Meanwhile, the smaller division (200 square inches) acts as a warming rack. Take that this tool is using a cast iron grate.
---
#5. Weber 121020 Go-Anywhere Charcoal Grill - Best Portable Charcoal Grill
Just like its name suggests, the Weber Weber 121020 Go-Anywhere is a portable charcoal grill. Regardless where you want to set your next grilling session, this device will always have a space in your vehicle's trunk! It has even a pair of maneuverable legs that secure its lid during travel.
Because it is a portable charcoal grill, you should not expect that its cooking surface is as big as those other products I mentioned here. Specifically, it sports a 160-square inch grilling area. This is already a decent size to cater medium or simultaneous servings.
---
How to Choose a Charcoal Grill
Aside from these selections that I featured, you can see a lot of charcoal grills on the market today. Although they do the same, each of these units still has different features, designs, and prices.
Overall, these variations are essential. After all, we have different necessities and requirements, even to the grilled food that we are making. But if you are clueless about the selection process, you might end up with the wrong product. Of course, I won't let it happen. Not on my watch!
An Overview
Most of the charcoal grills (especially those that are using hardwood charcoals) can burn up to 45 minutes to an hour. If you are making large servings, then your required cooking time would be lengthened. If that's the case, then your charcoal grill should have an ergonomic feature that lets you add charcoal easily. Some models will allow you to do this. But it is not the same story for other grills.
Many grilling connoisseurs agree that the best charcoal grills are those that enable you to add charcoal without removing the grill or the food. This feature alone can give utmost convenience on your cooking. There are different designs for this. One example is a door or opening that gives you direct access to the heat source.
Ash Container and Remover
I all know that grilling and the use of charcoals produce a lot of ashes. They are the unwanted residues that I cannot prevent from coming. Because of this, the grill that you must choose should have a component that holds off the ashes from spreading in your yard. But of course, this feature is not enough.
Specifically, you should be able to remove the ashes from the grill without having to disassemble the entire cooking ware. Accessories like integrated ash pans can provide you with this benefit. Some other grills have different approaches for this. They are using specialized bowls to contain the ash. Although they are effective, removing them is quite difficult.
Grilling Grate
One of the most important aspects of a charcoal grill is its grate. You cannot achieve great results in your food if the grate is not that great (pun intended)! Many of the charcoal grill manufacturers today have their grates crafted from stainless steel or cast iron with porcelain coating.
If you are quite familiar with these materials, you know that they have one common trait: their non-stick surfaces. Of course, such feature is necessary, especially in grilling. Sticking food is one of the common nuisances on tradition grills. Meat and heavy seasonings make the food very clingy to ordinary grates.
Cooking Surface
One of the factors that can determine your choice is the cooking surface of the grill. On this aspect, I can say that there are no wrong sizes. People have different needs and level of appetite. Some can consume tons of meat in one eating while others will just eat meekly.
If you are living or traveling alone, there is no need for you to invest on large charcoal grills. They will just burden you with their size and weight. But if you a lot of stomachs to cater, then you should get a charcoal grill that provides adequate grilling surface.
Portability
Another optional feature that you might want your charcoal grill has is portability. A portable grill is great for camping, fishing, and other outside-of-yard picnics. Most of the grills that are under this category have compact sizes. They may not also have some of the essential features that a charcoal grill should have. But for their price and convenience, they are good options to take!
Final Verdict
Overall, the Weber 14401001 Original Kettle has the best performance and feature among the charcoal grills I featured here. It has an excellent build. It is durable and has resistance against rust and fading. You will never run out of space on this device because of its large cooking area.
Meanwhile, the grate of the Weber 14401001 is made from stainless steel, which discards the need for constant cleaning and seasoning. All the necessary accessories such as the ash pans, access door, and dampers are present on this tool.
Since it has an amazing pricing despite its heaven-sent features, it is easy for me to declare that the Weber 1401001 is my best charcoal grill under 200. I am pretty sure that you will love this option, too!
But if you are looking for something else, just try all the charcoal grills that I featured here. One of them can certainly gratify your grilling needs!
Love this post? Make sure that you hit, like, and subscribe!