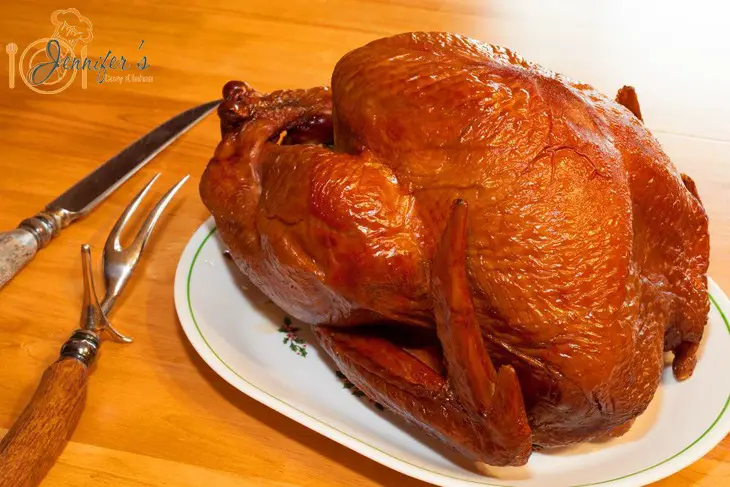 The Best Way of Reheating A Smoked Turkey!
Smoked turkeys are such a delectable delicacy. Unlike other recipes and other cooking methods, smoking actually retains the authentic flavor of the turkey. There is no flavor alteration, only enhancement. As a result, many of us will seize the opportunity to create this dish whenever there is a chance. The same level of deliciousness can be attained whether you prepared the turkey in a gas smoker or electric smoker.
If you prepare a whole turkey, it is pretty natural that you will be generating leftovers. Of course, it would be a waste if you are going to throw the excess meat. That's pretty impractical and unethical at the same time! Even a simple homeowner like me knows the value of food. Regardless if it is an expensive meat or a frugal ingredient, throwing food is not advisable.
More...
The only way you can salvage leftovers is through heating. But seriously, what is the best way of reheating a smoked turkey? Should you follow the conventional rules of smoking, or should you adhere some special rules?
Well, this article will cover all those questions and other important matters about reheating smoked turkeys. It would be great if you can heed all the things that I am going to mention here. In this way, you can reheat the meat without losing its original taste and texture. Let's start!
Best Way of Reheating A Smoked Turkey
Reheating A Smoked Turkey: Things to Consider
When reheating turkey and other meat products, it is vital that you won't overdo the process. Otherwise, the meat will lose its liquid and completely dry out. The same thing will happen if you will do the reheating in a hurry. The best way to reheat any leftovers is to strike a perfect balance.
Take note that you are already dealing with a cooked or smoked item here. Therefore, the heat that you should apply won't be too high or too low. The idea of reheating is to process the food again in the temperature that it was cooked. Many people don't know this concept. And it is better than I have to divulge this fact rather than leaving all of you clueless.
Admittedly, my first attempt of reheating a turkey is a failure. I did it on a blast, which completely sucked the moisture of the meat. I ended up frying the turkey, which is pretty embarrassing. But well, I still ate the leftover. As I said, throwing any food is a grave sin.
The Ideal Temperature to Reheat A Smoked Turkey
You crank any temperature that you want for reheating purposes. But if you rely the fate of your food on random measurements, you won't really get any good results. For smoked turkeys, the best temperature level is at 325 degrees Fahrenheit. This particular heat level is enough to heat up the thick parts of the turkey without snatching its softness.
Of course, you need an oven to do this job. Reheating could take some time, and an oven is good when it comes to stability. It can maintain a high level of internal temperature easily. Moreover, the device allows you to do other things in the kitchen. After all, you don't have to monitor the heating process anymore.
Aside from the oven, here are the other things that you need to have to reheat smoked turkeys.
How to Reheat A Smoked Turkey
Once you have gathered all these tools and ingredients, you can start reheating the meat. Don't worry. The entire process is fuss-free and straightforward.
Step 1:
---
If you have frozen the smoked turkey, thaw it first. But you should do it inside your refrigerator. Thawing it outside will expose it to organisms that can cause spoilage and other detriments. Do the thawing a day before you are going to reheat the meat.
Although it is plausible to reheat a frozen meat, I don't recommend it. It will affect the quality and taste of the meat. You are also making the reheating process difficult.
---
Step 2:
---
The next thing you are going to do is to place the smoked turkey in the pan. Make sure that its breast is placed against the bottom of the pan. Covering the turkey with an aluminum foil is optional. You can still preserve the moisture of the meat without it. But some prefer to use this to guarantee that tenderness of the turkey.
If you are going to use foil, apply the cooking spray to the turkey first. You can wrap it afterward. If you are not going to use foil, just put the thermometer in the pan. Either of these methods can preserve the tenderness and moisture of the meat.
---
Sale
Circulon Nonstick Roasting Pan / Roaster with Rack - 17...
EXTRA LARGE ROASTING PAN WITH RACK: 17 inch x 13 inch Nonstick Oven...
DURABLE ROASTER RACK: The roaster features a convenient U-shaped rack...
FAST AND EVEN HEATING: Nonstick roaster features heavy duty steel...
SUPERIOR NONSTICK: Superior nonstick technology provides excellent...
HIGH PERFORMANCE DESIGN: Oven safe to 450 degree Fahrenheit, the...
Reynolds Wrap Aluminum Foil, 200 Square Feet
200 SQUARE FOOT ALUMINUM ROLL—This package contains two Reynolds...
#1 BRAND OF ALUMINUM FOIL—Backed by over 70 years of quality &...
LOCKS IN FLAVOR—Use this versatile kitchen foil to cook packet...
BUILT-IN EASY TEAR EDGE—Get the right size piece of baking foil...
COVERS, PACKAGES & STORES—Whether you're covering pans to avoid...
Step 3:
---
Once the preparations are done, you can already place the pan inside the preheated oven. Make sure that the oven has been preheated to 325 degrees Fahrenheit.
The time you are going to reheat the meat is dependent on one factor: the weight. If the turkey that you are going to reheat is around two pounds, then it should only take ten minutes. It is as simple as that!
---
Toshiba AC25CEW-BS Digital Toaster Oven with Convection...
Larger interior can accommodate 6 slices of bread, a 12 inch pizza,...
10 cooking settings with adjustable temperature from 150 - 400 degree...
Bright digital display, easy-to-turn control knobs, dual position...
Comes with one year warranty and six accessories including removable...
1500W powerful output and convection fan circulates warm air and...
Step 4:
---
Get the probe thermometer and assess the internal temperature of the turkey. Specifically, you should check its thickest portion. If the turkey is whole, it should be the thigh. If the thermometer gives you a 145 degrees Fahrenheit reading, then the reheating is finished already. Remove the meat from the oven immediately to prevent overheating.
---
Sale
ThermoPro TP20 Wireless Remote Digital Cooking Food...
Hands free monitor: Wireless digital meat thermometer with dual probe...
Hassle-free setup: No synchronization required, say goodbye to the...
Kitchen timer: Food cooking thermometer features count up and...
USDA preset temperature settings: BBQ thermometer with preset...
Durable and accurate probes: Grilling thermometer features food grade...
Step 5:
---
Let the meat cool down for around 10 to 15 minutes. Let the meat absorb the remaining juice. Serve evenly!
Conclusion
Reheating a smoked turkey is a relatively simple process. As long as you follow the procedures that I have given here, you can do this successfully on your first try! Just gather the tools and ingredients first before you start warming the bird again!
If you want to explore some other kitchen tips and tutorials, just subscribe to this humble blog of mine! Also, feel free to hit the like and share buttons if you have enjoyed this tutorial!
Have any questions or suggestions? Just drop them in the comment section below!
Last update on 2021-01-26 / Affiliate links / Images from Amazon Product Advertising API