As an Amazon affiliate, we earn from qualifying purchases.
Some meats are just plain tough, but they can still be extremely delicious with the help of a meat tenderizer. It is one of the best-kept secrets in the restaurant business to buy cheap steaks and turn them into delicacies. Use a meat tenderizer tool, and let the marinade permeate.
Tough meat deserves special treatment. It needs to get tenderized to bring out the flavors. In short, this is the process of elevating the steak to another level. It will not turn flank steak into filet mignon, but the difference will be impressive. Don't go overboard though or, you might end up with mushy meat.
It is not wise to cook meat if it is not tender. Even recipes like jerkies will require you to choose a lean and moderately soft cut of meat. It is not fun to chew on tough meat regardless of how delicious it is.
Boiling is one method of softening the meat. It is effective, but the time you need to devote to this process is pretty long. You can also use salt or some sort of acidic ingredient like lemon or vinegar, but those also take time. If you want something that is quick and efficient, you should get the best meat tenderizer tool. With this amenity, you can pound any type of meat until its fibers soften. Once it does, cooking the meat would become a lot easier.
I have listed some of the finest options for a meat tenderizer below. It would be great if you can check each of these units and see which one of them do you think can make any arrogant meat yield down! Let's get started.
Best Meat Tenderizer Tool: A Quick Roundup
#1. KLEMOO Meat Tenderizer – Best Overall Meat Tenderizer
The KLEMOO Meat Tenderizer is a professional-grade tool. I have seen many restaurants who are using this tenderizer to tackle large chunks of meat. The materials used in this meat tenderizer are FDA-approved. Therefore, it is guaranteed that they are safe and you will not have any issues. I use my KLEMOO and Jaccard tenderizers every time I cook some steak.
In fact, I never grill any steak, or chicken breast without using one of these. Some people may think it is the spices or marinade that give the meat its taste, but that is only partially true. A though and chewy meat will never taste good regardless of what you pour on it! It needs to get pounded by an effective meat tenderizer to soften down.
The KLEMOO Meat Tenderizer features 48 tiny stainless steel blades. These blades pierce through the flesh of the meat thoroughly, thus making the softening process quick and effective. The holes created by the blades enables the meat to seep the marinade fully. As a result, it can certainly enhance the flavor of your meat, despite of the recipe.
The meat will turn out tender than ever since this meat tenderizer will breakdown the connective tissues with each pound. Once they are broken, there is nothing in its structure to make it chewy and though. It will take around 5 minutes for the marinade to run down these tine pierces. Cooking time will shorten about 40% since the heat will also get into those pierces.
You benefit from this powerful tenderizer in two fundamental ways; you get to reduce the cooking time since the meat is softer, and you apply less marinade. Both of these save you time and money. Plus, the process of cooking the meat gets easier. Eliminate uneven cooking, shrinkage, dryness, and add more flavor to the meat.
I should also mention that the design is fully ergonomic, your palm will not hurt even if you use it for a long time. The needles are extremely sharp to take the muscles in the meat apart. So, you better be careful when using it. You need to apply some pressure, but it is pretty easy to operate.
The parts of the KLEMOO meat tenderizer are removable; you can wash them in the top shelf of the dishwasher. Air dry to prevent any rusting. Plastic cover is included for easy storage.
Pros:
Compact and portable (easy to store)
Dishwasher safe
Effective pounding action
No food interaction
Improves the absorption capability of the meat
Cons:
Check Price on Amazon
#2. Jaccard Supertendermatic 48-Blade Tenderizer – Alternative Pick
The Jaccard Supertendermatic has a similar design or concept with the KLEMOO Meat Tenderizer. It also has 48 sharp blades that are ready to pierce through the flesh of your meat. This particular functionality allows this tool to improve the juiciness and flavor of the meat, especially if you are going to marinade them.
The cooking time would be lessened, too, as the meat is already soft. Jaccard makes the most popular meat tenderizers in the market, and this one is definitely one of their best-seller items that get 5-star reviews all the time.
Jaccard Supertendermatic can also optimize the fluid and heat absorption of the meat. It can turn less expensive cuts into dishes that are worth your tongue. Using this tool is not difficult. It has an ergonomic handle that allows you to hold it a snugly and slip-free manner. Moreover, it is easy to clean, as well! Use a wood or plastic cutting board underneath to protect the blades when you are tenderizing the meat.
I should mention that this has a newer model with less blades. The cleaning is better with the new model, but the old one covers more area per each pound. The previous one as extremely popular, but it was just one solid piece. I was unable to remove the parts to clean up. Some people may consider this as a major drawback, but you could still clean and sanitize well by putting the tenderizer in hot water for a n hour or so.
That's why I switched to the KLEMOO. But now that the Jaccard upgraded its game, I think both products are equally viable.
Pros:
Effectively reduces cooking time
Increases the absorption rate of meat
Durable design
Slip-free handle
Easy to clean
Cons:
Piercing the blades to the meat must require you exert force
Check Price on Amazon
#3. OXO SoftWorks Meat Tenderizer – Budget-Friendly Choice
For its price, the OXO SoftWorks Meat Tenderizer is already a great choice. It is a simple meat tenderizer, but its capacity to make any flesh soft is pretty outstanding. If you are not fond of stamp like meat tenderizers, then this is a great alternative for you. It sure has some advantages over the previous two items, and easy cleaning is definitely on top of the list.
First of all, it is obvious that this cannot go into the meat as deep as the blade tenderizers. Therefore, you better use it on steaks that do not require any marinade. It will tenderize, but the sauce cannot go into the meat as it does not pierce like the previous two products. If you are grilling without marinating then this will work out well. This is my choice of tenderizing weapon when I am not adding any marinating sauce on my meat.
It is pretty simple to use one of these. There are two sides of this hammer-type meat tenderizer. The other one is soft, which is ideal for pounding. Meanwhile, the other surface has been contoured and textured. You are going to use the latter so that you can fully tenderize the meat.
The handle of this device is also contoured. Therefore, holding it is not really difficult. Also, the handle's surface is pretty soft, which allows you to hold it for a long time without feeling any sore. Plus, it will never slip even if it is wet. Since it has a straightforward design, cleaning it is not a problem. It is 100% dishwasher safe for your convenience.​
And of course, its ruggedness and durability are unquestionable, too.
It is a versatile product that you can use for various other tasks in the kitchen. I suggest you use a freezer bag and put whatever you want to hammer down in it.
Whether it is a steak or some nuts, you can crush or tenderize without making a big mess in the kitchen. You will notice that this is a very durable product that would eventually last for years without much wear and tear.
Pros:
Easy to use
Very cleanable (even without the help of dishwashers)
Durable and solid construction
Can tenderize effectively
Ergonomic and slip-free handle
Cons:
It is difficult to use with large pieces of meat (because of its small size)
Check Price on Amazon
#4. Weston Manual Heavy Duty Meat Cuber Tenderizer – High-End Meat Tenderizer
If you want something that you can use commercially, then you might want to try the Weston Manual Heavy Duty Meat Cuber Tenderizer. It is a professional-grade meat tenderizer that can work as a meat cuber, too. It comes with 31 absolutely sharp stainless steel blades that can pierce through any tough meat part. It can work fast and doesn't require too much muscle to operate.
This device is composed with two housings. You can detach each of them for quick and easy cleanup. The device can function steadily, too, thanks to the presence of two C-clamps. With these components, you can easily mount this tool to any kitchen counters. The Weston Manual Meat Tenderizer also features a full aluminum construction. You can guarantee that this one can last long, even if you use it regularly.
Pros:
Detachable parts make it easy to clean
Durable and rugged
Can work with large pieces of meat
Stable and can be mounted on any kitchen counters
Comes with safety coating to prevent interaction with food
Cons:
Check Price on Amazon
#5. Koncle Professional Needle Meat Tenderizer – Best Innovative Meat Tenderizer Tool
If innovation is the only thing that matters here, the Koncle Professional Needle Meat Tenderizer would have been at a better place. This tool it a professional-grade item, with a safety coating that ensures the safety of your food. There are 56 sharp and hard-textured blades installed on this device. That number is more than enough to soften any meat that you are working. The blades are also impervious to corrosion and rust, too.
The Koncle Professional Needle Meat Tenderizer can tenderize the meat to the point that it becomes easier to cook. After all, a soft meat is more convenient to prepare than those hard cuts. It can work well with various types of meat, and its performance doesn't go down. This meat tenderizer has a protective cover to ensure nothing will go wrong. Moreover, the blades only activate when you press the device to the meat.
Pros:
Storage-friendly meat tenderizer
Safe and easy to use
Tenderize meat quickly and easily
Washing is not a problem
Sturdy design (no parts seem cheap)
Cons:
Its lock/ unlock button is difficult to twist
Some find it too small
Check Price on Amazon
Does Meat Tenderizer Really Work?
A meat tenderizer is the best option to turn any meat into a tender and tasty feast. They are extremely effective to breakdown the tough connective tissues inside the meat. If you also use an acidic or enzyme-based marinade along with the meat tenderizer, then you can have a perfect steak even from the cheapest cuts.
Make sure you wait a few minutes for the steak to fully absorb the marinade before you cook it.
How to Choose the Best Meat Tenderizer Tool
Tenderizing meat is among the most casual tasks we ever do in our kitchen. It can be considered as the first step in preparing the meat for a delightful dinner, especially if you got a tough one. As I mentioned earlier, this procedure could eat your time up, if you are going to resort to boiling the meat. Now, there is nothing wrong with that method, but as I said, it could burden the pace of your cooking enormously.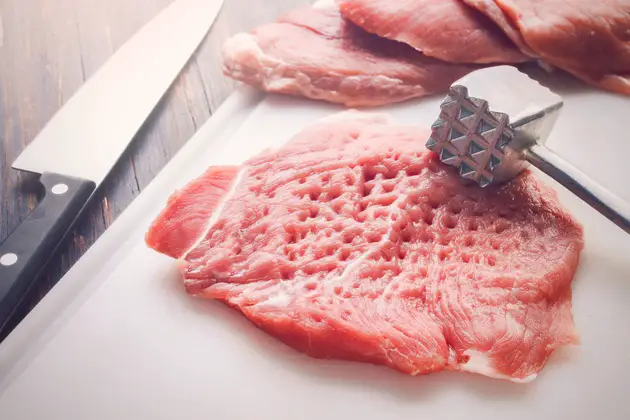 Fortunately, meat tenderizers have been a common amenity. I always consider these tools as a must-have in every kitchen. They are basically perfect at tenderizing, but they can also help out injecting the marinade fast and efficiently into the meat.
There are a lot of options when it comes to selecting the best meat tenderizers. But the following considerations will protect you from getting a bad unit. You better check them out.
Build
The build of the meat tenderizer is an indicator of its quality. Stainless-steel versions are always a better choice in terms of food sanitation and regular maintenance. We are dealing with raw meat here. It is important that you should pay special attention to food safety.
You do not want to add bacteria into your meat with a contaminated tenderizer each time you pound the steak. They are also durable and easy to clean. You will not see them get rust and corrode, too! As a result, they can last for a long time. Plastics are fine, too. However, make sure that they are durable and rugged.
Of course, it is essential to secure the safety of the meat tenderizer. Make sure that your food won't form any chemical interactions with the tool. Specifically, I recommend that you only choose a meat tenderizer that has a proper protective coating.
Regardless of the material type used in its production, you need to check if the coating on these gadgets are safe for food handling or not.
Usability
Don't forget that the effectiveness of a meat tenderizer depends on its functionality and usability. Make sure that the device will allow you to maneuver and hold comfortably and conveniently. All the items listed in this article have ergonomic handle design, so you would not have any issues even if you work with them for long hours.
Another important feature is that the handle of the tool should be slip free, even when your hands are wet. You don't want the device to slip and escape away from your hands persistently. That's pretty annoying, and would create a big mess in the kitchen that nobody wants.
Some tenderizers are made for heavy-duty production like the Weston Meat Cuber and Tenderizer, where as some are made for more practical use as the OXO Soft Works tenderizer.
Heavy duty ones become necessity when you are preparing food for a large gathering. You need to be able to go through numerous steaks effectively without any issues. On the other hand, practical versions can help you tenderize a single steak really fast.
Effectiveness
Meat tenderizers should be capable of converting any tough meat into tender ingredients. Such statement sounds simple, but it is actually a difficult task. It is not enough that the tool can pound and hammer your meat. Instead, it should come with a bladed design to ensure the dismantling of fibers. As long the fibers of the meat are intact, it would never get soft.
Those units that come with multiple blades can prevent this from happening. In addition, the blades are also important when applying marinade into the meat. They speed up the process considerably.
This is achieved by piercing and creating tiny holes into the meat while we are pounding with the blade tenderizers. In return, this allows us to cook 40% faster by flowing more heat into the meat. On average, it takes about 5 minutes or so for a regular size steak to fully absorb the marinade sauce. As a result, we get much flavorful and tender meat to enjoy in less time.
Final Verdict
Overall, the KLEMOO Meat Tenderizer proves that even the simplest of meat tenderizers can have an outstanding performance. From a moderate price tag, you will be getting a durable and sturdy unit. It can soften even the toughest meat cuts, thanks to its sharp stainless steel blades. It is comfortable to use, too, as its handle allows proper and slip-free grip. This is my best meat tenderizer tool. And I bet a lot of you would agree!
If you find this article useful, kindly hit the share and like buttons. I would also love if you will leave some of your comments and questions regarding this tool in the box below!
Last update on 2022-09-08 / Affiliate links / Images from Amazon Product Advertising API