As an Amazon affiliate, we earn from qualifying purchases.
Smoking precooked ham is a thing nowadays, with many gourmets and connoisseurs trying their best to replicate this heaven-sent recipe. Technically, a smoked ham is derived from the leg of the pork, which has been cured. When being smoked, a precooked ham will have its rancidity slow down, thus lengthening its lifespan. 
But of course, the biggest perk of this process is the amplification of the flavor and juice of the meat. In short, this cooking method improves the overall appeal of the food to your tongue. Whenever I tell my daughter that I would smoke precooked ham, she would easily salivate. That is a good proof that this food is not something that you can resist. 
In this article, I will teach you how to create this recipe with the help of minimal tools and ingredients. This will be an easy tutorial so you should not fear on your first attempt. Don't worry. I am not a harsh teacher so you can always do this magnificent and luscious smoked food without breaking a sweat!
So what are you waiting for? Let's start now!
Smoking Precooked Ham: Step-by-Step Process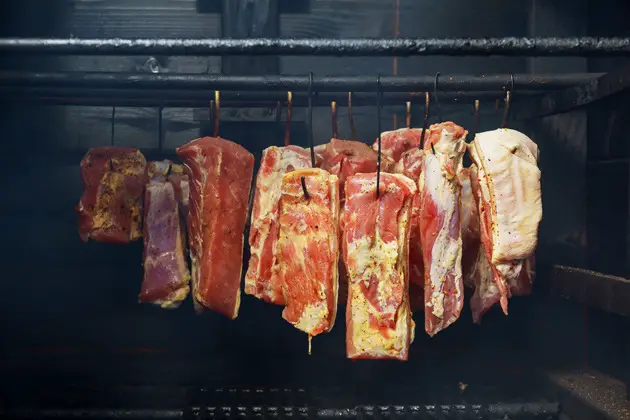 But before we go to the step, let me clarify one thing. Some people in my inbox has been telling me that there is no need to do make this recipe as you can buy a commercialized version of it. Don't worry. I am quite aware of this fact, and I am very thankful for their generous suggestions. But as of now, I want to do learn and do everything by myself. 
Commercialized smoked hams are always a favorite treat for many. People are always looking for it, especially during the weekends and special holidays. But on my part, I really wanted something fresh and delectable. I want to savor a palpable meat that would really feel real on your tongue. Isn't that a lousy wish to grant? 
I know that you are here because you are feeling the same longing. And since we are in the same boat, then it is better than we could sail together the storm right away. 
If you want to make a sweet and spicy version of this treat, you can try out this set of ingredients:
Precooked ham (10 pounds)

Honey (1/4 cup)

Brown sugar (1/4 cup)

Dijon mustard (1 tablespoon)

Cajun butter marinade (5 ounce)
Instructions: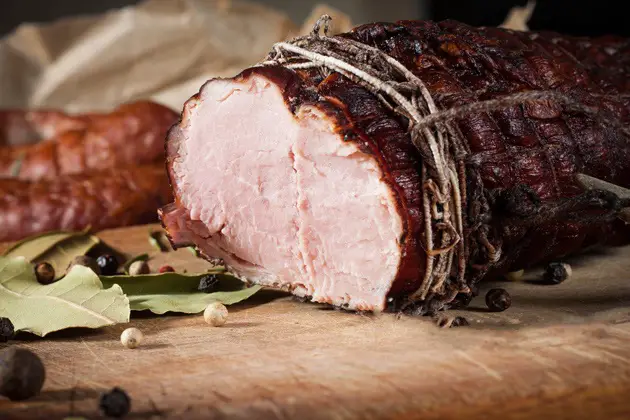 Step 1:
If you are just going to do the basic recipe, you can already skip this step. But for those who want to try a sweet and spicy smoked precooked ham, do the following. 
First, use a small bowl and mix the sugar, mustard, and honey. Apply this mixture to all of the ham. Next, flip the ham so that its backside would be exposed. Cut an area to its surface (maybe around two to three inches deep and five inches wide). Use a meat injector to inject around 5 ounces of the Cajun marinade. 
Step 2:
If you are done with the previous step, you can already place the ham on an oven-safe baking dish. Of course, the latter should be big enough to cater the meat that you are cooking. 
It is essential that the meat will not be burned throughout the process. The best way to prevent this from happening is by filling the baking dish with a one-inch layer of water. If there are some remaining marinade, you can also pour it into the container. You can achieve better results if you are going to apply this step.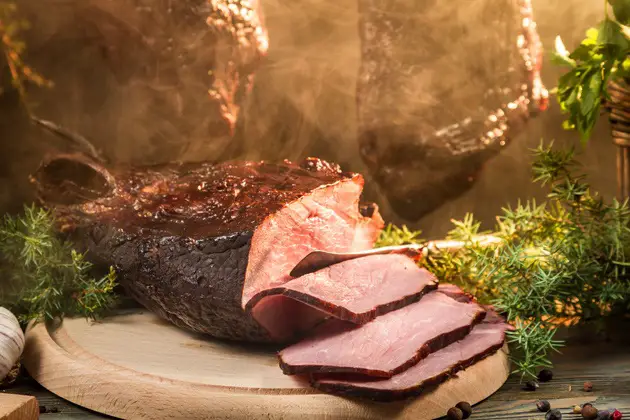 Step 3:
Even if you are using the basic recipe, it is still important that you glaze the precooked ham. You can do this in several ways. Some use the combination of pineapple tidbits, pineapple mixture, and brown sugar. After that, use a brush or your hands (make sure that they are clean) to rub the mixture on the meat. This would fully elevate and rejuvenate the flavor of the food.
Step 4:
This process won't go on if you don't have a smoker. You can either use a gas, charcoal, or electric smoker. It doesn't really matter. As long as the device can provide optimal smoking results, then it is fine. You might want to wear a pair of barbecue gloves here, too, as you will be dealing with a lot of heat here. You don't want to scorch yourself, right? 
Ideally, you should use some flavored woods here. For example, hickory and apple woods are great in this recipe as they can induce a light and sweet flavor to the meat.
Step 5:
Start preheating your smoker to around 225 degrees Fahrenheit. Once done, you can already put the meat inside the oven. Just let the device smoke the meat until the internal temperature reaches 140 degrees Fahrenheit. It is really hard to estimate the time that is needed to smoke a 10-pound pre-cooked ham. But you should not fret about this detail. Just let the smoker do its job. 
Moreover, you should know that smoking is a slow cooking method, just like barbecuing. Therefore, you might need to wait before you can savor the recipe. Of course, you should make sure that you have enough fuel and wood chips at your disposal. You must add these amenities every one hour to keep the temperature stable and running.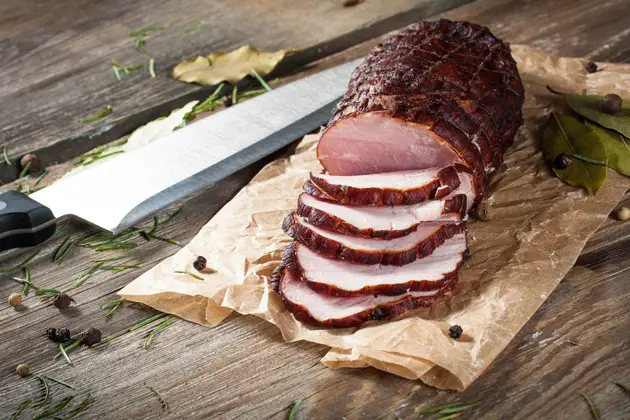 Step 6:
If the desired temperature is reached, you can already remove the meat from the smoker. Let it cool down before you start slicing and preparing it. It is better that you let the remaining heat cook the meat further. Through this, you can guarantee that the meat has been properly cooked. 
At this point, you can already enjoy the precooked meat in its finest condition, texture, and taste. You should serve it to your family and friends, too, so that they can also experience the same delight. 
Conclusion
Smoking precooked ham is pretty easy, as long as you have the right ingredients and tools with you. You may find some commercial variants of this delicacy, but there is nothing that can beat the flavor of a homemade recipe. 
In time, you will enjoy the process of smoking food like sausages, especially if you have special events and gatherings. These sumptuous treats will certainly gratify your insatiable appetite and cravings! 
If you want to learn other smoking hot recipes like this and some other useful kitchen tutorials, just subscribe to my site. My updates are always on point and currently in trend. Moreover, don't worry about fees. My services are all free of charge. 
Also, don't forget to hit the like and share buttons if you enjoyed this article. Thank you and enjoy cooking! 
Last update on 2022-09-08 / Affiliate links / Images from Amazon Product Advertising API