1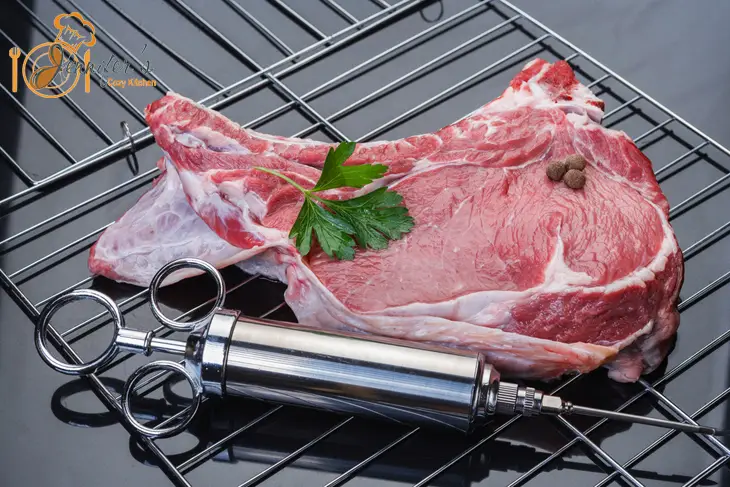 The Best Meat Injector For Marination: A Complete Guide
When there is a need for you to improve or change the flavor spectrum of your favorite meat, you will need to rely on the help of the best meat injector.
Of course, the traditional way of marination still counts as plausible option. Soaking and coating your meat to your preferred marinade or sauce will never be out of the limelight. But if you really want an efficient way of inducing these flavor additives, an injector is the ideal choice.
Just like a meat tenderizer, meat injectors allow you to process your meat in a very simple yet effective manner. If you are quite in a rush, these kitchen tools will definitely come to your rescue.
I have been searching for the right meat injectors in the market today. The ones that I listed are some of the best units that I stumbled upon. Take a look at their respective features and see which can make your meat all giddy with flavors!
More...
The Best Meat Injector For Marination
#3. Budget-Friendly Option

#5. Best Meat Injector for Capacity

Number of Needles
Included
---
The Best Meat Injector: Full Roundup
#1. Grill Beast 304 Stainless Steel Meat Injector Kit - Best Overall Meat Injector
The Grill Beast Meat Injector is the one that will complete your grilling amenities. Aside from an electric grill (best gas grill under 300) or smoker (best electric smoker under 200) , this tool will come necessary. This injector is crafted from pure 304 stainless steel. It is a commercial grade material that possesses top-of-the-line durability. Meanwhile, its needle is extremely sharp. It can puncture and pierce through tough layers of meat, regardless if it's turkey, goose, or deer!
One of the selling points of this device is its spacious 2-ounce barrel. Because it has a big capacity, constant refills will be excluded out in the equation. The barrel also has a great pressure control for enhanced marination output. Furthermore, its handle comes with three rings that guarantee a slip-free and snugly grip. Therefore, using this injector is very easy and convenient.
---
#2. Bayou Classic 5011 2-Ounce Stainless Steel Seasoning Injector - Alternative Pick
If you want another excellent option for a meat injector, you should try this unit from Bayou Classic. It is a seasoning injector that has a sturdy and durable construction. Its maximum capacity is 2 ounces, which is pretty similar to the Grill Beast. You don't need to refill too much with this device. This meat injector comes with two needles: one for minced marinades and one for liquid marinades.
The usability of the Bayou Classic 5011 Meat Injector is pretty similar to the Grill Beast. It is using a three-ring handle so that you can fully control the force and pressure you exert. Moreover, the handle enables ergonomic hold to the injector. It will never slip away from your hands. Cleaning this meat injector is not a problem either. It can be disassembled easily and all parts are dishwasher safe.
---
#3. Premiala Awesome Meat Injector - Budget-Friendly Option
Not all of us can spend freely. Although it is true that meat injectors are not really expensive items, they still come with a price. For those who are forced to be thrifty, I suggest that you should take a look a the Premiala Awesome Meat Injector. This particular device has excellent construction and performance despite its downsized price.
The Premiala Meat Injector boasts an aluminum-free design. Both of its body and needles are made from 304 stainless steel, just like the Grill Beast. This kind of material produces no chemical interaction with the meat. Hence, you can say that it is extremely safe to use. Meanwhile, it still has the same 2-ounce capacity as the first two meat injectors I featured here! Constant refilling will already be a thing of the past!
---
#4. SpitJack Magnum Meat Injector Gun - High-End Option
If spending is not a problem for you, then you should get the SpitJack Magnum Meat Injector Gun. This is a powerful option that is great for commercial purposes. Its construction and design are meant for dealing tough and large chunks of meat. Of course, this is not a possible feat if it doesn't have two heavy-duty noodles. Each of the needles has 5.5-inch length, which is great for piercing any meat type.
The device also comes with a dose selector and an ergonomic squeeze handle. Therefore, using this meat injector is still comfortable. The capacity of the barrel is around 2 ounces (still the same as the first three needles I featured). On the other hand, maintenance of this tool is not that problematic. It comes with cleaning brushes to scrape off those remaining spices and liquid inside the barrel.
---
#5. Chop's Power Injector System - The Best Meat Injector for Capacity
For those who constantly deal will large quantities of meat, I definitely recommend the Chop's Power Injector System. You should get this device if you are running a barbecue or grilling restaurant. It can induce more marinade in the meat in a single injection than most of its counterparts. Specifically, it allows you to inject four needles simultaneously.
The needles are made from commercial-grade stainless steel. This meat injector also has needle protectors to protect them from external detriments when you are not using them. Since its marinade container has a one-gallon capacity, you can ensure that you can work continuously. Of course, you have the overall control of this tool. Its ergonomic handle prevents accidental slippages from happening (even if the handle is wet).
---
#3. Budget-Friendly Option

#5. Best Meat Injector for Capacity

Number of Needles
Included
Why Do You Need a Meat Injector
As I mentioned earlier, marinating a lump of meat can be done by soaking it in the marinade. You put the meat in a bowl of sauce and mixture and coat with the latter. Leave the meat in the refrigerator overnight to get a better result.
Now, don't get me wrong. The traditional method of marinating meat is still efficient and widely practiced. However, there are some downsides to that said approach.
Unless you tenderize the meat properly, its flesh would remain impermeable. In short, even liquified marinades will have difficulty in penetrating the inner flesh of the meat. You are just coating the surface. But the insides remain dry and bland. That's the reason why it is recommended to let the meat stay with the marinade for several hours. It will take time before the liquid can seep through the tiny openings.
You don't need to experience such hassle if you have a meat injector. With this device, you can force your way inside the meat. You don't have to wait for many hours before the marinade occupies the entire meat. Just inject the meat with the needle, and you can guarantee that you can flavor the meat properly.
Meat injectors also allow tiny spices to be packed and delivered in the interiors of your meat. It comes with various opening that enables small food ingredients to be included in the delivery. It can certainly make the difference in the flavor of the meat. We all know that this is difficult or impossible with ordinary marination.
What to Look for the Best Meat Injector
Capacity
One of the basic things that you need to consider when you are choosing a meat injector is its capacity. Of course, this is a preferential aspect. For home applications, injectors with small barrels are already acceptable. It wouldn't hurt you if you invest in such units.
But for commercial purposes, you really need injectors with large tanks. They will allow you to work continuously without the need of refilling from time to time. Moreover, they can speed up your pace, which is already a plus f​actor.
Needle Size
You should also pay attention the size of the needle. As you have seen on the meat injectors that I have featured, most of them come with different needles. Each of the needles has different design and sizes to cater various tasks.
Specifically, needles that have slim or thin dimensions are great for liquid-type marinades (e.g. liquid butter and olive oil). On the other hand, thick needles are great for injecting marinades that contain spices and herbs. Therefore, it would be great if the meat injector you choose has all of these amenities.
Final Verdict
Among all the meat injectors I featured, the Grill Beast 304 Stainless Steel Meat Injector Kit is indeed the highlight reel. It is a complete package. All the necessary needles are already available in this kit. Hence, I can always say that it is a cost-efficient option.
The construction of its injector is truly a spectacle. The 304 stainless steel ensures that your meat will remain safe for consumption. Of course, the said material is also durable and sturdy, too. Meanwhile, the liquid capacity of this device implicates that it is a meat injector for home and small-scale applications. But even for that, I can still say that this it is the best meat injector right now.
But for you, which of these meat injectors do you think have the upper hand? Tell me all your answers in the comment section below!