As an Amazon affiliate, we earn from qualifying purchases.
One of the most important things to have when you grill is a proper pair of BBQ gloves If you are grilling, you know that things could get hot and scorching near the grill. These are not the conditions that you want to subject your unprotected hands to. Some people might want to rely on kitchen mitts when they are grilling but, hey, let me tell you that they are not enough.
Ordinary gloves and mitts are not insulated. If you use them to touch or handle hot surfaces, there is a good chance that your hands would get burned quickly. I know this for a fact because I have learned it the hard way. My left palm has a scorch mark. It is a friendly reminder that you should not be complacent around fire.
Despite its name, a BBQ glove is still usable for other cooking applications. As long as it will involve high temperatures, you should wear them. You don't want to experience the pain of getting burned, right?
I have listed some of the ideal options for durable and heat-proof gloves to help you choose the pair  that can give optimal protection and comfort to your hands. Here they are!
Best BBQ Gloves: Hand-Picked Options
Product Image
Title
GRILL HEAT AID BBQ Gloves Heat Resistant 1,472℉...
Artisan Griller BBQ, Smoker & Oven glove- Insulated...
Jolly Green Products Ekogrips Premium Heat-Resistant...
RAPICCA BBQ Gloves,14IN 932℉ Heat Resistant For...
GEEKHOM BBQ Gloves, Grilling Gloves Heat Resistant Oven...
#1. Best in Dexterity: Grill Heat Aid BBQ Heat Resistant Gloves
Whether you're cooking outdoors or indoors, the Grill Heat Aid BBQ Heat Resistant Gloves gives maximum protection and dexterity. Safely handle extremely hot equipment as hot as 900°F because they are EN407 certified.
These gloves are made with high-quality aramid fibers.  Those are the same heavy-duty materials firefighters use in their uniforms! They're also cut-resistant so you can safely cut your BBQ, slice your ribs, or even chop wood.
You'll also feel comfortable moving around because of the flexible material. Easily transfer pots and pans or lift grill grates. The non-slip silicone grip design ensures that you can securely grasp everything.
These gloves come in one size and come in blue, hot pink, black, mint, cool grey, and Spiderman colors. The cuffs are at least 3.9 inches long. These are ambidextrous and reversible. The inside is lined with 100% cotton for comfort and good airflow.
It's important to note that these gloves aren't waterproof but you can use these safely when it's completely dry due to the porous fabric. I wouldn't recommend this for handling food since it will get greasy. On the plus side, when it gets dirty, you can easily launder it in the washing machine.
PROS
Heat resistant
Flame resistant
Cut resistant
Heavy-duty and durable
Comfortable
Great dexterity
Non-Slip grip
Machine washable
CONS
One size fits all
Not waterproof
Check Price on Amazon
#2.  Best in Durability: Artisan Griller Heat Resistant Insulated Gloves
Looking for a pair that means business? Check out the Artisan Griller Heat Resistant Insulated Gloves. They are made of neoprene and are EN407 certified, so they're fire-resistant, insulated and waterproof.. You can grasp hot objects for as long as 20 seconds with these on. But of course, that also depends on how heavy and hot they are!
Not only that, these Artisan griller gloves allow your fingers easy movement. The fingers are textured with nonslip tire treads so you can conveniently tear your pulled pork. More importantly, your food won't go flying out of your hand.
The cuff length is an impressive 13 inches, offering the cook overall protection when reaching across a griller or deep in boiling water. The inner portion is lined with breathable jersey cotton so you'll also be able to remove these gloves smoothly, even if you're covered in grease.
These black gloves are available in three sizes: 9/L, 10/XL, and 10/XL. Cleaning its outer surface is hassle-free –just put them on and wash your hands! Always check if the gloves are wet before use as a wet lining interferes with its performance.
PROS
Fire resistant
Heat resistant
Waterproof
Heavy-duty and durable
Food-grade neoprene rubber
Cool and breathable cotton lining
Nonslip grip
Great dexterity
Easy to clean
CONS
Wet lining can interfere with performance 
Check Price on Amazon
#3.  Best Waterproof Gloves: Best Jolly Green Ekogrips Premium BBQ Oven Gloves
Make sure you're safe from heat and oil splatter with the Jolly Green Ekogrips Premium BBQ Oven Gloves. Made from BPA-free, food-grade silicone, they are heat resistant, stain resistant, odor-free, waterproof, and mildew proof.
These can withstand 425°F of heat. Get extra coverage with the long cuffs that go all the way up to your mid-forearm. Just move quickly and carefully because the material will retain heat if in contact with hot surfaces for long durations.
The Ekogrips premium oven gloves are designed with non-slip grips that resemble tiny flame nubs. You'll get a good hold of your pots, pieces of meat, or whatever hot object you need to handle. The finger webbing is also reinforced to prevent tearing.
Choose from the 3 sizes: one size fits most, L/XL, and XX-Large. They only come in orange, which I think helps when locating them in storage. The best thing about this pair is that they are easy to clean. You can give them a spin in the dishwasher or simply wear them and wash your hands with soap.
The noticeable downside is that they aren't breathable. The thick material makes your hands sweat and it's a bit of a struggle removing them,  especially when they become sticky inside.
PROS
FDA-approved, BPA-free  silicone
Heat resistant
Waterproof
Stain proof
Comfortable
Non-slip grip
Dishwasher safe
Lifetime replacement warranty
CONS
Decreased hand dexterity
No insulated lining
Not breathable
Difficult to remove when hands are sweaty
Check Price on Amazon
#4. Best Overall: RAPICCA Griller Pit Gloves
Heavy-duty grilling calls for heavy-duty gloves like the RAPICCA Griller Pit Gloves. The outer coating is food-grade neoprene, protecting you from water, fire, heat, oil, and other chemical liquids! The cuff is up to 17 inches in length! Have no fear of placing your hands near spitting charcoal or bubbling oil. They're designed to withstand oil and heat that's 932°F degrees.
These griller pit gloves have insulated textures for a non-slip grip to handle tools, meat, and equipment. Hold hot food directly without worrying about it slipping through your fingers.
They are very comfortable because the inner lining is tailored with double-layer cotton and Kevlar. These helps keep your hands cool and sweat-free while giving you great dexterity. They're easy to wear or remove any time.
The RAPICCA Griller Pit Gloves are available in 2 sizes: 10/XL and 8/M and come only in black. What I love about them is that they're also easy to clean. All you have to do is put them on, soap your hands, wash the suds off, and hang dry.
Recommended for pit masters, camping, breweries, and turkey frying. Overall, these gloves are really durable and tough. No wonder commercial establishments also use them for handling their hot ovens and grills!
PROS
Fire resistant
Heat resistant
Heavy-duty and durable
Food grade neoprene rubber
Comfortable
Cool and breathable cotton lining
Great dexterity
Non-slip grip
Easy to clean
CONS
Check Price on Amazon
#5. Best in Comfort: GEEKHOM Grilling Gloves
Enjoy baking, grilling, or cooking in style and comfort with the GEEKHOM Grilling Gloves. They have two layers of heat protection, with the outer covering made of BPA-free silicone and the inner covering made of cotton.
The silicone is durable, heat resistant, waterproof, and steam proof. Handle heat ranging from -104°F to 446°F. They're comfortable when worn because of the cotton lining inside, which also provides moisture-wicking action giving cool relief when you're near heat sources.
The cuffs reach up to 13.7 inches, so your hands and wrists are safe and secure. Despite the thickness of the material, you can easily grab trays, grates, or flip meat. The nonslip nubs are effective in ensuring you don't drop any hot objects.
They come only in one size, but they have several colors options: black, blue, green, orange, and red. You can even pop them inside the washing machine. Make sure they dry thoroughly before use though as the water reduces heat resistance. Alternatively, you can just wear and wash them with soap and hang to dry. The hang loops help with hanging them to dry or hanging them up on kitchen hooks when not in use.
PROS
Waterproof
Food grade quality
Comfortable to wear
Cool and breathable cotton lining
Non-slip grip
Easy to clean 
safe to machine wash
Great, sleek design
CONS
Check Price on Amazon
Why do you need BBQ Gloves?
You need to handle smokers, grills, trays, pots, pans, and even tools. This helps when moving hot objects around.
Using gloves will help in reaching across a large smoker. You might need to get something from the back of your smoker and you need protection as you reach in
Flipping meat in a large grill is difficult without some heat-resistant gloves. Your hands will be too close to the fire for comfort.
Fire doesn't burn forever and at some point, you need to place additional charcoal or logs into the pit. You might singe your hands accidentally if you stoke the fire or move logs around.
You also want heat resistant gloves when holding large pieces of hot meat. Tongs are okay, but you can't use one to remove a 10-pound whole turkey from your smoker!
Not to mention that food-grade BBQ gloves are great in shredding piping hot pulled pork. The inside of the pork will be hot and you need gloves for precision and grip.
How to Choose the Best BBQ Gloves
Getting a pair of barbecue gloves is necessary, especially if you grill frequently. Just let me emphasize that using kitchen mitts and tongs are not suitable for this type of cooking. Your kitchen mitts are not flame retardant. They don't offer heat resistance, too. They are just going to cover your hands. But when it comes to protection, your hands are as good as naked.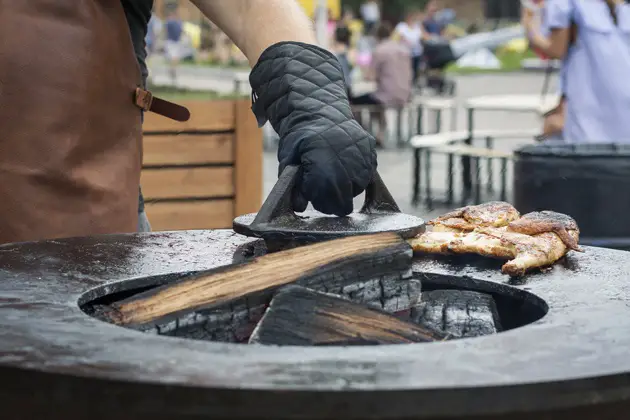 Some of you think that tongs are acceptable alternatives. For many things,  tongs are really okay. However, if you are dealing with large chunks of meat, your tongs aren't going to hold them fully. Moreover, tongs don't offer enough mobility when you are working.
If you are going to choose a pair of barbecue gloves, make sure that they have these qualities:
Non-Slip Design
It is quite a pesky thing if the food you are holding keeps slipping from your hands. If I were you, I would pick a pair of gloves that have a non-slip surface. This particular feature ensures that you have a good grip on your food to keep you from making a mess. The gloves should also allow you to hold objects like tongs and thermometer while you are wearing them. This is a factor that you should not ignore. Even if the gloves are on, your mobility and dexterity should never be limited.
Aside from preventing food and other items from slipping, the gloves should be able to stop them from sticking too much. You don't want any residues from clinging on the surface on your gloves.
Heat Resistance
Each of the gloves that you can see today have different levels of heat resistance. Some of them can protect your hands from temperatures that go up to 400 degrees Fahrenheit. Other units can do better than this. Just make sure that your gloves provide adequate protection.  You don't want your outdoor picnic to turn into a quick trip to the hospital.
Also, make sure that the construction of the gloves is either made from silicone or industrial grade fabric. For example, Aramid fiber provides excellent heat and flame protection The said material also offers anti-abrasive properties, which is pretty great already. That is why it is the main material used in the clothing of firefighters. It is usually combined with silicone to produce optimal fit and protection.
Water Resistance
The last factor that I am going to emphasize is water resistance. But why? Why would you include water on the equation when we are talking about fire and heat here? Well, here is the simple answer. The food that you are grilling (e.g. meat) produces liquid. If the hot juice interacts with your gloves, it can affect the safety of your food. Moreover, the liquid might wear down the surface of your glove. Therefore, it is  better if there are hydrophobic layers integrated on the external surface of the gloves that you are going to choose.
Final Verdict
After comparing the options, the RAPICCA Griller Pit Gloves are the showstoppers because they're designed for commercial and heavy-duty grilling. You'll get total and reliable protection with the food-grade neoprene rubber covering your arms from any kind of hot material, whether it's from water, heat, or oil.
The extra comfort provided by the cotton lining lets your hands breathe during cooking. Plus, you can get them on and off easily.
These are extra durable and can be used for years, all while providing the same level of protection from flames and heat since day one.
What do you think? Which of these barbecue gloves would protect you best during your grilling weekends? Let me know in the comments section below!
Last update on 2022-09-08 / Affiliate links / Images from Amazon Product Advertising API