2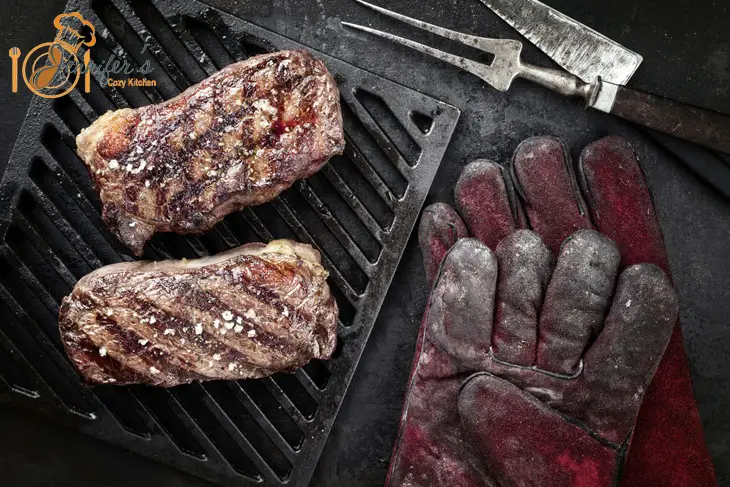 Grilling? Then Wear The Best BBQ Gloves Right Away!
It is not an absurd thing if you are going to look for the best BBQ gloves. If you are grilling, you know that things could get hot and scorching. These are not the ideal conditions that you want to subject your hands. Some people would just want to rely on kitchen mitts when they are on the grill. But hey, let me tell you that they are not enough.
Ordinary gloves and mitts are not insulated. If you use them to touch or handle hot surfaces, there is a good chance that your hands would get burned quickly. I know this fact because I have learned it through the hard way. My left palm has a scorched mark. It is a friendly reminder that you should not take fire easily.
Despite its name, a BBQ glove is still usable to other cooking applications. As long as it will involve high temperatures, you should wear these amenities. You don't want to experience the pain of getting burned, right?
I have listed some of the ideal options for durable and heat-proof gloves. Just get the one that you think can give optimal protection and comfort to your hands. Here are they!
More...
| | | | #3.Budget-Friendly Choice | | #5. Best BBQ Grill for Comfort |
| --- | --- | --- | --- | --- | --- |
| | | | | | |
| | | | | | |
| | | | | | |
| | | | | | |
| | | | | | |
| | | | | | |
| | | | | | |
Best BBQ Gloves: Hand-Picked Options
#1. Extreme Heat Resistant Grill Heat Aid Gloves - Editor's Pick
The Extreme Heat Resistant Grill Heat Aid Gloves can provide complete protection to your hands even they get near to any heat source. It has compelling insulation that provides guaranteed resistance to high temperatures. Specifically, it can resist up to 900 degrees Fahrenheit. Therefore, working on propane, charcoal, or fireplace is very doable.
Its application is not limited to indoor use. In fact, you can use this whenever you are cooking with your gas grills. It can resist flames without getting burnt. Each of the gloves has been constructed with Aramid fiber. It is a commercial synthetic that is notable for its high-resistance to wear-and-tear and heat. Therefore, you can guarantee that this pair of gloves can offer thorough protection!
---
#2. Ekogrips BBQ Oven Gloves - Alternative Pick
Another glove set that you should consider is the Ekogrips BBQ Oven Gloves. Its heat resistance is not as high as the first pair of gloves that I featured. However, it is more than enough to guard your hands against scorches and burns. With a guaranteed 425 degrees Fahrenheit protection, you can be sure that your hands will be out from harm's way.
Specifically, these gloves have a silicone construction, which is embedded in a proprietary design to ensure their sturdiness. Unlike other silicone gloves, the Ekogrips BBQ Oven Gloves don't tear up. Moreover, the gloves also feature a non-slip and tight-grip surface. With these capabilities, being clumsy is not an excuse anymore. The size of the glove is already enough to protect your wrists as well.
---
#3. Premium Men's Silicone Barbecue Gloves - A Budget-Friendly BBQ Gloves
If you want an inexpensive option, you might want to check out this pair of gloves from Love This Kitchen. This silicone-based barbecue glove is an amenity that can provide foolproof heat protection to your hands. As its name suggests, these gloves are intendedly made for men or people with large hands. It can provide you enough grip without compromising your comfort and group.
It is notable that these gloves are 3-inch longer than most of the barbecue gloves that you can see on the market today. This design allows the gloves to protect your wrist and forearms. The silicone used in the gloves is not ordinary either. Specifically, it is a commercial-grade silicone that offers optimal flexibility and comfort to its users. They don't only protect your hands, they also provide comfort, too.
---
#4. Artisan Griller Heat Resistant Insulated BBQ Gloves - A High-End Option
I have seen many professionals who have used these barbecue gloves while they are grilling and dealing with burning wood and charcoal. It is a rugged and seamless pair of gloves that can protect your hands from extreme heat. Of course, the gloves are flame resistant and thoroughly insulate. Therefore, you can expose them to open fire without fearing that your hands will get torched!
In fact, I can say that your hands will stay cool inside the gloves. They are very comfortable to wear and doesn't give too much fuss. It is also notable that the gloves have neoprene coating. It is a FDA-approved material that provides waterproof capabilities to this amenity. It contributes to the overall flexibility that you can feel when wearing them! On the other hand, its appearance is never really awkward. It is a perfect gift choice if you are going to ask me!
---
#5. GEEKHOM Grilling Gloves - Best BBQ Gloves for Comfort
The GEEKHOM Grilling Gloves is another pair of BBQ gloves that you want to get if comfort is your top priority. This one features an inner coating made from heat-resistant cotton that can make your hands feel fussy. The cotton is comfortable and capable of wicking internal moisture, too. As a result, your hands don't get sweaty throughout the grilling process.
On the other hand (pun intended), the other layers of these gloves are made from commercial-grade silicone. They have great heat resistance and can work decently with open fire.
Specifically, the gloves can tolerate up to 446 degrees Fahrenheit of heat. You will also benefit to its long sleeve design. All the vital parts of your arms will be secured whenever you are working with hot charcoals and flame. It also has a non-slip surface so that you can hold what you need to hold!
---
| | | | #3.Budget-Friendly Choice | | #5. Best BBQ Grill for Comfort |
| --- | --- | --- | --- | --- | --- |
| | | | | | |
| | | | | | |
| | | | | | |
| | | | | | |
| | | | | | |
| | | | | | |
| | | | | | |
How to Choose the Best BBQ Gloves
Getting a pair of barbecue glove is necessary, especially if you are grilling frequently. Just let me emphasize that using kitchen mitts and tongs are not suitable for this type of cooking. Your kitchen mitts are not flame retardant. They don't offer heat resistance, too. They are just going to cover your hands. But when it comes to protection, your hands are good as naked.
Some of you think that tongs are acceptable alternatives. Well, at some point, tongs are really okay. However, if you are dealing with large chunks of meat, your tongs will not gonna hold out. Moreover, tongs don't offer that great mobility to your work. You will just end up messing your food.
These predicaments can only be solved by getting the proper BBQ gloves. These are just basic amenities. But certainly, they can deal with high level of heat, which is essential on cooking methods like grilling.
If you are going to choose a pair of barbecue gloves, make sure that they have these qualities:
Non-Slip Design
It is quite a pesky thing if the food you are holding keeps slipping away from your hands. Isn't it annoying? If I were you, I would pick a pair of gloves that have a non-slip surface. This particular feature ensures that you have a good grip on your food. A good hold will make sure that your cooking will be flawless and mess-free.
The gloves should also allow you to hold objects like tongs and thermometer while you are wearing them. This is a factor that you should not ignore. Even if the gloves are on, your mobility and dexterity should never be limited.
Aside from preventing food and other items from slipping, the gloves should be able to stop them from sticking too much. You don't want any residues from clinging on the surface on your gloves. Otherwise, they would eventually have a bad time on the grill.
Heat Resistance
Each of the gloves that you can see today has different levels of resistance to heat. Some of them can protect your hands to temperatures that go up to 400 degrees Fahrenheit. Other units can do better than this. Just make sure that your gloves can cover your hands from the razing temperatures. You don't want your outdoor picnic to turn into a quick trip to the hospital.
Also, make sure that the construction of the gloves is either made from silicone or industrial grade fabric. For example, the Aramid fiber provides excellent heat protection. It can even protect your hands from flames, too. The said material also offers anti-abrasive properties, which is pretty great already. If you don't know, the Aramid fiber is the main material used in the clothing of firefighters. It is usually combined with silicone to produce optimal results.
Water Resistance
The last factor that I am going to emphasize is water resistance. But why? Why would you include water on the equation when we are talking about fire and heat here? Well, here is the simple answer. The food that you are grilling (e.g. meat) produce liquid. If the hot juice interacts with your gloves, that is a bad thing. It can affect the safety of your food. Moreover, the liquid might able to wear down the surface of your glove. Therefore, it would be great if there are hydrophobic layers integrated on the external surface of the gloves that you are going to choose.
Also, the gloves are easier to clean if no liquid stains are clinging to them. You don't want to spend too much of your time on cleaning, right?
Final Verdict
Furthermore, it does not cause discomfort and fits perfectly to any hand sizes. You can also trust its durability and ruggedness. The gloves don't wear down even after years of usage. These features alone justify that this option is the best BBQ gloves.
But what do you think? Which of these barbecue gloves do you believe can provide your hand's adequate protection from grilling? Tell me all your answers in the comment section below!