Tri tip is an excellent part of the bottom sirloin that you can grill or roast with ease. It sure is a party pleaser and a very famous dish in Southern California. In fact, cooking this triangle-shaped long meat strip on hot flame barbecue dates back to the early 1900s. It is called ¨aiguillette baronne¨ in France and ¨maminha¨ in Brazil.
There are many recipes that you can prepare using this special cut. After all, the meat itself has the right combination of tenderness and toughness, making it very delectable. It is also inexpensive.
Large size roasts usually make for delicious leftovers that you can enjoy the next day. Appetizing delicacies like roasted or grilled tri-tip are among the recipes that you don't want to throw out. If you don't know how to reheat tri tip, then you are missing a lot.
A reheated tri-tip is an excellent ingredient for other meals. For example, you can mix it with grilled veggies and make yourself some tasty fajita wraps. Some of the reheated leftovers can still be additives for sandwiches and salads. However, you should know the proper method of reheating tri-tips before you can enjoy these tasty quick-meals. Check out this guide to find out!
How to Reheat Tri Tip
Before we start, let me reveal some important tips first. Make sure you pay attention to the quality of the meat while shopping. Specifically, you should know that tri-tips are relatively tough pieces of meat. A lot of people tend to overheat them so that they can become tender. Now, there is no problem with this method. However, if you are planning to reheat the meat later on, then you should never make it too chewy in the first place.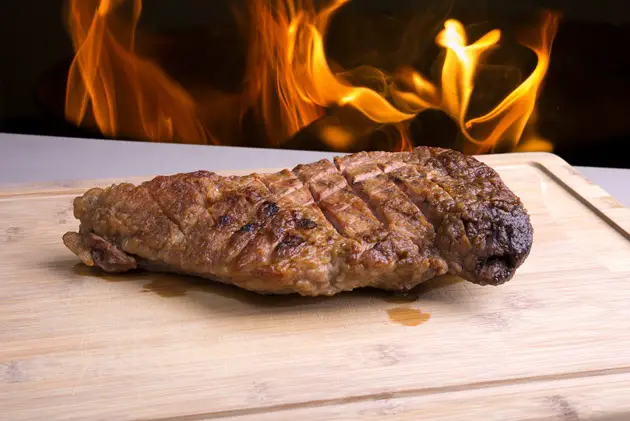 Slow and indirect cooking is more applicable to this piece of meat, rather than bursting it through fire. That's why frying it is not a good idea, and most people either grill or roast their tri-tips.  This is the best way to easily restore the quality of the meat when you reheat.
Similarly, reheating tri-tips should also involve careful moderation of heat. Use lower temperatures to prevent the meat from being mushy.
There are several different methods available for reheating tri-tips. Here are some of the most effective ones.
Method 1: Sous Vide
Don't be intimidated by the classy French name given to this reheating method.  It is actually a very simple method if you have the time and equipment, but the results are far superior compared to all other cooking styles.
Specifically, sous vide is the art of sealing any ingredients in a vacuum-seal bag, and then heating it in the water at a certain temperature. Many see this as the savviest way of cooking food, as it does not cause any damage to the outer parts of the food at all.
This type of cooking and reheating was only available to Michelin restaurants in the past, but now even novice home cooks can attain the very same results with the convenient digital sous vide cookers.
Sous vide is an excellent way to reheat tri-tips because the sealed bag protects the latter from being exposed to the heat of the water. In short, it is capable of curbing the chances of overheating down to zero.
Sous vide appliances are very versatile, and you can use them for various types of foods, not just meat. If you can invest in a home-grade model of this device, by all means, do so, it is totally worth it. But if you can't, here is an alternative way to achieve similar results.
However, please note that using a digital sous vide cooker improves the quality and taste of the food significantly.
How to reheat tri tip in a Sous Vide
Step 1:
Put the tri-tip leftovers in a resealable food bag. Make sure that you expel as much air as you can out of the bag to prevent oxidation from taking place.
Step 2:
Place a wide saute pan on the stove. Next, set a stockpot above it. The purpose of this design is that the saucepan can mitigate the heat being transmitted to the pot. As a result, you can have better control on the temperature of the water. Once done, half-fill the pot with water.
Step 3:
Crank the stove to operate and set it to the medium-heat setting. Let the temperature of the water rise to up to 130 degrees Fahrenheit (if your tri-tips have been cooked to medium-rare). Set it to 140 degrees Fahrenheit if you have medium tri-tips. For well-done tri-tips, just increase the water temperature to 160 degrees Fahrenheit. It would be great if you have an instant-read thermometer in this method to avoid the guessing game.
Step 4:
Let the water be heated for around 40 to 50 minutes. If the bag floats, just turn it around.
What Is Sous Vide Cooking?
In short, sous vide can be described as cooking with warm water instead of hot air. It is a cooking technique that allows producing pro-level results by utilizing precise temperature control over your food.
This is achieved by surrounding the food with water and then slow cooking while monitoring the temperature precisely via sensitive thermal cooker called sous vide appliance. It is a small but very smart kitchen gadget that allows you to control the cooking environment almost %100. You have exact control over time and heat with the sous vide method.
There are many sous vide cookers in the market. They come in different sizes and prices. I have to mention that most of them have similar characteristics in terms of features. Of course, the high-end pricey ones do have some different applications, but it is questionable if you really need them to be able to cook in a true sous vide style. This special cooker is a very useful kitchen appliance for cooking and reheating various kinds of meat dishes, including the tri-tip.
Today, I am going to introduce you to the one that I have been using for a while. I think it is one of the best options, and the price is very reasonable. You can see from all 5-star ratings that I am not the only one who is fond of this smart sous vide cooker.
Sale
Anova Culinary Sous Vide Precision Cooker Nano |...
PERFECT RESULTS EVERY TIME: Never over or undercook your food again....
WHAT TO COOK: Sous vide cooking s the perfect level of doneness for...
SMALL BUT MIGHTY: At almost 2 inches smaller than the original Anova...
EASY TO USE: Simply attach the Precision Cooker to your own pot or...
Customer experience: designed in San Francisco, CA. Anova delivers...
You need to check on the precision (time and temperature) options, size, capacity, attachment, and versatility when shopping for a sous vide cooker. Here are the reasons why I like this one so much:
Compact and portable
Extremely precise
Quieter than most other brands
Attach it on any pot
Nano technology
Control from your phone
Comes with 1000+ recipes
Anova has been in this industry for over 10 years now. The company recently made its sous vide cookers the quietest and one of the smallest in the market by completely changing their technology. The new, Nano models can operate within the temperatures of 32°F to 197°F. I keep mine in the kitchen drawer; it is not as big as the other fancy ones with huge attachment grips at the back. It also does not come with an unnecessary big digital screen as the pricey ones. Trust me, your food does not taste any better if your sous vide cooker has a huge screen. Anova has just the right size, easy to control screen that comes with sensitive touch buttons. You can easily make adjustments.
The most important feature of this appliance is its precision. You enforce %100 control over the time and heat of your cooking environment with improved accuracy that only fluctuates 1°F at most. Keep in mind that it is almost impossible to overcook your tri-tip when you use a sous vide circulator. And the best part is that you don't need any thermometer, stove, flame, or any other equipment to cook your food. A pot, some water, and your sous vide cooker are all you need.
The water circulation ability is perfect and the Anova is completely water resistant. Older version had a higher capacity with 900 watts, but that was making a lot of noise. The new Nano model has 700 watts capacity. However, since you are mostly using water up to 5 gallons, it will not make much difference if the cooker has 700 watts or 900 watts power.
Easy to use clamp at the back allows you to attach the cooker on any pot you prefer effortlessly. You can cook your food exactly how you like it but at the pro-level. Use the Bluetooth technology and monitor from your smart phone. It just gives me perfect and consistent results every time I cook with it.
Features:
4.1 x 2.2 x 12.8 inches
Weighs 2.85 pounds
700 watts
Comes with 2-year warranty
How to use the Anova Culinary Sous Vide Cooker?
Using the Anova sous vide cooker is fairly easy, just follow these steps:
Set up the time and temperature.
Put the food in the sealable bag (or vacuum bag).
Fill the pan with water.
Hook up the sous vide cooker.
Start cooking and monitor from your smart phone or tablet.
Optional: Make a crust afterwards if you want to add crispiness on the outer of your food.
Once you start cooking with this smart sous vide cooker; you will be amazed how you get incredible results with minimal effort. Remember cooking in sous vide style is not just cooking; it is an art.
Professional chefs have been well aware of this fact for years, but now home cookers can attain the same level of palatable excellence. If you want to upgrade the meat quality in your kitchen, then sous vide cooking is the next step.
What are the Benefits of Sous Vide Cooking?
Sous vide is healthier
Provides hands off cooking
You cannot overcook
Makes inexpensive tough meats tenderer
Produces gourmet quality food
Energy efficient
Easy cleaning
Alternative Sous Vide Cookers
Here are some other alternatives that you can consider if you think Anova is not for you.
The Most Elegant Sous Vide Cooker
Breville Joule Sous Vide Cooker
Smallest, sleekest sous vide tool available at just 11 inches tall and…
Saves space: Half the size of other sous vide machines, it's small…
Heats up fast: 1100 watts of power for hyper-fast water heating….
Perfect results: Visual Doneness feature in the Joule app displays…
Wifi and bluetooth ready: Works with iPhone or Android? connect with…
Breville produces top notch kitchen appliances in many different categories. I am a fan of many of their products. There is no doubt that they make the best sous vide cooker, and it sells like peanut butter. However, it is a little bit pricey. Most other sous vide cookers are sold below $100, but this one is usually more than double what the others are charging.
If price is not a concern for you, then go ahead and buy this one. It is superior in every way, and has perfect design. It is also the smallest sous vide cooker ever, so you get better storage options.
Features:
1.9 x 1.9 x 11 inches
Weighs 1.28 pounds
1100 watts
90 days full refund warranty
The Most Affordable Sous Vide Cooker
Gourmia GSV115 Sous Vide Cooker
CLIP & COOK: Securely clamps onto any pot of up to 5 gallons, for…
DELICIOUSLY TENDER: Constant 360° water circulation of 1.5 gallons of…
EZ VIEW DISPLAY: Bright, angled LED panel with white lettering…
COMPACT POWER: Replace large sous vide ovens with this small, storable…
ETL-CERTIFIED: At Gourmia, we take the quality of our products…
If you are new to the sous vide cooking and want to test the waters first with an intro gadget, then Gourmia will meet and exceed your expectations enormously. This is a perfect sous vide cooker that is capable of doing everything as most other famous alternatives, but it does not have the Bluetooth technology. So, you won't be able to control and monitor from your smart phone, but you still get to cook like a pro %100.
Features:
15.6 x 7.1 5.1 inches
Weighs 3.05 pounds
800 watts
Accessories to Use with Sous Vide Cookers
You can use your sous vide cookers with almost any pan, but if you get one of the special containers, then you will get even better results with your food. Keep in mind that you will also need sealable plastic bags in addition to the container.
EVERIE Sous Vide Container – 12 Quart – Silicone
This is the perfect container to use with any sous vide cooker, including the Anova Nano. You can cook for longer hours, and you don't even need to refill water. This is very beneficial when you are roasting large pieces of meat like tri-tip; feel free to cook overnight. No clamps necessary if you are going to use it with Anova. Please check with the manufacturer if you are planning to use this container with different sous vide cooker. The lid is made special to fit Anova Nano.
Features:
13 x 11.8 x 8.3 inches
Weighs 2 pounds
Plastic Bags For Your Sous Vide Cooker
BPA Free Sous Vide Plastic Bags – Reusable
Before you purchase any kind of food grade bag, make sure that it is BPA, and PVC free. These chemicals can severely make you sick in the long run. In general, sous vide bags are not reusable unless it is indicated on them as otherwise. However, these silicone sous vide bags can be used many times and can be washed in dishwasher. These bags have special vacuum system with one-way air flow valve. You don't need to purchase any other vacuum machine.
Benefits:
Includes sealing clip
Easy lock
You can label your bag
Versatile
Includes 37 bags (3 different sizes)
These bags keep your food fresh for 5 times longer. Remove excess air with the included pump. You can also use these as freezer bags.
Method 2: Oven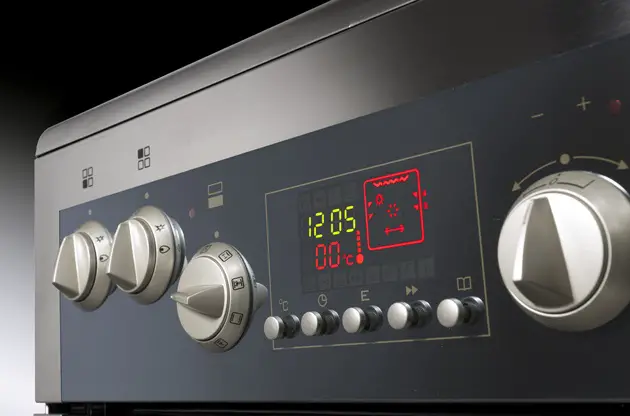 If for some reason, you cannot apply the sous vide approach, then the obvious route that you have now is reheating through the oven. Now, there is nothing wrong with this method. It is just that you need adequate control over the process to ensure that the meat won't get dry and paltry. But once you can successfully execute the following steps, you can turn your tri-tips into brand new again!
How to reheat tri tip in the oven
Step 1:
Start by heating the oven into warm.
Step 2:
While doing so, wrap the tri-tips with an oven-safe aluminum foil. Next, put the foil-covered tri-tips on a lined sheet pan and shove it in inside the oven. Have the tri-tips be heated for around 30 to 40 minutes. You can add a 5-minute increment to ensure that all of the meat flesh have been heated thoroughly.
Oven Safe Aluminum Foil Pans with Lids
Cook, Roast, or Reheat
You can use these aluminum foil pans with lids to reheat your tri-tip without losing its juices. The biggest mistake is to turn your tri tip roast chewy and tough while trying to reheat in the oven. These oven safe aluminum pans keep the moisture inside during reheating thanks to the lids. You can use them with confidence for temperatures of up to 500°F. Made out of thick gauge, and heavy-duty material. If you don't want to use foil pans with lids, then you can also take a look at oven and freezer safe round aluminum foil pans to reheat the tri-tip.
At What Temperature Is Tri Tip Done?
Tri-tip is an inexpensive but very flavorful part of sirloin. It is a lean meat but has enough marble structure to provide a good balanced buttery taste. You should check the inner temperature of the tri-tip with a meat thermometer. Here are the suggested range according to various desired levels:
Rare tri-tip; 135°F
Medium rare tri-tip; 140°F
Medium tri-tip; 145°F
Well-done tri tip; 155°F
Make sure the tri-tip rests for about 15 minutes before you start slicing.
Method 3: Stove Top
Another practical method of reheating tri-tip is through your stove. You should try this method if you have cooking liquid like a gravy at your disposal.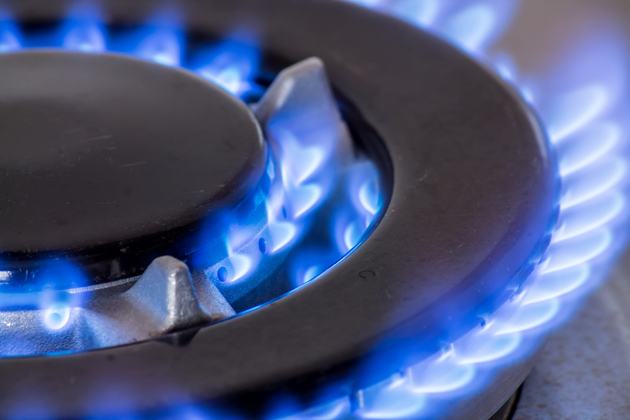 How to reheat tri tip on stove
Step 1:
Pour around 1/2 cup of gravy into a saucepan. Heat it under medium-heat setting and wait until the gravy starts to get hot.
Step 2:
Place the leftover tri-tips in the saucepan. Cover the latter with a lid and wait for around 15 minutes before flipping the meat. The temperature that the gravy should have still depend on the meat that you have. For example, the liquid should be 130 degrees Fahrenheit if you are reheating medium-rare trips. The temperatures are actually similar to sous vide.
Method 4: Microwave
The microwave oven is the easiest method of reheating tri tip. All you need to do is add a source of moisture  before you reheat the tri tip inside the microwave.
Methods to Reheat Tri Tip in a Microwave
1. Make sure that the tri tip is well-wrapped or well-covered in your container.
Wrapping the meat in an oven-safe bag, foil or container can help ensure that the meat retains its flavor and juice.
2. The Wet Bread Bed Method
The wet 'bread bed' method is where you moisten a bread with broth or water before placing the meat on top of it. This will make sure that the steam that passes through the meat from the wet bread so it continues to maintain its juices.
Important things to remember when heating tri tip in a microwave
To ensure that your meat will retain its moisture and flavor, you can try these things:
Add a source of moisture ( broth or water in a pan) inside the microwave with the meat.
Flip the meat over while heating it in a microwave to ensure that the heat is spread evenly
Use medium heat for a longer period of time to have the meat reheated evenly and safely.
Method 5: Crock Pot
Crock pot is a slow cooker that is used for simmering food at a low temperature. It has heat control that ranges from low-warm-high setting to heat or cook the food inside. The best setting for reheating is the warm setting.
How to reheat tri tip roast in a crock pot
Here are the steps to guide your way in reheating tri tip in a crock pot.
Plug in the crock pot  and set it to warm.
Place the leftover tri tip roast inside the crock pot and pour ½ cup water and ½ cup gravy over the roast. Make sure that the meat is at least submerged in this mixture.
Cover the crock pot and allow the roast to be reheated for 2~4 hours.
For this method, the amount of broth, water or gravy is essential for the meat to retain or gain moisture.  If you want your Tri tip to be a bit dryer, then reduce your water or remove the gravy.
Sale
Crock-Pot SCCPVL610-S-A 6-Quart Cook & Carry...
6 quart Cook & Carry Slow Cooker serves 7+ people
Digital countdown control lets you program cook times anywhere from 30...
Easy to use locking lid featuring lid gasket provides extra seal for...
All Crock Pot Slow Cooker removable stone inserts (without lid) may be...
Works on 240 Watts at 120V A.C; and 60Hz
Method 6: Air Fryer
An air fryer is like a countertop convection oven. The air fryer has a fan and a heating device on top that will blow hot air below. The hot air will then rush down and surround the food making the food crispy without the use of too much oil.
Since the air fryer works like a mini convection oven, this means that there will be hot and fast air that will go around the tri tip. Make sure to reheat the tri tip quickly to avoid drying the food.
How to reheat tri tip in an air fryer?
Here are the steps in reheating tri tip in an air fryer:
Set the air fryer to 370°F degrees and pop your tri tip  onto the frying tray.
"Air Fry" your trip in three minute intervals until the temperature of the meat inside is around 110~130 °F. This temperature will ensure that the food is safe and that the meat is in a medium-rare to medium doneness.
Remove the tri tip from the frying tray. You don't need to sear the meat again after removing it from the frying tray.
COSORI Air Fryer Max XL(100 Recipes) Digital Hot...
Critically Acclaimed: COSORI Pro Air fryer (Red Dot Award, 2019)...
Less Oil: The air fryer uses up to 85% less oil than traditional deep...
Large Capacity: The air fryer's spacious 5.8-quart square baskets can...
13 Cooking Functions: 11 presets, Preheat, and Keep Warm help you cook...
Safe Materials: The removable, nonstick baskets are dishwasher safe,...
How to reheat smoked tri tip?
Smoked tri tip is a barbeque method that adds a good amount of perfect smoke flavor into the well-seasoned meat. You use a smoker to cook the tri tip slowly before searing it on high heat to lock in the juices. So what is the best way to reheat a smoked tri tip?
The best way to reheat  smoked tri-tips is through the oven method. All you need to do is wrap the smoked meat in an oven-safe foil before popping it in the oven.
Here are the steps to help you guide your way on reheating smoked tri tip:
Preheat the oven or the smoker to 225~250 °F
Wrap the smoked meat with ¼ cup of broth in an oven-safe foil tightly. Make sure that you only put ¼ liquid per pound of meat to make sure that the moisture will be kept. You also have to take note that you are not steaming the meat so the liquid that you added should be the right amount. .
Put the wrapped meat inside the oven and heat it for about 10~15 minutes. If you have more meat, make sure to add around 5~7 minutes per pound of meat added.
Remove the meat from the oven and let it rest for 2 minutes before serving. Letting the meat rest would allow the meat to reabsorb the juices ensuring its juiciness and moisture.
Frequently Asked Questions:
Q: How long should I reheat a tri-tip roast?
Reheating a tri-tip roast depends on the temperature of the meat. The fastest method of reheating tri tip is the stove-top method. It takes around  30 minutes to evenly reheat the meat on both sides. Sous vide method is the longest but  the most recommended to ensure  the flavor, texture and moisture is well preserved. Sous vide method  traps moisture inside a  'vacuum bag' as it reheats it slowly in warm water   This can take anywhere from 5 minutes up to 6 hours
Q:  How long should I reheat tri tip using the sous vide method?
Sous vide is a method that cooks and warms the meat 'under vacuum' or in a vacuum sealed pouch in a water bath. It will take around 5 minutes to 6 hours depending on the thickness,  and the initial temperature of the meat. The thicker the meat, the longer it takes for you to perfectly reheat the meat. Similarly, the colder the meat, the longer it wil take to reheat. Increasing the size of meat by a pound will increase the reheating time by four times. You can check this table to have an idea how long to reheat your meat. .
Q: How do you reheat tri tip slices?
Tri tip slices will retain more moisture if reheated whole and unsliced. However, you could use the same method for  sliced tri tip too. Whether sliced or unsliced, it's best to  wrap it tightly in aluminum foil and reheat it in the oven at 200 to 350F.
Q: How to reheat tri tip without drying out?
A: The best way to reheat tri tip without sacrificing its juices is to reheat it as a whole. In case you have sliced your tri-tips already,  don't worry, you can still try any of these three methods.
Make sure that you reheat it for the right amount of time and temperature when using the sous vide method.
If you're using the oven method, wrap the meat tightly in foil so that no moisture will escape from your meat.
Add your gravy or broth into the pan when using stove-top method so that your meat  retains the flavor and does not lose any moisture during the reheating process.
Q: How to reheat medium rare tri tip?
There are many ways of reheating medium rare tri tip but the best way to retain the juiciness and moisture of the meat is to make sure that there's enough moisture while you are reheating. Although time consuming, the sous vide method  ensures that your medium-rare meat will still be juicy despite being reheated.
Conclusion
As you can see, there are plenty of ways on how to reheat tri tip. It is only up to you to decide which one of them do you can rejuvenate the original texture and taste of your meat. For me, I recommend that you should learn all these methods that I have featured. After all, a versatile cook always has the upper hand in the kitchen.
Now, do you have any questions, comments, or suggestions? If yes, then you can drop them in the box below. Of course, you can freely subscribe to my site to discover the latest updates to kitchen recipes, gadgets, and everything in between!
Last update on 2021-06-23 / Affiliate links / Images from Amazon Product Advertising API