As an Amazon affiliate, we earn from qualifying purchases.
We love to eat meatloaf. It is one of the delicacies that we usually munch during breakfast or dinner. It has a simple preparation, but the taste it can give to your tongue is more than intricate and satisfying.
Sometimes, we tend to prepare food that is too much for us to consume. Of course, the end result is a plate of leftovers. Should you throw that meatloaf away? Absolutely no! Therefore, you should opt to save the food via reheating.
Leftovers should taste as fresh as they were initially, and meatloaf is sure one of them. However, you need the right equipment to achieve the best results. Once you know the tricks and the right techniques, then you can simply use them to make delicious sandwiches or reheat to enjoy quick meals.
Learning the best way to reheat meatloaf is necessary to preserve the quality of the food as long as possible. Ideally, reheating should be an easy process. However, doing it wrong can degrade the food. For instance, meatloaf and other meat products are susceptible to drying out if you don't reheat them properly. They would become tasteless and unpalatable. At the end of the day, you might end up throwing them.
Fortunately, you can always avoid this dilemma. How? Just learn and apply the following methods listed below:
Best Way to Reheat Meatloaf
Method 1: Oven
For me, the oven is the best device to reheat your meatloaf. Some people disagree with this, and I cannot understand that. If you crank the oven at the proper temperature, your meatloaf could be warmed again without losing moisture and quality.
Moreover, I prefer putting meatloaf leftovers in my oven because it is convenient and easy to operate. Here is how you reheat meatloaf with the use of an oven: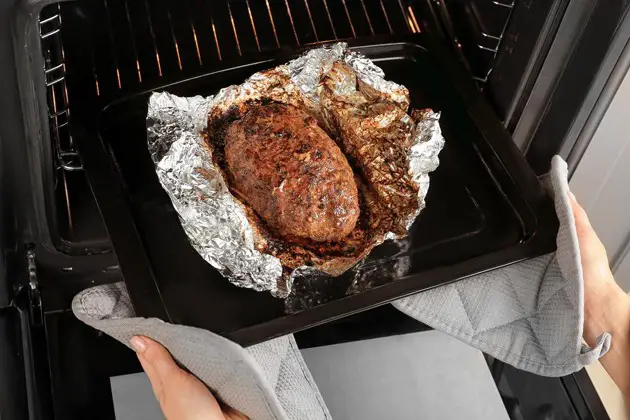 Step 1. Preheat your oven to around 220 to 240 degrees Fahrenheit.
Step 2. Put the leftovers on a shallow plate and cover with an oven-proof foil. I would recommend that you should include gravy or beef broth to the plate to induce moisture to the meatloaves.
Step 3. When the oven is ready, put the dish inside it. Let the meatloaves be warmed for 20 minutes before you take it out. Of course, you need to cool the dish before eating it again.

An oven is inarguably a great appliance to use as a reheater, but a toaster oven is even better. The small size and the convenient use are just some of its benefits when it comes down to fresh up delicious leftovers. You can use the same guidelines above for reheating the meatloaf in a toaster oven.

Meatloaf and other roasted meats can serve up to make beautiful new recipes later on. Especially after festive meals like Thanksgiving, we all have too many of leftovers in the fridge. You should never waste them away.

BREVILLE BOV845BSS Smart Oven Pro 1800 W  ELEMENT IQ – Perfect Reheater

This is my ultimate tool for reheating almost any kind of food, meat loaf is just one of them. It is smart, portable, quick, convenient, easy to use and clean. I really enjoy this toaster oven to the fullest from reheating to toasting, roasting, broiling, and more.

It comes loaded with many features. For starters, it has a wide digital screen where you can control all of its functions. They even labeled the rack space that you should use for reheating your food, so no room left for guessing. Throw in your leftover meatloaf in this toaster oven, and it will be as fresh as it was when it came out of the oven the very first day only within a few minutes. It is quick because of its convection capacity thanks to the inbuilt fan to recirculate the hot air.

Other features include interior oven light, and preset functions for toast, bagel, bake, roast, broil, pizza, cookies, warm, slow cook, and of course reheat! You can even make adjustments according to the number of slices you put inside.

The temperature conversion function is marvelous; you can covert to Fahrenheit or Celsius only by pressing a button. This means you don't have to convert European recipes to US or vice versa, at least for the temperatures.

There is an extra deep crumb tray that you can pull off easily to get rid of excess crumbs. It is designed as a drawer so that you can take it off without opening the oven door. Plus, all the walls of the oven are covered with nonstick coating to provide easy cleaning.

Features:

15.8 x 18.5 x 11 inches
Weighs 22.8 pounds

Miles Kimball Oven Crisper Pan

Reheat your food crispy in the oven

Are you looking for a way to keep your food crispy while reheating in the oven? Then, I have a simple solution for you. I have been using this crisper pan both in my toaster and regular oven lately. This is originally designed for cooking crispy fries with less fat in your regular oven. However, it also allows you to reheat baked items and crispy fries without making them soggy. And guess what, it makes your leftovers from Thanksgiving turkey, meatloaf, and other roasts all crispy and fresh as how they were originally.

It is made out of special nonstick steel, and has small holes underneath to provide even heat circulation. Spray a little oil, and it will make any food crispy while reheating within a few minutes. You know how leftover roasted meat turns out soggy the next day if you don't know how to reheat it. This smart pan makes it as fresh as it was on the first day.

Cleaning is super easy with a sponge and some soap, but it is also dishwasher safe for your convenience.

Features:

13.2 x 11 x 2.4 inches
Weighs 13.8 ounces
Not for microwave
Method 2: Microwave
Another approach in reheating meatloaves and other food leftovers is through the microwave. It can reheat the food in a quicker manner than the oven. But once again, some are not sold out to this reheating method as they say that it dries out the moisture of the food.
Well, those who believe this claim might be doing the process wrong. If you allow me, I can teach you how to reheat meatloaves in your microwave. Check the guide below: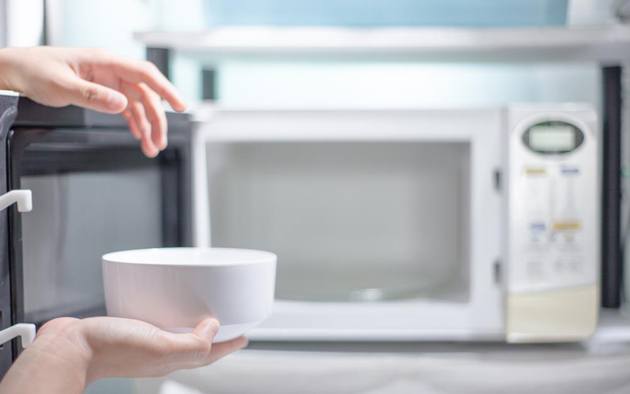 Step 1. Use a microwave-safe dish and put the meatloaf in there. After this, cover the food with a clean and damp paper towel.
Step 2. The best way to use a microwave for reheating purposes is cranking it to the lowest setting possible. The reheating should only take 2 to 4 minutes, depending on the heat gauge of your device. You can check if the meatloaves are already warm. Press the center of the loaves if they are hot. If not, let them be heated a little longer.
Step 3. Once done, remove the plate from the microwave for cooling.
The biggest mistake is to reheat the food with another appliance than it was originally cooked in. I know, we use the microwave for reheating all kinds of delicacies, but if you are trying to heat your food close to its original taste then you should follow this basic rule. If you cooked the meatloaf in the electric roaster, then you should also reheat it in the electric roaster to reserve the original flavors as much as possible. Of course, you cannot reheat fried food in any appliance to its original crispy condition, but you are lucky with oven roasted food like the meat loaf.
However, there some new microwave oven accessories that you can use to cook any kind of food by keeping the original taste.
No more soggy leftovers, reheating made easy and tasty!
Microwave Browning Dish with Lid –
Perfect for Single Serving Leftovers – Crispy Food
This is a great solution for reheating crispy food in the microwave without turning them into rubbery or drying out. I personally like the convenience of my microwave as so many other kitchen enthusiasts, but it always lacked the crispiness of a regular oven when trying to heat up leftovers. No one can argue that it is the perfect solution for soups, and other watery food, but it just ruins everything when it comes to pizzas, fries or similar.
However, now we have the solution for this issue with a simple gadget called the microwave browner. The small size is just perfect for reheating a few slices of pizza or a burger. It comes with a lid that helps for the ventilation, and keep your microwave all clean. Better yet, it cuts up energy by %60. This is a talented kitchen helper that will save you time and flavors when you are on the run. We always have leftovers from large roasts at our place, and this microwave browner became one of the most used gadgets in the kitchen, especially for making sandwiches from roast meats. You can also cook perfect crispy bacon with this in your microwave oven. Now it is the time to be more adventurous with your microwave.
Bezrat Vented Easy Grip Silicone and Glass Microwave Cover – Moist but Never Soggy
The above microwave browner is great for reheating crispy food, but what if you want to reheat meatloaf and other roasted meats while preserving all the juicy goodness. This special designed microwave cover has been the best solution for reheating juicy leftovers quickly in my microwave oven. There are so many microwave covers out there, but this one has all the best characteristics that I was looking for in one package.
Let's talk about its durability first. Sides are made out of firm and flexible silicone, and the top glass is tempered, meaning you won't be able to break it easily. There are two holes on the lid for ventilation purposes.
You know how food and plates get super-hot when heating in microwave, some companies even give out free silicone handlers to be able to touch the hot lid. You don't have to worry about burning your fingers with this one though, since the handle on top is heat resistant. It is not hot to the touch.
You get to trap the steam inside while reheating your food. Just prepare whatever you plan to reheat on a microwave safe plate, and then put it in the microwave. All you need to do is to put this cover on the turntable inside the microwave, it does not even touch the serving plate underneath most of the time. It is that easy to be able enjoy leftovers as they just came out fresh. Be careful when removing the lid as steam builds up inside. Note that this lid will also keep your microwave oven clean as if you have not cooked anything in it.
Features:
10.5 x 10.5 x 3.2 inches
Weighs 1 pounds
Method 3: Skillet
This one is quite unique from the rest of reheating methods I have listed. Using the skillet is a good idea to reheat the meat. Specifically, you are going to use the skillet to fry the meatloaf.
But of course, you have to be careful with the frying, as you don't want to overdo it. Otherwise, the meatloaves would get burned and toasted. Their moisture would be sucked out, too, leaving them dry and tasteless. If you want to do this reheating method, just follow the guideline I made: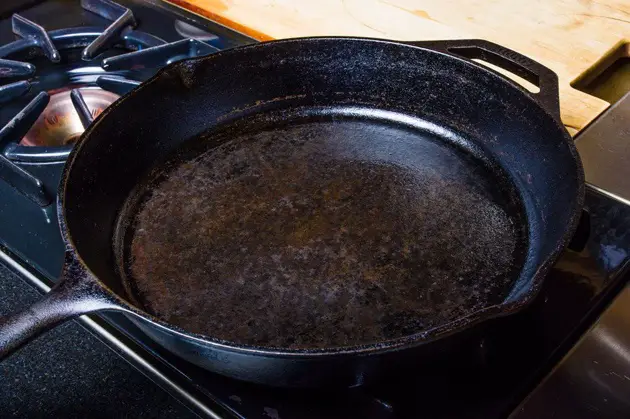 Step 1. Put your skillet on your stove and let it be heated under medium-heat setting. Make sure that you apply butter or oil the skillet.
Step 2. Once the butter or liquid are already heated, you can already fry the meatloaves. Stir them on both sides until they are fully warmed. Do the stirring very quickly, not allowing the food to be toasted and burned. Each of the sides should be fried for around 2 minutes or until they become crisp. Flip them with the use of a spatula.
Step 3. Take out the meatloaves from the skillet after the fast frying. Let them cool down before you serve them.
Sale
Lodge Cast Iron Skillet with Red Silicone Hot Handle...
CAST IRON SKILLET is 10.25 inches in diameter and includes red...
SEASONED CAST IRON COOKWARE. A good seasoning makes all the...
CAST IRON provides superior heat retention and is unparalleled for...
EASY CARE: Hand wash, dry, rub with cooking oil
MADE IN THE USA. Lodge has been making cast iron cookware in South...
Method 4: Air Fryer
Using an air fryer is a good option to reheat meatloaf, especially if you also used an air fryer to cook your meatloaf. To reheat meatloaf using an air fryer, follow these easy steps:
Step 1: Cut the meatloaf into even slices
Step 2: Line the basket with air fryer parchment
Step 3: Spray the slices of meatloaf with cooking spray on both sides
Step 4: Reheat the slices of meatloaf in the air fryer with the temperature set to 350 degrees Fahrenheit for 3 to 5 minutes
How Many Times Can You Reheat Your Meatloaf?
It is true that the food loses its initial quality each time it is preheated. However, there is a trick to get around this dilemma. Do not preheat all the food, but instead divide what you plan to eat in a separate bowl or pan, and only preheat that portion. This way you get to preheat the food only once, instead of drying it up by heating multiple times. Preserve the quality by preheating smartly.
The Golden Rule of Reheating
If you have a kitchen that is complete with basic cooking wares and amenity, then you should apply this golden rule that I am about to tell you. Specifically, you need to reheat the food in the device where you cooked it.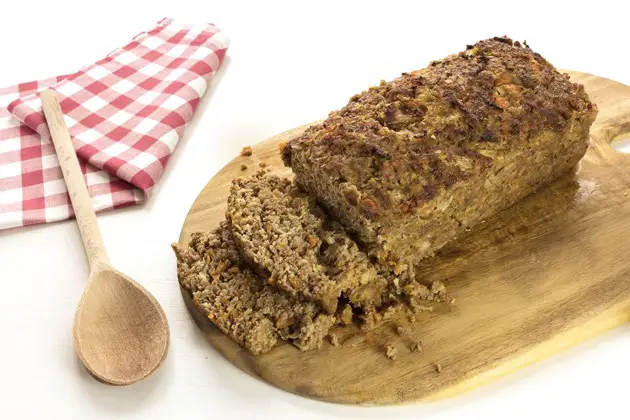 A bowl of soup should be reheated to a pot as a chicken should be warmed again in an oven. But why should you do this? Well, the answer is pretty simple. Reheating is not just simply warming the food. Instead, it is a process that would allow you to heat up the food in the original temperature that it was.
The methods that I have shown you are some of the alternatives if you don't have a full kitchen utility at your disposal. Even if you prepared the meatloaf in the skillet, you could still reheat them with the use of an oven or microwave. Just set the right temperature the food should be delectable again.
Tips:
All of these reheating methods can bring new life to your meatloaves. Trying them by yourself is really recommended, as wasting food is not a good move either. But how about those meatloaves that are already dry? Should you throw them away already? Don't do that. Instead, you can crumble those dried leftovers and include to your sauce if you are going to make spaghetti or pasta. Moreover, your leftover meatloaves should be left open on your kitchen counter overnight. They would quickly spoil as you are exposing them to bacteria and other external detriments. It is better to refrigerate them or reheat them immediately. After all, this type of food should be eaten as soon as possible.
How do you reheat frozen meatloaf?
One of the best ways to reheat frozen meatloaf is by using your oven, or better yet, a toaster oven. Here are three easy steps on how to reheat frozen meatloaf using an oven or a toaster oven:
Step 1: Preheat your oven to around 220 to 240 degrees Fahrenheit.
Step 2: Put the leftovers on a shallow plate and cover them with  oven-proof foil. It's recommended that you include gravy or beef broth on the plate to induce moisture to the meatloaves.
Step 3: When the oven or oven toaster is preheated, put the dish inside. Let the meatloaves get warm for 20 minutes before you take them out. Make sure to let the meatloaves cool down before eating.
FAQs
How do you reheat meatloaf without drying it out?
Reheating meatloaf without drying it out can be tricky. Make sure that your temperatures are not too high or that you did not leave the meatloaf in the heat for too long. Accidentally reheating your meatloaf is a sure way to dry it out during the reheating process.
What is the best temperature to reheat meatloaf?
Regardless of the heating method or cooking appliance you prefer to use for reheating your meatloaf, it's generally recommended for the meatloaf to have an internal temperature of 165 degrees Fahrenheit at a minimum. One of the best and reliable ways to achieve this is setting the oven temperature to 220 to 240 degrees Fahrenheit.
How do you reheat and moisten dry meatloaf?
To reheat and give moisture back to dry meatloaf, there are a couple of crucial ingredients like water or gravy. No matter your preferred method of reheating meatloaf, these ingredients should always be included to bring back moisture. Always pour a layer of gravy or beef broth over the dry meatloaf when reheating to keep the meatloaf moist.
How do you reheat meatloaf in a crockpot?
 Due to some safety concerns, it's not recommended to reheat any food in a crockpot due to its inability to give enough heat to food for reheating, according to the USDA. It's better to reheat the meatloaf in a microwave, oven, or toaster oven and use a preheated crockpot to keep the meatloaf warm for serving.
Conclusion
Reheating any food is necessary to prevent unwanted waste. The latter is simply impractical and unethical. The food that you prepare should be eaten and not be discarded. If you have kids, train them to value the things that are served on your kitchen table. Make them realize that being frugal will allow them to make the most out of what they are eating!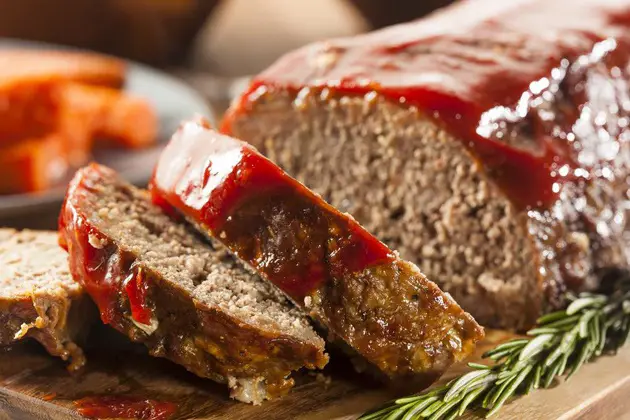 The best way to reheat meatloaf is rather simple and far from being complicated. Moreover, it is a good example of how you should treat uneaten meals. Learn all these methods that I have listed, and you can guarantee that you will never have a hard time of dealing leftovers.
Did you learn from this simple kitchen tutorial? I hope you did. There are some other useful cooking resources and tips that I made in this humble blog of mine. If you want to check them out, just kindly hit the subscribe button. Also, don't forget to hit like and share, too!
Last update on 2022-09-08 / Affiliate links / Images from Amazon Product Advertising API