As an Amazon affiliate, we earn from qualifying purchases.
I have already featured several meat slicers in this blog. Most of these are inexpensive-but-awesome meat slicers for deer and other game meat and are ideal for home-related applications. But what about those who have more ?
Fortunately, there are the best commercial meat slicers easily available in the market. These units are great for providing quality and market-worthy meat slices, quite suitable if you want to set up a small or home-based meat-related business.
To be honest, I have no clear idea what kind or brand of meat slicers large meat processing shops are using as I haven't been to one yet. However, there is no need to do some undercover detective work to find the right commercial meat slicers for home use or a small business. You can already find decent units of these devices on your kitchenware stores or online shops.
To help you with your task of finding the best commercial meat slicer, I will be showcasing some of the notably good units available on the market today. Check them out now!
Best Commercial Meat Slicers: Top 5 Options
All of the meat slicers that I have listed here have different capacities and features. But I can guarantee you that when it comes to performance and delivery, all of them can meet your expectations.
A Guide in Choosing the Best Commercial Meat Slicer
Since we are talking about commercial meat slicers, the key considerations that we need to secure became specific and limited. Let me tell you that manual meat slicers do not really fit into the description.
#1. Best for a Variety of Food : Super Deal Commercial Stainless Steel Semi-Auto Meat Slicer
This Super Deal Commercial Semi-Auto Meat Slicer is equipped with a stainless steel blade which resists corrosion and keeps a sharp edge. With its adjustable slice size settings, it can slice various types of food from fruit, cheese and bread to charcuterie for pizzas, sandwiches or appetizers. With its compact design, it occupies less countertop space and can easily be moved for thorough cleaning.  Equipped with a built-in whetstone sharpener, this commercial meat slicer can easily be maintained to have razor-sharp blades surrounded by a knife ring guard which makes it safer to use.  
PROS
adjustable
easy to clean
safety features  
CONS
issues on meat flow from slicer to plate
Check Price on Amazon
#2.  Best Value: Chefman Die-Cast Electric Deli & Food Slicer
This is a handy food cutter to have in your kitchen as its powerful 180-Watt AC motor and serrated 7.5" stainless steel blade allows you to slice deli-style ham, turkey, roast beef, dried meat, cheese, bread, fruit, and vegetables with ease.  You can even adjust the thickness of the slices, thanks to its adjustable thickness dial. With its sturdy non-slip feet, blade safety guard and food pusher, you have a firm and steady grip while operating the machine.  Use it for making stylish charcuterie boards, party platters and tasty gourmet sandwiches in a matter of minutes.  Its space-saving compact design allows you to easily find a home for it in your kitchen cabinet or countertop.  This commercial meat slicer also comes with a one-year warranty.
PROS
safety features
adjustable
one year warranty
CONS
noisy and may be difficult to clean
Check Price on Amazon
#3. Best High End :KitchenWare Station Commercial 320w Electric Meat Slicer
Whether you're a chef or a home cook, you will be able to whip up and serve impressive meat trays and fruit slices in no time with this commercial meat slicer.  While mainly recommended for cutting meat, it can also slice up vegetables, fruits and cheeses smoothly and effortlessly, up to 0.4 inches thick, thanks to its thickness adjustment control.  Keeping its stainless steel blade's razor-sharp edge is no problem, thanks to its built-in dual whetstones sharpener and ring guard assembly. Other safety features include skid proof rubber feet that secure the slicer on the countertop for stability while in use. 
PROS
adjustable
built-in sharpener
safety features
CONS
may be difficult to clean
#4.  ​Best Portable : Super Handy Meat Slicer
Thinking of taking your mad skills in preparing elegant charcuterie spreads and elegant party trays of sliced food on the road? Well, this amazing commercial meat slicer folds up into a secure and compact structure, lightweight and handy enough to be transported anywhere and space-saving enough to be easily slipped into your cupboards or kitchen cabinets when not in use.  It easily slices through bread, fruits, vegetables and meats after an easy setup. 
PROS
space-saving
portable
affordable
CONS
may have uneven slices for heavier meats
small food carrier
#5.  Best Overall: Chef'sChoice 615A Electric Food and Meat Slicer
This stylishly designed yet handy commercial meat slicer by Chef'sChoice fits right inside a busy kitchen, whether at home or at a restaurant. With key parts made of cast aluminum and stainless steel, a metal alloy blade, a powerful high torque motor with gear drive, a tilted retractable food carriage and precision thickness control, this equipment is versatile and can be used to slice a variety of foods from breads, fruits, vegetables and meats in thickness that range from deli thin to one-inchers.  
PROS
easy to clean
can make paper thin slices
relatively quiet
CONS
Check Price on Amazon
A Guide in Choosing the Best Commercial Meat Slicer
In coming up with this list of recommendations, I opted not to include manual meat slicers and only considered commercial ones.  In the high-pressure and high-demand atmosphere inside the kitchens of home-based food businesses and restaurants, there is no room for the extra time and effort consumed by tinkering around with manual meat slicers. Furthermore, commercial meat slicers also offer greater control and precision, must-haves for professional-grade food preparations.
With manual meat slicers thrown out of the equation, what remaining factors should you consider then? 
Price
Price is a determinant of the quality of any devices. Usually, highly-priced items offer better features and quality compared to their entry-level counterparts. Still, this doesn't mean that inexpensive units can't make the cut. As a matter of fact, you can get decent options even in the lowest price range possible.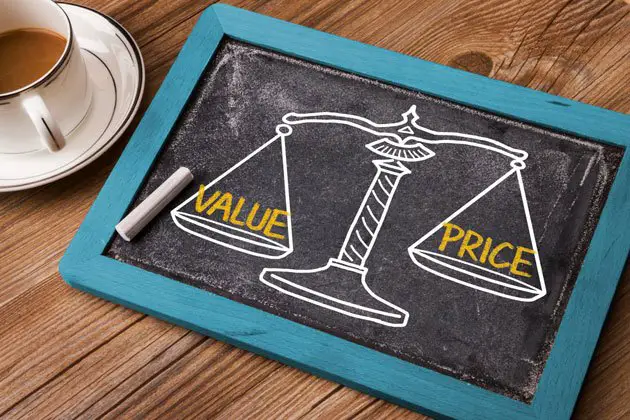 Value Vs Price
The variation of cost can make the selection process confusing. At some point, it is quite tempting to settle on less expensive meat slicers, especially if you prioritize frugality. However, if you are prioritizing quality over price, or are on the lookout for specific features, then you are bound to get the expensive ones.
So how should you choose? Well, here is how I do it. Usually, I tend to think of the intended application that I want the product to do. If you are looking for units that can keep up with commercial applications, then getting high-powered and more durable machines are logical. Their price tag is not that low but they are the practical route to take because they can offer consistent service for a long time without requiring costly maintenance or replacements.
Speed and Power
Electric meat slicers are rated by their capacity to slice food and other kitchen ingredients. Naturally, a meat slicer that has a high-wattage motor can slice meat quickly and efficiently. It is also notable that the motor can affect the longevity of the slicer. A poorly designed engine quickly overheats, which would cause regular disruptions over your workflow. This is a big NO for commercial meat slicers.
I definitely recommend that you should get a meat slicer that can handle frozen goods and cheese as well as these are ingredients  which are among the toughest to deal with. Any of these items cannot be sliced if the electric slicer doesn't have that much power. If you are planning to expand your scope to these ingredients, you must invest in high-powered models.
Ruggedness and Durability
This factor is typically ignored by many people whenever they are looking for commercial meat slicers. They think that the slicing power of the meat slicer is the only thing that matters. However, given that commercial meat slicers are not really that cheap (even the entry-level units), investing on a flimsy unit that would break after only a few months is just really throwing money away.
Commercial meat slicers should be tough and sturdy to withstand the various detriments in the kitchen. They should not rust or corrode (that's why stainless steel models are very popular). Moreover, they should not be easily scratched or dented, too.
Of course, I am not saying that expensive meat slicers are always the durable ones. What I am trying to emphasize is that you need to be keen about the details. Always check the materials that are used on the meat slicer. Take note that units made from stainless steel and metal are more durable than plastic ones. 
Safety
Don't ever forget that meat slicers have sharp blades that can harm you if you are not too careful. Moreover, this device is operated by an engine or motor, which makes it prone to electrical malfunctions.
It would be great if the meat slicer that you can get can save you from these detriments. A blade guard is an essential component that ensures that the blade will never touch you. Furthermore, models with a non-slip base are also great. It prevents the device from moving unexpectedly, which can result in accidental cuts or electrocution.
Final Verdict
Among all the options that I featured, the Chef's Choice 615A Premium Electric Food Slicer is truly the exceptional one. 
It has a powerful motor that drives its blade into consistent cutting speed. It also has a durable and rugged construction for maximum life longevity. Meanwhile, its food carriage is pretty spacious and secured. There is a locking mechanism for the food so that it won't run anywhere. Moreover, it comes with blade guards, too!
With all these capabilities, it is pretty easy to see why the Chef's Choice 615 is commonly dubbed as the best commercial meat slicer. Having already tried this machine, I can vouch for its quality, efficiency and ease of use.
If you feel that this recommendation is not right for your requirements, do check the rest of commercial meat slicer that I have featured in this blog post. Their qualities and features are not that shabby either, making them usable in various applications. Just check their respective features and see which one of them can benefit you the most!
Last update on 2022-09-08 / Affiliate links / Images from Amazon Product Advertising API