As an Amazon affiliate, we earn from qualifying purchases.
Do you want to figure out the best value of a kitchen faucet? Then you need to know the different types of kitchen faucets you can buy. With the help of these 14 types of kitchen faucets you should know before you buy.
14 Types of Kitchen Faucets You Should Know Before You Buy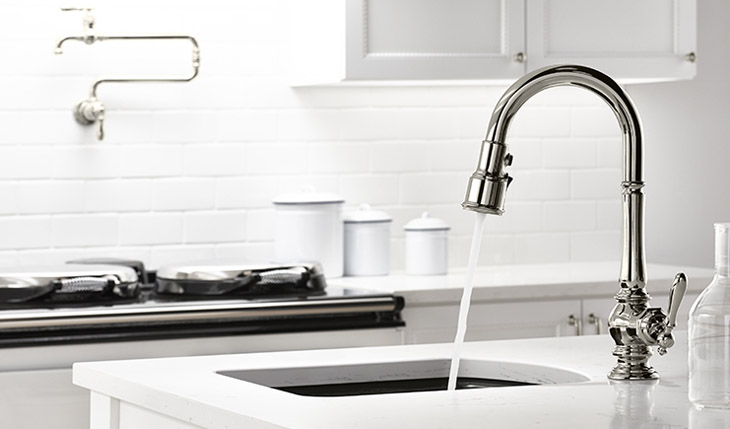 Photo credit: us.kohler.com
#1 Pull-Down Kitchen Faucets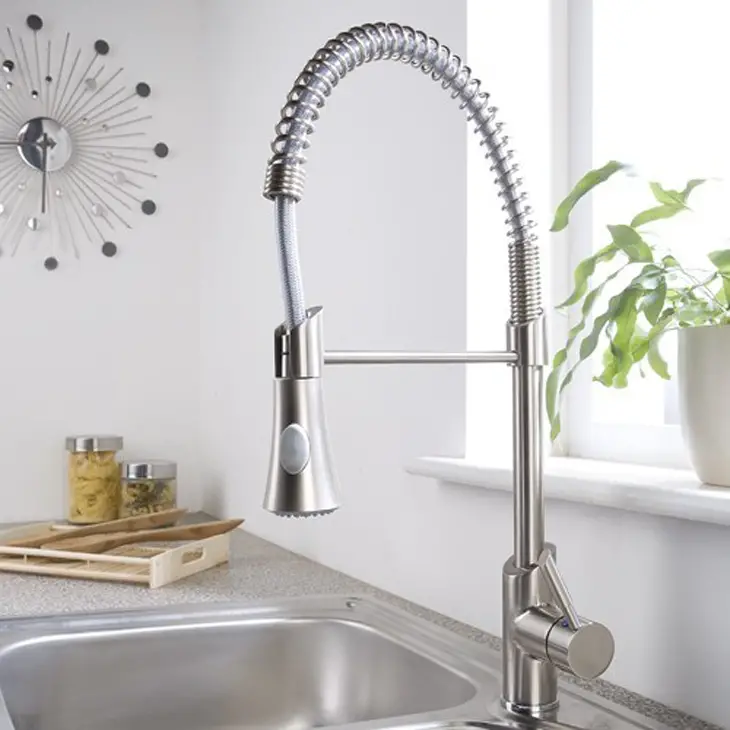 Photo credit: houzz.in
The wand of pull-down kitchen faucets is directed to the sink. This means you can pull the flexible hose down toward the sink.
The benefit of pull-down kitchen faucets is they reduce splash back. And they keep all the water inside the sink. Creating less of a mess when washing larger pots and pans!
#2 Pull-Out Kitchen Faucets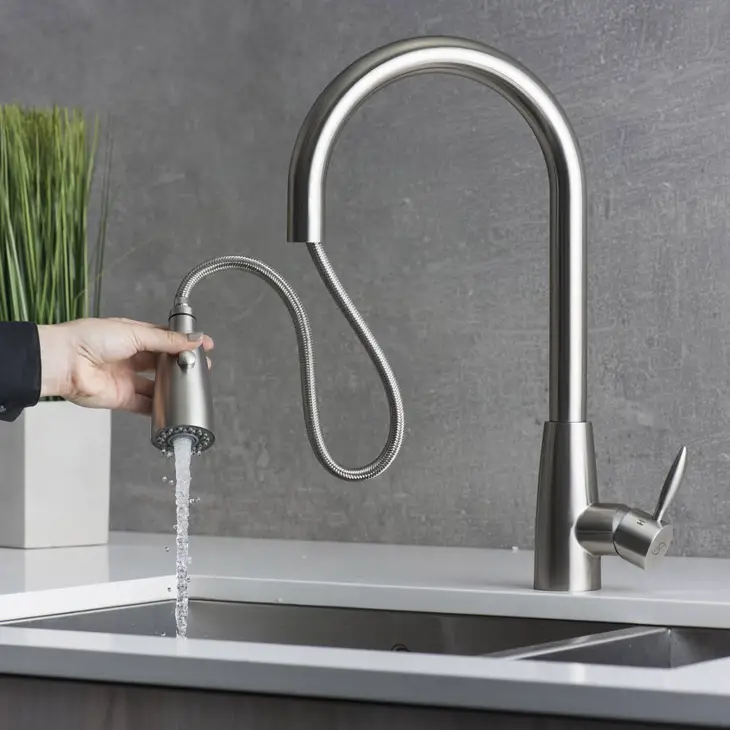 Photo credit: daxib.com
Pull-out kitchen faucets come with a detachable head and flexible hose. You can move the hose around in any position or direction you want. They're great for washing deep and large dishes.
Plus, you get to hard-to-reach places inside the sink to keep it clean. Having said that, a pull-out kitchen faucet can cause a bit of splash back. Given its unlimited flexibility and bendable hose!
#3 Single-Hole Kitchen Faucets
​
A single-hole faucet is among the most common types of faucets. Out of these 14 types of kitchen faucets you should know before you buy. This type is the least bit expensive or is easily available anywhere.
'Single-hole' means you need only a single hole in your sink to install the faucet. It comes with a water temperature and pressure handle. While some give you ergonomic features such as water aerators and a curved neck.
#4 Double Handle Kitchen Faucets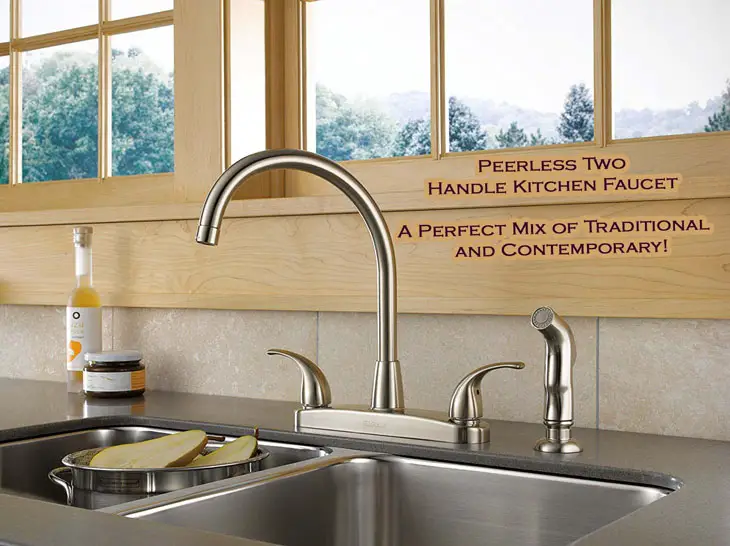 Photo credit: primarykitchenappliances.com
They're also known as cartridge faucets. Double handle faucets are smooth and ergonomic. They offer a better water flow that's easy to control. Each handle rotates halfway from its standard off to on position.
While they need professional installation, double handle faucets are good for bigger sinks. When you need access to hot and cold water separately and/or together!
#5 Touchless Kitchen Faucets
Now, here's an ace choice!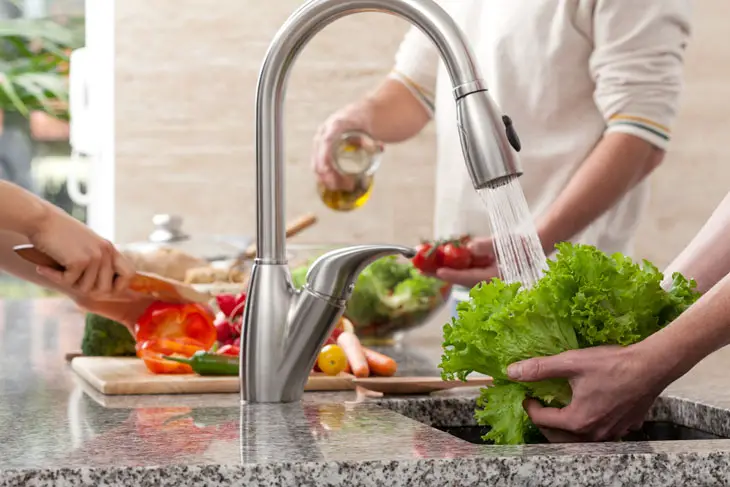 Photo credit: kitchenfaucetcenter.com
Unlike standard single or double handle faucets, touchless is hands-free. This faucet comes with motion sensors to detect hand movement around the faucet. This activates the water flow. And as soon as you move your hand away, it stops without wasting even a single drop of water!
#6 Separate Spray Kitchen Faucets
A separate spray faucet gives you two different spray modes. One is the spraying motion only inside the sink. And the other is the regular water flow from the main tap. You can trigger either one of the spray modes, at a time.
The separate spray handle is directly attached to your main water supply line. The same applies to the main tap from which you want consistent water flow. Proving that a separate spray kitchen faucet does not use excess water!
#7 Centerset Kitchen Faucets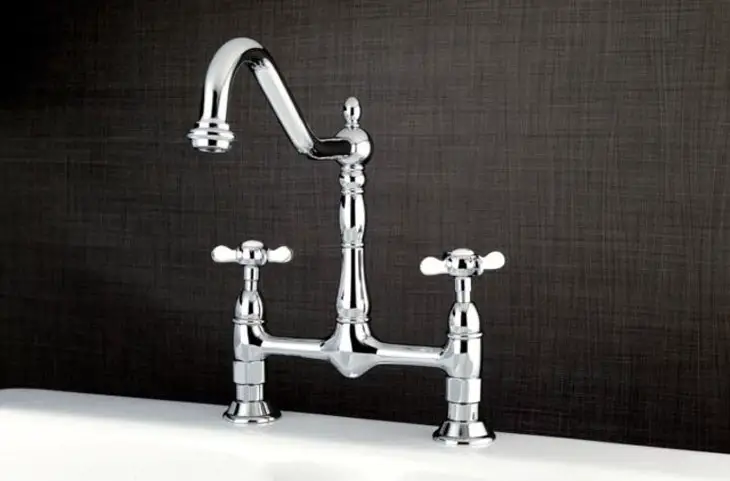 Photo credit: ebay.com
There are many variations to a centerset kitchen faucet. The thing that sets them apart is their single mounting plate. Making them the best single or double-hole kitchen faucets on the market!
Installing a centerset kitchen faucet is quite simple. You have separate handles attached to the same plate. Such faucets need multiple holes as they increase stability.
#8 Widespread Kitchen Faucets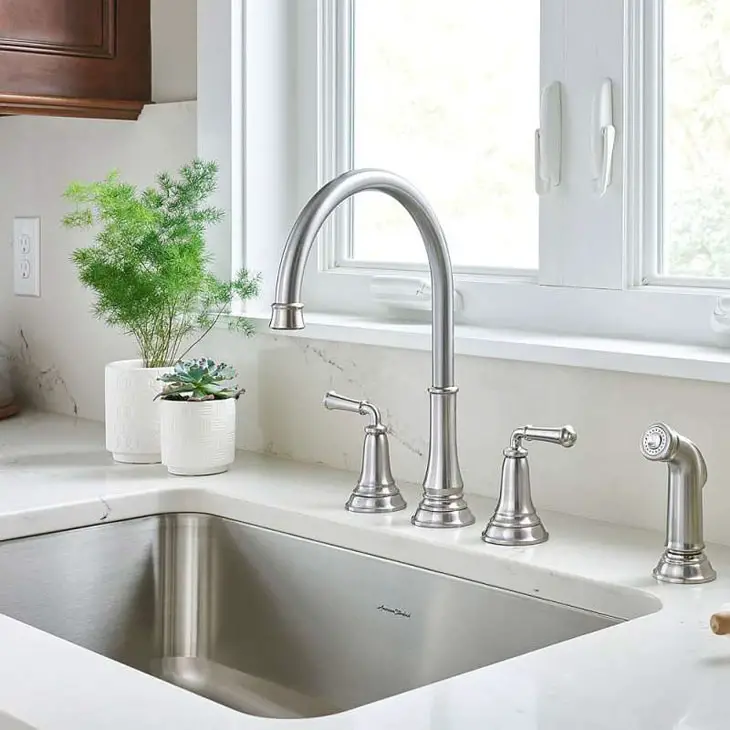 Photo credit: bath1.com
Widespread faucets are similar to centerset faucets. However, the separate handles aren't connected to a single plate. They need to be installed separately. The individual pieces include the two handles and the center faucet piece.
#9 Wall-Mounted Kitchen Faucets
A wall-mounted faucet is installed on the wall and on the countertop. This makes such types of faucets the best for minimizing space consumption. If you live in a studio apartment, this increases counter space. And helps you keep the area around the sink clean and leak-free.Make sure you use specialized valves and drains to minimize damage. Wall-mounted faucets require that extra care and maintenance to avoid leakage or spills.
#10 Pot Fillers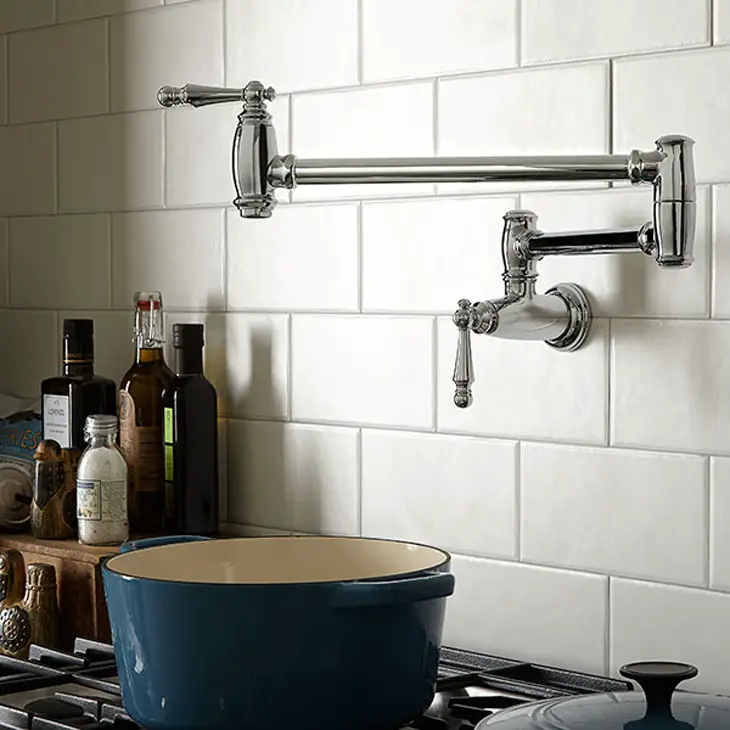 Photo credit: dxv.com
Pot fillers are modern and effective at what they're designed to do. Their intricate design and flexible shape are great for high-end use. This means a pot filler gives you extra water pressure. The kind that standard kitchen faucets cannot handle!
With consistent and smooth water flow, even an occasional home cook can make the most of it.
#11 Commercial Kitchen Faucets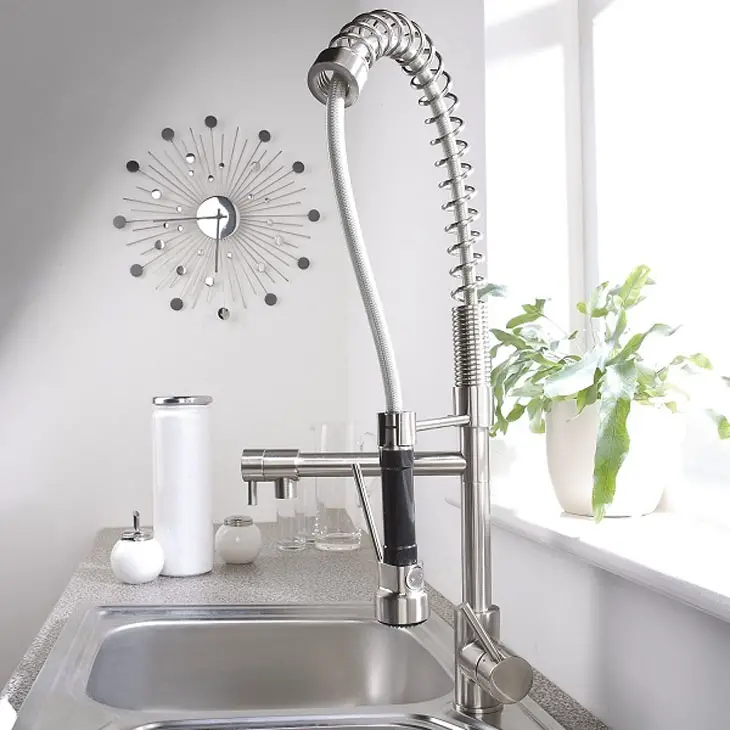 Photo credit: http://michalchovanec.com
Commercial kitchen faucets are advanced and modern creations. They come in a variety of sleek and durable designs. I mean do you want a kitchen faucet that looks as professional as a chef's? Then this is the one you need to get.
Compared to traditional faucets, they are bigger and more ergonomic. They're also able to withstand high water volumes. And give you finer features such as temperature control and water filtration.
#12 Cold Water Dispenser
A cold water dispenser does exactly as its name suggests. It gives you cold water on demand without making you wait for it. Cold water is essential for rinsing vegetables and all types of meat.
If you live in a warm city, you need a cold water dispenser. They're highly effective, ergonomic, and durable.
#13 Hot Water Dispenser
Similar to the way a cold water dispenser works. A hot water dispenser gives you hot water on demand. Such dispensers come with expert water filtration systems. So you can make your morning to-go cup of coffee without waiting.
Most traditional faucets take a while to warm up the water. This hot water dispenser technology keeps the water heated for longer. So you can use it consistently.
#14 Basin Taps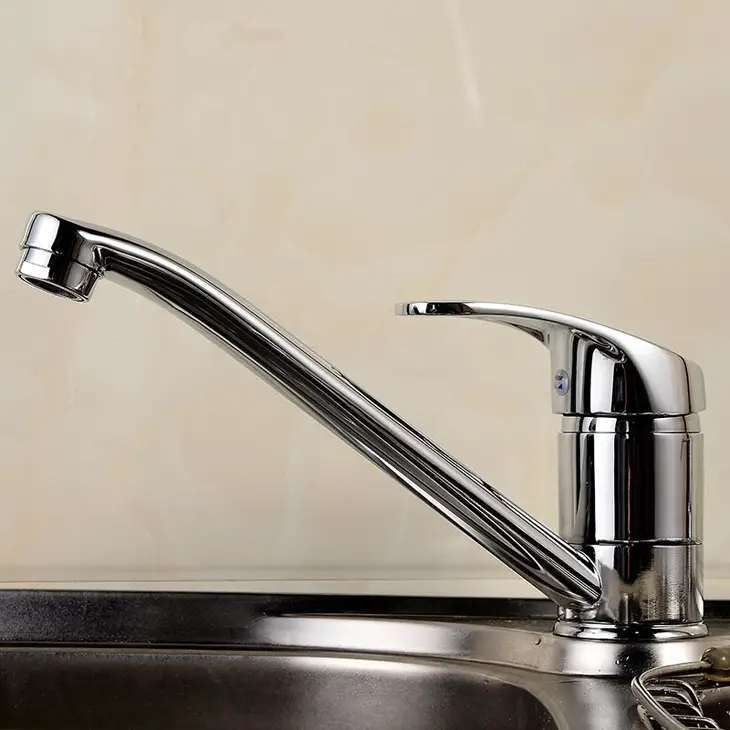 Photo credit: dhgate.com
Basin taps are unique yet very common in most homes. They consist of mini faucets that sit next to each other on your sink. Most faucets feature a central sprout. But this faucet comes with a central sprout that's not on, but next to the water tap.
If you want your kitchen to have a vintage appeal, basin taps are essential. You get excellent hot and cold water controls on these.
Key Takeaway
All that I have in store for you wasn't that easy to find. When re-decorating your kitchen from scratch. Or when you've taken up your very own home improvement project! Buying an upgraded and ergonomic kitchen faucet is a major game-changer.
So don't let traditional trends get you down. And choose from these 14 types of kitchen faucets you should know before you buy.
About the author:
Laura Cooper is among the big league bloggers and reviewers. The one thing that sets her posts apart is that they cater to only the women audience. On her women-centric platform, there's no chance you'll feel like you're browsing through robotic, monotonous articles. She has a unique style of combining her personal experiences with her professional attitude of writing. And that is exactly what brings success along her way.Sources:1.https://www.homestratosphere.com/kitchen-faucet-types/2.https://www.kitchenfaucetguides.net/types/3.https://www.thespruce.com/types-of-faucets-1824889