1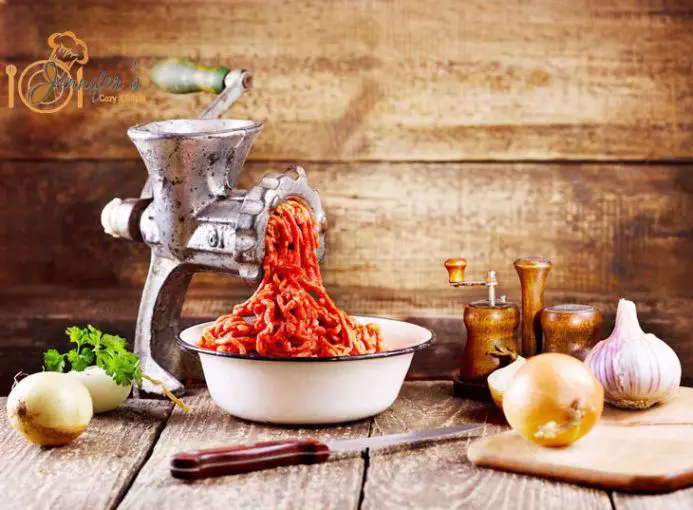 The Best Manual Meat Grinder That You Can Get Today!
Some of us just love to prepare dishes that involve ground meat. I am among those folks. Fortunately, this particular meat slice is widely available in any local market.
But what if I told you that you could make a ground meat of your own? Still doubting? Well, if you have the best manual meat grinder, this thing is very possible!
There are existing manual meat grinders today that are sold for home applications. These units have reasonable prices. But at the same time, their performance is not lagging compared to their commercial and electric counterparts!​
Do you want me to introduce these meat grinders for you? Then hop on! In this article, I will reveal all the ideal machines that could grind your meat like a pro! Let's get started!
More...
My Top Picks for Best Manual Meat Grinder
* Below, you'll see more detailed reviews, but you can also click the links above to see current prices and read customer's reviews on Amazon.
The Best Manual Meat Grinder
How to Choose a Manual Meat Grinder
But before we go to the respective reviews of these meat grinders, let me discuss first the key considerations in buying one. After all, it would be a waste if you invest your money on a flimsy and ineffective unit. Therefore, you better read the next section.
You can never classify a particular meat grinder as "good" if doesn't have the following components and features.
The Build
Just like any kitchen appliances, the meat grinder should have a solid construction. It should have exteriors that are immune to corrosion and rust. These particular requirements are crucial, considering that you will be dealing with a wet ingredient like meat.
Meanwhile, it is pretty essential that the blades of the meat grinder are sharp and durable. The better their design and rigidity, the faster it can ground the meat! Of course, a high-quality blade has a premium cutting quality.​
You can also opt for those meat grinders that have some plastic parts. Just make sure that their blades are made of stainless steel. But if you want to ensure the durability and lifespan of the product, make sure that it has stainless steel construction.
Quantity of the Ground Meat
When choosing a meat grinder, you have to put in mind the applications that you will subject the tool. For example, if you are casually making your meat products (e.g. sausages, jerkies), then a manual grinder is not the right choice for you. Instead, you need an electric grinder that has a fast and uniform performance. Moreover, for commercial uses, make sure that the meat grinder can ground large quantities of meat at the same time.
But if you are just a simple homeowner who doesn't feel any pressure in cooking (just like me), a manual meat grinder is the best choice for you. They have lesser price compared to their electric counterparts. Furthermore, using them won't trouble you at all.
Ground quality
I am really meticulous when it comes to ground meat. I always make sure that the meat is sliced evenly and finely. On the other hand, I quite abhor those meat grinders that produces huge lumps (as if they haven't ground the meat at all).
​If you want a ground meat that has a "market-level appeal," you should get those manual meat grinders that have an innovative grinding mechanism. They are the ones that can do the job like they are professional butchers!
Price
You should know that expensive units don't always mean that they are the best. Sometimes, you could spot less pricey models that can have the same capabilities as high-end meat grinders. This is the reason why you need to inspect the features of a particular product.
But as a general rule of the thumb, high-end models tend to possess premium features and performance. If you have the capacity to spend, I personally recommend that you should get those meat grinders that have excellent build and set of features.
Best Manual Meat Grinder Reviews
Just like jerky guns, you need the best meat grinder if you want to make the most out of your ingredient. The following products have exemplary performance when it comes to grinding meat. Check their respective features now!
#1. Bellemain Manual Meat Grinder
The simplicity of the Bellemain is the biggest reason why there are a lot of homeowners (including me) love it. It doesn't have a complex operation that you have to learn first before you can operate it. You just need to stuff the meat on its chamber, and you can already start cranking its handle. Because of this operation, the Bellemain gives you optimal control to the amount and quality of your ground meat.
The Bellemain Manual Meat Grinder has a suction-type base that allows it to stay in one place. You can guarantee that while you are using it, this machine won't wobble or slide off. This allows a more convenient operation to this device. Moreover, this meat grinder is easy to clean because most of its parts are detachable. They are dishwasher safe, too!
Pros:
Convenient and easy to use
Cleaning this device is simple
Can produce even and fine ground meat
Doesn't move anywhere due to its suction base
Compact design (you can store it easily)
Cons:
It cannot grind large chunks of meat
---
#2. LEM Products #10 Stainless Steel Clamp-on Hand Grinder
It is true that the LEM Products #10 Stainless Steel Clamp-on Hand Grinder is designed for home kitchen applications. However, the heavy duty build also makes it a great choice for rugged uses and small commercial meat production. This particular device has a stainless steel construction, which makes it easier to clean and maintain.
The clamp of this meat grinder has a large opening. Therefore, you can mount on your table or kitchen counter with stability and balance. Meanwhile, it also comes with two steel plates (coarse and fine) which allow you to choose the type of ground meat that you want it to produce! The LEM Products Manual Meat Grinder have sets of stuffing tubes to accommodate different types of meat.
Pros:
Durable and sturdy construction
Easy to clean
Can grind huge amount of meat at the same time
You can mount it on any flat surface
Comes with two stainless steel blades
Cons:
Not all parts are made of stainless steel
Not dishwasher safe
---
#3. Kitchen Basics 3-In-1 Meat Grinder and Vegetable Grinder
The Kitchen Basics can grind meat and other soft ingredients like garlic and beans. It is one of the few manual meat grinders out there that exhibits extreme versatility when it is in the kitchen. Furthermore, this tool comes with two stainless steel screens. One for fine results and the other is for coarse ground meat.
There is also a sausage funnel that comes with this tool. Therefore, it gives you a myriad of options of what to do with your meat. Through these capabilities, you can certainly serve your family and guests with healthy and homemade meat dishes!
Pros:
It has a compact design (doesn't consume too much storage)
Sharp and rugged stainless steel blades
Easy to clean; all parts are dishwasher safe
Can work with different types of ingredients
Conventional and sleek appearance
Cons:
It doesn't come with a tamping device that would push the meat down to the blades
---
#4. Shindoka SK-323 Manual Meat Grinder
If you are looking for another innovative meat grinder, better check out the Shindoka SK-323. Specifically, this tool is a 3-in-1 kitchen device. It can grind meat and mince other ingredients like garlic. Moreover, it also comes with a specialized funnel attachment for making sausages.
Although the appearance of this tool seems flimsy, it is actually durable and rugged. The tri-blades that it uses are made from sharp stainless steel. Therefore, it can really get the job done. Of course, all the materials used in grinder are free from chemicals and BPA. In short, it is very safe to use!
Pros:
Lightweight and compact
Smooth and quiet operation
Rugged and durable construction
The blades are extremely sharp and rust-free
Removable parts for easier cleaning
Cons:
Can only cater small amounts of meat
It is not as stable compared to the first two meat grinders
---
#5. Fante's Cousin Sandro's Meat Grinder and Sausage Stuffer
The Fante's Cousin Sandro's Meat Grinder is a heavy-duty meat grinder. It can grind different types of meat easily, thanks to its rugged and sharp stainless steel cutting plates. Its entire body is made from a solid cast-iron that improves its overall durability and lifespan. Meanwhile, it also has an adjustable clamp that secures it to the edge of your countertop.
Because it has a powerful design, you can quickly grind different types of meat at the same time. Of course, you can still expect that results would be even. You won't see any lumps or chunks when you use this tool. Using it is not a problem either, as it has a large rotating crank with a comfortable wooden handle.
Pros:
Heavy duty manual meat grinder
Can clamp steadily on kitchen counters
Can cater different types of meat at the same time
Produce even results
Immune to rust and corrosion
Cons:
Slightly heavy
Consumes space in storage
---
Final Verdict
Having the best manual meat grinder is a relief on your part, especially if you like to make ground meat dishes. This tool allows you to turn any lump of meat into smaller bits, without needing the help of expensive and commercial grinders. Moreover, the output quality of manual grinders does not differ too much to their electric counterparts.
Among these products I featured, I deem that the Bellemain Manual Meat Grinder has the best performance. It doesn't have a steep price compared to some manual grinders. But despite this, it still has high-quality features. It is rugged and durable (no parts feel flimsy at all). Furthermore, it can provide even cuts without breaking any sweat!
But of course, it is you who is going to decide which of these meat grinders suit your needs and preferences. Therefore, I recommend that you should try them all first before deciding! Good luck in choosing!
Did you like this article? Which of these meat grinders do you like the most? Tell us your answers in the comment section below!