As an Amazon affiliate, we earn from qualifying purchases.
Don't you just hate it when a perfectly good piece of food gets ruined when you try to cut it up into thin slices? I know I do. That's why I decided to get myself an electric knife.
Before I got myself one of those bad boys I really had a hard time getting even and thin slices of meat. That's not even the worst part. The most frustrating experience I can recall is trying to fillet a fish. Normal knives can be a bit difficult to use in these situations especially when you're not a professional chef.
But with an electric knife in your hand, I swear, the efforts you have to put into food prep will be significantly reduced.
If you want to get an electric knife of your own, but don't have any clue on which one you should get, don't fret, because this article will contain all of the information you need to know in order to get the best electric knife for your kitchen.
What is an Electric Knife?
An electric knife, also known as an electric carving knife, is a kitchen appliance used for slicing food items. It has two serrated blades that are clipped together.  When the device is turned on, the blades move continuously lengthwise against each other, essentially becoming a miniature chainsaw in your hand.
An electric knife becomes an invaluable piece of kitchen equipment when slicing or cutting food such as boneless roasted meat, crusty breads like baguettes, or even filleting fish!
The Benefits Of Buying An Electric Knife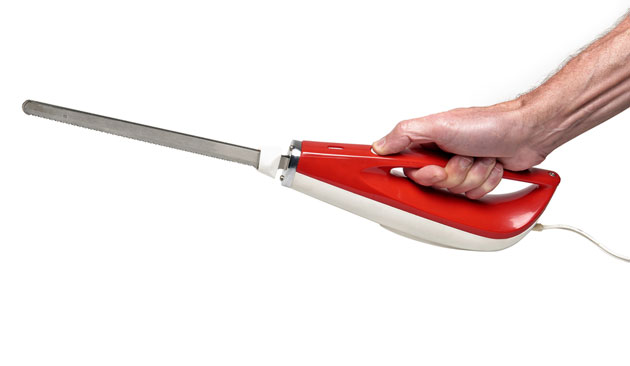 Using an electric knife makes working in the kitchen, preparing and serving food so much easier.
The first benefit I want to emphasize is the speed it offers. Unlike conventional kitchen knives, electric knives do not require you to make those repeated back and forth slicing motions. Based on my personal experience, a good electric knife essentially halves the time you need to slice your food.
This leads to another benefit which is the reduced hand strain. No matter how big or dense the food you are cutting is, an electric knife will be able to slice through it again and again.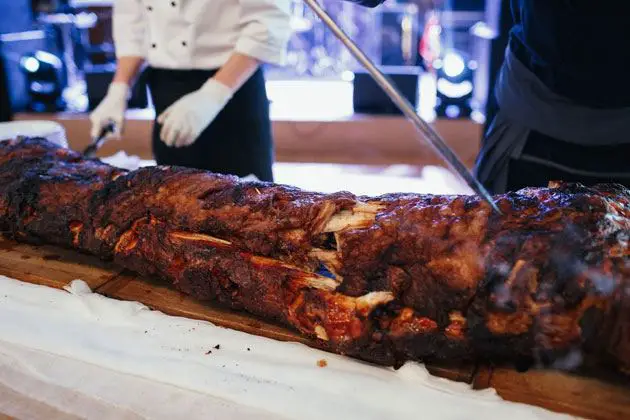 Lastly, it allows you to instantly become, or at least feel like, a professional chef. A good electric knife can help you make short work of tasks that require lots of practice or a high level of technical skill such as filleting, julienning, and carving.
How To Choose An Electric Knife
There are plenty of electric knives to choose from once you start looking in the market. To ensure that you get a knife that will ensure your money's worth, I suggest you try to be mindful of these following factors:
Blade Replacements
Try to go with an electric knife that offers versatility. This means that you should look for knives that come with replaceable blades. After all, every kind of blade usually serves a single purpose. You may also want to go with an electric knife that comes with multiple blades so that you wouldn't have to buy them separately.
Maneuverability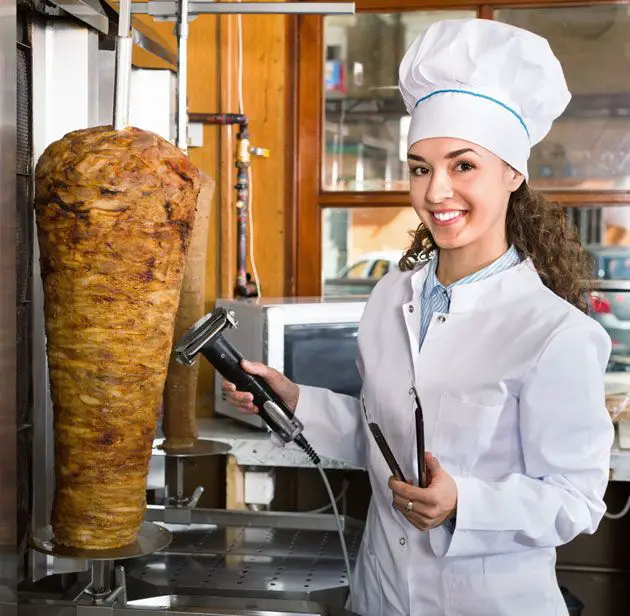 Choose an electric knife that can offer you ultimate maneuverability. If you prefer using electric knives with cords, make sure that the cords are long enough to give you nice elbow room. However, if you don't mind the batteries and added weight, I suggest you go with a nice cordless electric knife for complete maneuverability.
Ergonomics
Purchase an electric knife that comes with a highly ergonomic design. This could mean going with a knife that has comfortable grip handles, built in hanging loops, push button triggers, a free standing base, and more.
The 5 Best Electric Knives In The Market Today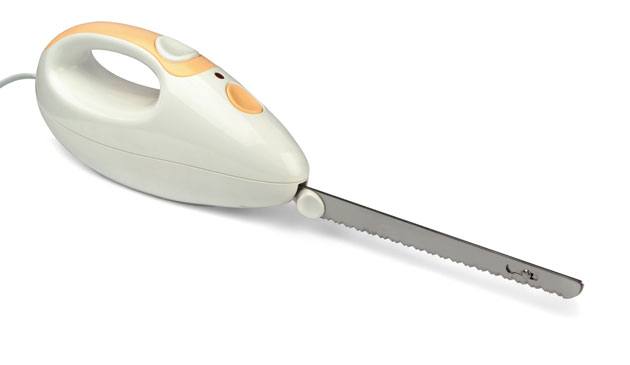 Have I convinced you of the wonders that an electric knife can offer? If you want to experience the benefits I told you about yourself, I encourage you to take a gander at these electric knives that you can easily get shipped to your home.
Below, you'll find our more detailed reviews of our 5 best electric knife.
Product Image
Title
Elite Cuisine EK-570B Electric Knife with 2 Serrated...
Hamilton Beach Electric Knife, with Stainless Steel...
NutriChef Electric Carving Slicer Kitchen Knife -...
Black & Decker EK 700 Slice Right Electric Knife
#1.  Best Starter Electic Knife:
Black & Decker EK 700 Slice Right Electric Knife
This Thanksgiving, face that roasted turkey with confidence when you're equipped with the Black and Decker Slice Right Electric Knife.  With its nine-inch dishwasher-safe stainless steel blades, and comfort-grip handle, you can quickly and easily slice through meats, crusty breads and even craft foam.  Accidents are also prevented by its safety lock button while its blade release button eases cleanup by facilitating the hassle-free removal of the blades. 
PROS
highly maneuverable
safety features
easy to clean
CONS
Check Price on Amazon
#2.  Best Value Electric Knife : Elite Gourmet Serrated Electric Knife
For the most bang for your buck, look no further than the Elite Gourmet Serrated Electric Knife.  Its two full-size stainless steel serrated blades allows you to effortlessly cut through large pieces of meat, crusty breads and even hard cheese to produce even and thin slices. It powers on and off with one touch, and its convenient eject button makes it quite easy to clean.
PROS
CONS
awkward position of the activation switch at the bottom
Check Price on Amazon
#3. Best for Travelling:
Hamilton Beach Electric Knife
Planning to travel out of state to visit the folks over the holidays? Pack this Hamilton Beach Electric Knife in your bag so you can volunteer to cut the turkey and other meats during your holiday feast.  Its compact design and sturdy case makes it easy to bring during your travels or store in your cupboard when not in use.  Its ergonomically designed handle, stainless steel serrated blades and bonus carving fork give you perfectly thin slices every time.
PROS
CONS
may have overheating issues
Check Price on Amazon
#4. Best for Filleting American Angler PRO Professional Grade Electric Fillet Knife
For the avid fishers or sportsmen out there who want the handiest tool for cleaning and filleting their catch of the day, the American Angler Electric Fillet Knife is the answer to your prayers. It comes with five different serrated blades, designed with the size and toughness of various fish in mind. Its ergonomically designed handle with improved airflow design stays cool even after hours of filleting.
PROS
two-year warranty
easy to carry  
CONS
specialized for filleting fish
#5.  Best for Meat Carving and Bread Slicing:
Nutrichef PKELKN16 Portable Electrical Food Cutter Knife Set
If getting those roasts sliced up and ready for the hungry tummies at the dinner table is more your thing, then this Nutrichef Electrical Food Cutter Knife Set may right up your alley.  This electric knife comes with two stainless steel blades: a bread blade for slicing breads, cheeses and meatloaf, and a carving blade for carving turkey, chicken, ham or roast.  The knife has a safety lock feature that keeps the blades in place to prevent injury.  The set also includes a handcrafted premium hardwood butcher block to facilitate meat carving and an elegant wooden tray for safe storage. 
PROS
useful add-ons
safety features
stores easily
CONS
may have overheating issues
Check Price on Amazon
Which Steak Knife Should You Get?
The right choice for your electric knife largely depends on what you intend to use it for.  Some knives, like the American Angler PRO Professional Grade Electric Fillet Knife, can be quite specialized while others may have issues on suitability of the handle design to individual users.
Personally, since I mostly use my kitchen knife for meat carving and bread slicing, I find that the Nutrichef Electrical Food Cutter Knife Set suits me just fine.  It powers up and shuts off at the touch of a button, and has easy maneuverability and safety features in place as an added protection for me against accidents or injury.
If you have other uses in mind for your electric knife, do check out the other products I featured here.
I hope you found this buying guide helpful or if you have any questions about this article, please leave your feedback in the comment box below. Also feel free to share this with your friends. Thank you!
Last update on 2022-09-08 / Affiliate links / Images from Amazon Product Advertising API